Good morning!

Whoosh! Another week just flew by!

The sun is shining and there's a promise of some good weather for the weekend. About time too. It's June tomorrow!

My garden looks like a jungle and unfortunately I'm not a natural gardener, but I think I am going to have to try to tackle some of the weeds this weekend... not my idea of fun at all...

In fact I am a very reluctant gardener, I don't have 'green fingers' and I'm the kiss of death to most plant life (except weeds it would seem) and I wish I could afford to get someone in to sort it out for me!

Wish me luck!?!

Here are your last messages from the Power Animal Oracle Cards for this week.

(I hope you have found the cards interesting, helpful and relevant this week?)

Whatever your star sign - have a magickal weekend :)

Brightest Blessings,
Kaz
www.blessingz.co.uk
www.cheekywitch.co.uk


This week I am using the
Power Animal Oracle Cards


by Steven D.Farmer, Ph.D.


Quoted from the pack: "Power Animals are spirit guides in animal form who provide protection, guidance and healing. This deck of 44 oracle cards by Steven Farmer will connect you with animal spirit guides who will advise you about any aspect of your life. Whether you're a beginner or an experienced reader, the enclosed easy-to-follow guidebook provides instructions to help you immediately give accurate readings to yourself and others."

My personal card for today

: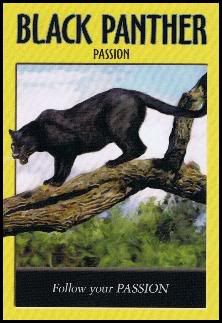 BLACK PANTHER - PASSION
Follow your PASSION
Divinatory meaning: The winding road of your life, with all it's twists and turns, expected and unexpected, has brought you to this point. You're faring quite well, yet there's an urgent need that you're feeling in your bones and your soul - the need to express more and more fluently your true self, your inner core. It's so much safer and in some ways easier to deny yourself the fruits of following your true passion. Questions of safety and survival abound by stepping into this total expression of who you truly are. Let them remain questions, cast them aside, and embrace what turns you on.
Once you've discovered what your true passion is - and you probably already know what it is - by honoring it and living it, all else will be taken care of. Does that surprise you? Challenge you? Trust that your inner yearning is real, and express it, if not all at once, then gradually - but express it. Don't worry about how it will look to others or whether or not anyone at all would approve. When it comes to the end of your days, you will be able to say with all sincerity and without reservation that you lived your life passionately and in truth!
Additional Associations: Sensuality; strength; Clarity; Solitude

Today's cards for each of the star signs

:

Due to lack of time, etc. These are the 'quick reading' messages - for the full reading and meaning of the cards you will need to obtain these cards for yourself - or get someone else to buy them for you as a gift!

Here are your messages and insights for today. Try to sit quietly for a few moments, meditate on your card and think about how you can learn from, and act upon, its message...

Aries

: SWAN - GRACE

APPRECIATE THE BEAUTY inside and all around you

Additional Associations: Elegance; Purity; Innocence

Taurus

: DRAGONFLY - ILLUSION

YOU KNOW who you really are

Additional Associations: Colourfulness; Mirage; Mystery; Deception

Gemini

: BEAR - BOUNDARIES

STAND your ground

Additional Association: Protection; Creativity; Solitude; Healing

Cancer

: BUTTERFLY - TRANSFORMATION

Get ready for a BIG BREAKTHROUGH

Additional Association: Rebirth; Vibrancy; Reincarnation; Colourfulness

Leo

: HORSE - FREEDOM

You always have a CHOICE

Additional Association: Integrity; Compromise; Speed; Agility

Virgo

: OWL - OMENS

Pay attention to SIGNS

Additional Association: Wisdom; Shadows; Secrecy; Magician

Libra

: PELICAN - FORGIVENESS

LET GO of your judgments

Additional Association: Grace; Unselfishness; Self-sacrifice; Cooperation

Scorpio

: SALMON - DETERMINATION

You know where you are going and YOU WILL GET THERE

Additional Association: Purpose; Sacrifice; Regeneration; Endurance

Sagittarius

: OPOSSUM - STRATEGY

Have a BACK-UP PLAN

Additional Associations: Grasping; Agility; Maternal Instinct; Stability

Capricorn

: FOX - ADAPTABILITY

ADAPT TO THE CHANGES that are happening

Additional Association: Shape-shifting; Flexibility; Cunning; Subtlety

Aquarius

: MOOSE - AUTHORITY

YOU KNOW what is best for you

Additional Associations: Warrior; Self-Esteem; Balance; Fearlessness

Pisces

: RACCOON - RESOURCEFULNESS

You have all the RESOURCES you need

Additional Association: Stealth; Ingenuity; Cleverness; Dexterity
Please feel free to leave any comments here on Blogger, or on my Facebook Page
The Daily Divination
, or on
Twitter
Thank you!