Good morning!

What a glorious day! The sun is shining and that never fails to lift the spirits. Spring is most definitely in the air today :)

I have another very busy day ahead - Mother's Day orders are still coming in and time is running short...

I just have time to share another of my 'Crystal Clear' articles with you :)

This time it is The Healing and Magical Properties of Rose Quartz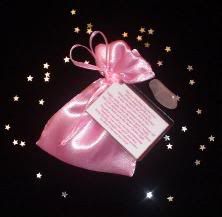 Right! On with the cards and messages for Tuesday!
Both my personal card for today and the card for my starsign (Cancer) are the same as yesterday...
Interesting....
Whatever your star sign - and wherever in the world you are - I hope the sun is shining on you too.
Enjoy your day :)
Brightest Blessings,
Kaz
www.blessingz.co.uk
www.cheekywitch.co.uk

This week I am using the
Messages from Your Angels Oracle Cards


by Doreen Virtue, Ph.D.


Quoted from the pack: "This card deck makes it easier than ever to give an amazingly accurate angel reading for yourself or others. Each card features a gorgeous angel painting, along with a one or two sentence message.
These cards will help you and others know what your exact life purpose it, whether ot not someone is your soulmate or not, what to do about your job and living situatuations, and other inportant life questions. Doreen based the cards upon her actual angel readings, using most commonly asked questions and angelic answers to create the ultimate deck for both the beginner and advanced card reader."
My personal card for today

:

I have received the same card two days in a row!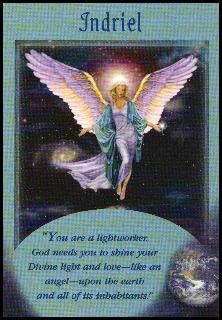 INDRIEL
"You are a lightworker. God needs you to shine your Divine light and love - like an angel - upon the earth and all of its inhabitants.
Additional message: "Yes, you are a lightworker. As such, you have always had a burning desire to make the world a better place. It is a deep calling that is beyond time and space. You are often called into service during ordinary circumstances, such as when you are shopping for groceries and someone needs your help. Right now, your life's mission is expanding so that you can reach even more people. This will require you to make some life changes that you will learn through your inner guidance.
You are deeply sensitive to others' emotions, and it is important for you to clear yourself regularly - especially after helping someone. You can call upon Archangel Michael, your other guardian angels and me to clear you of toxins or cords that may have resulted from your helpful efforts. You are an Earth Angel, and we are happy to assist you in all ways. Just ask!"

Today's cards for each of the star signs

:

Due to lack of time, etc. These are the 'quick reading' messages - for the full reading and meaning of the cards you will need to obtain these cards for yourself - or get someone else to buy them for you as a gift!

Here are your messages and insights for today. Try to sit quietly for a few moments, meditate on your card and think about how you can learn from, and act upon, its message...

Aries

: LEILA

Quick message: "Spend time alone in nature, meditating about your desires and intentions. Ask the angels to help you gain a positive perspective."

Taurus

: DESIRÉE

Quick message: "No, conditions are not favourable right now. Wait, or look into other options; and ask the angels to help, guide and comfort you."

Gemini

: ARIELLE

Quick message: "New psychic and spiritual experiences are changing the way you view the world and yourself. Allow your spiritual gifts to open - through study, prayer, and meditation."

Cancer

: ROCHELLE

(Two days in a row!)

Quick message: "As you honor and follow the guidance of your heart, prosperity is coming to you now."

Leo

: GRACE AND ANTOINETTE

Quick message: "To help heal this situation, see the other person's point of view with compassion."

Virgo

: MYSTIQUE

Quick message: "Keep charging ahead, and don't take no for an answer. Expect miraculous solutions to appear."

Libra

: SHANTI

Quick message:"I am the Angel of Peace. I bring you new tranquility and a smoother road ahead."

Scorpio

: OCEANA

Quick message:"Take action. You're in touch with your truth in this situation, and you need to trust your gut and lovingly assert yourself."

Sagittarius

: PATIENCE

Quick message: "Now is the time to learn, study, and gather information. Enjoy being a student, because in the future, you will synthesize your knowledge into action."

Capricorn

: MERLINA

"You are confused and indecisive because you do not have enough information. Do research or seek expert advice before making a decision."

Aquarius

: FRANCESCA

Quick message: "What do you desire right now? Visualize it, and it will come about. Negativity will block your progress."

Pisces

: SERENA

Quick message:"I am the Angel of Abundance. You will receive the money that you need, and God is in charge of how that will happen. Have faith."

Please feel free to leave any comments here on Blogger, or on my Facebook Page
The Daily Divination
, or on
Twitter
Thank you!