Good morning, afternoon, or evening!

I'm running really late with the cards today (it's early afternnon in the UK) as I've had a bit of a 'Mercury Retro' kind of day so far - with things not quite going to plan... including problems with an unreliable and 'sporadic' internet connection.

However, I'm here now - so it's a case of "better late than never" and let's get to it - before I lose my connection again!

Whatever your star sign - I hope you have a good day :)

Brightest Blessings,
Kaz
www.blessingz.co.uk
www.cheekywitch.co.uk


This week I am using the
Messages from Your Angels Oracle Cards


by Doreen Virtue, Ph.D.


Quoted from the pack: "This card deck makes it easier than ever to give an amazingly accurate angel reading for yourself or others. Each card features a gorgeous angel painting, along with a one or two sentence message.
These cards will help you and others know what your exact life purpose it, whether ot not someone is your soulmate or not, what to do about your job and living situatuations, and other inportant life questions. Doreen based the cards upon her actual angel readings, using most commonly asked questions and angelic answers to create the ultimate deck for both the beginner and advanced card reader."

My personal card for today

: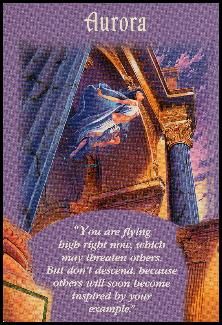 AURORA
"You are flying high right now, which may threaten others. But don't descend, because others will soon become inspired by your example."
Additional message: "Your intentions have created an upward trend in your life. New opportunities are coming your way, and your inner and outer self radiates this positive growth. You may worry that others will be jealous of your current and forthcoming success, so you will be sensitive about discussing your achievements. You may also worry about the future, about where your new path is taking you. You may wish for a guarantee of future success.
I am here to help you enjoy the present, and the process of your new venture. Trust that each moment is taking care of itself. God has always taken care of you, and He always will. Ask me to help you stay focused on the
now
, and to let go of the worry habit so that you can enjoy these gifts. Gratitude is essential right now… to keep your flight at a high altitude."
Today's cards for each of the star signs

:

Due to lack of time, etc. These are the 'quick reading' messages - for the full reading and meaning of the cards you will need to obtain these cards for yourself - or get someone else to buy them for you as a gift!

Here are your messages and insights for today. Try to sit quietly for a few moments, meditate on your card and think about how you can learn from, and act upon, its message...

Aries

: ROCHELLE

Quick message: "As you honor and follow the guidance of your heart, prosperity is coming to you now."

Taurus

: BRIDGETTE

Quick message: "Caution is warranted. Look deeper into this situation before proceeding further."

Gemini

: INDRIEL

Quick message: "You are a lightworker. God needs you to shine your Divine light and love - like an angel - upon the earth and all of its inhabitants.

Cancer

: ISABELLA

Quick message:"Yes, the timing is right for this new venture. A happy outcome follows your positive expectations."

Leo

: CRYSTAL

Quick message: "Have faith and hope, because there is something positive and new on the horizon that you can't yet see."

Virgo

: MERLINA

"You are confused and indecisive because you do not have enough information. Do research or seek expert advice before making a decision."

Libra

: MYSTIQUE

Quick message: "Keep charging ahead, and don't take no for an answer. Expect miraculous solutions to appear."

Scorpio

: FIONA

Quick message: "Now that you've asked the angels for help, be open to receiving Divine guidance and assistance. You deserve heaven's help!"

Sagittarius

: ARCHANGEL GABRIELLE

Quick message: "You have an important life purpose involving communication and the arts. Please don't allow insecurities to hold you back. I will help you."

Capricorn

: ASTARA

Quick message: "You deserve the best. Reach for the stars with your dreams and desires, and don't compromise."

Aquarius

: MAYA

Quick message:"Schooling, study, and education help your life's purpose and personal growth at this time. The angels will guide you and help you with this process."

Pisces

: YVONNE

Quick message:"You have a special bond with animals. Your pets on Earth and Heaven are watched over by angels."

Please feel free to leave any comments here on Blogger, or on my Facebook Page
The Daily Divination
, or on
Twitter
Thank you!