Good morning!

I hope you've had a good weekend?

I had fun yesterday, helping my Dad set up a Facebook account - he's 77 and not very internet savvy - although he does like to 'Google'... he has a lot to learn!

My Mum, on the otherhand, (almost 75) is very internet savvy! She has had a Facebook Account for ages and loves her iphone - she downloads more apps than I do!

I am finding this Mercury-Retro period very interesting... bringing up a lot of stuff from the past. I am re-connecting with old friends and aquaintances. Remembering experiences and events in my life I hadn't thought about for years... and noticing lots of 'coincidences' and synchronicities... all to do my spiritual path and Life Purpose.

Then, yesterday, my Mum gave me a surprise prezzy - The Life Purpose Oracle Cards by Doreen Virtue! She didn't know that I've been wanting these cards for ages!

(I haven't opened the pack yet - as I have so much to do at the moment and want to find a little 'quiet time' to spend with these cards... but I shall report back on them very soon!)

This week I am using Messages from Your Angels Oracle Cards and my personal card for today is very apprpriate as to what's been going on this weekend.

Very interesting times indeed!

Do you know of, or follow Michele Knight on You Tube?

Her weekly Astrology videos are excellent! Here's the general March Astrology Overview video:


(If you can't see the embedded video please click
here
to go direct to You Tube.)
Well, I have had loads of orders over the weekend, so I must get on with some work!
Whatever your star sign - enjoy your day and have a great week :)
Brightest Blessings,
Kaz
www.blessingz.co.uk
www.cheekywitch.co.uk
This week I am using the
Messages from Your Angels Oracle Cards

by Doreen Virtue, Ph.D.


Quoted from the pack: "This card deck makes it easier than ever to give an amazingly accurate angel reading for yourself or others. Each card features a gorgeous angel painting, along with a one or two sentence message.
These cards will help you and others know what your exact life purpose it, whether ot not someone is your soulmate or not, what to do about your job and living situatuations, and other inportant life questions. Doreen based the cards upon her actual angel readings, using most commonly asked questions and angelic answers to create the ultimate deck for both the beginner and advanced card reader."

My personal card for today

: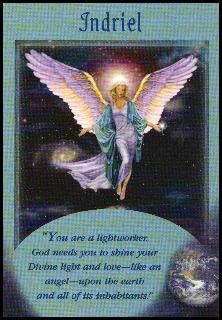 INDRIEL
"You are a lightworker. God needs you to shine your Divine light and love - like an angel - upon the earth and all of its inhabitants.
Additional message: "Yes, you are a lightworker. As such, you have always had a burning desire to make the world a better place. It is a deep calling that is beyond time and space. You are often called into service during ordinary circumstances, such as when you are shopping for groceries and someone needs your help. Right now, your life's mission is expanding so that you can reach even more people. This will require you to make some life changes that you will learn through your inner guidance.
You are deeply sensitive to others' emotions, and it is important for you to clear yourself regularly - especially after helping someone. You can call upon Archangel Michael, your other guardian angels and me to clear you of toxins or cords that may have resulted from your helpful efforts. You are an Earth Angel, and we are happy to assist you in all ways. Just ask!"

Today's cards for each of the star signs

:

Due to lack of time, etc. These are the 'quick reading' messages - for the full reading and meaning of the cards you will need to obtain these cards for yourself - or get someone else to buy them for you as a gift!

Here are your messages and insights for today. Try to sit quietly for a few moments, meditate on your card and think about how you can learn from, and act upon, its message...

Aries

: TERESA

Quick message: "Time-out! You've been so busy taking care of everyone else's needs, but now it's time to stop and take care of yourself."

Taurus: VANESSA

Quick message: "To make your decision, ask yourself, 'Which way brings me closer to my divine purpose? Which way takes me away from it?' "

Gemini

: ISABELLA

Quick message:"Yes, the timing is right for this new venture. a happy outcome follows your positive expectations."

Cancer

: ROCHELLE

Quick message: "As you honor and follow the guidance of your heart, prosperity is coming to you now."

Leo

: LEILA

Quick message: "Spend time alone in nature, meditating about your desires and intentions. Ask the angels to help you gain a positive perspective."

Virgo

: ARCHANGEL RAPHAEL

Quick message: "I am helping you heal physical challenges in yourself and others. You are a healer, like me."

Libra

: FRANCESCA

Quick message: "What do you desire right now? Visualize it, and it will come about. Negativity will block your progress."

Scorpio

: OMEGA

Quick message: "Victory! Your desire is coming to fruition. Keep up the good work!"

Sagittarius

: SERENA

Quick message:"I am the Angel of Abundance. You will receive the money that you need, and God is in charge of how that will happen. Have faith."

Capricorn

: ISAIAH

Quick message: "It's a good time to give birth to new ideas and situations in your life. I am watching over you, guiding you and protecting you during these changes."

Aquarius

: CELESTE

Quick message: "A happy move to a new home or place of employment is in the works. This movement will usher in positive new energy."

Pisces

: ZANNA

Quick message: "You are protected from all types of harm. The worst is now behind you. I ask you to relax and feel safe."
Please feel free to leave any comments here on Blogger, or on my Facebook Page
The Daily Divination
, or on
Twitter
Thank you!