Good morning!

I had a busy and successful day yesterday, as I made a start on growing my business in a slightly new direction, maybe helped because mercury went direct, but things seem to be moving forward at a good pace!

I am following my guidance and watching for signs and synchronicities... It's all very exciting!

It was also my weigh-in day at Slimming World yesterday (I missed the last weigh-in because we had snow and ice and I didn't want to venture out into the dreadful weather) and I was very pleased to have lost 3.5 lbs - despite having drunk a bottle of Baileys and eaten a delicious bar of chocolate last week!

(A lovely Mother's Day present from my daughter Lucy!)

Definitely feeling back on track with the healthy eating and weightloss plan... and although it does seem a long way off, because we're having such a long, miserable winter - summer will be here before we know it and I want to look and feel good this year!

All-in-all things are going very well at the moment - I'm feeling full of positivity and optimism!

I hope a positive change in energies is being felt in your life too?

Whatever your star sign - have a wonderful day :)


Brightest Blessings,
Kaz
www.blessingz.co.uk
www.cheekywitch.co.uk
This week I am using the beautiful
Magical Mermaids and Dolphins Oracle Cards

by Doreen Virtue, Ph.D.


Quoted from the pack: "The Magical Mermaids and Dolphins Oracle Cards are specifically designed to help you manifest your goals, life purpose, and Divinely inspired dreams. These 44 beautifully illustrated cards can help you swim into the ocean of your unconscious mind, where profound thoughts and feelings can create - or block - your heart's desire. The cards are easy to use, and the enclosed guidebook will help you perform amazingly accurate readings for yourself and others."

My personal card for today

: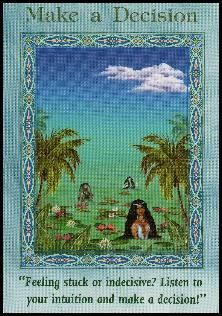 MAKE A DECISION
Feeling stuck or indecisive? Listen to your intuition and make a decision!
Divinatory meaning: Sometimes life feels as if it's at an impasse while we await Heaven's next instruction. By drawing this card, however, Heaven asks, What do
you
want?" Sometimes the Universe asks us to be the decision maker, and this is one of those times.
Instead of passively allowing life to push you around like a canoe with no oars, you're counselled to take charge and set your own course. Know that Heaven gives you all the resources you need to pull yourself out of any situation, as long as you make a firm and clear decision.
Your decisiveness is the catalyst for Heaven to clear the way for your manifestation. Let go of all fears or worries, and focus only on the destination you intend to reach. Enjoy the journey along the way!
Today's cards for each of the star signs

:

Due to lack of time, etc. These are the 'quick reading' messages - for the whole message and meaning of the cards you will need to obtain these pretty cards for yourself - or get someone else to buy them for you as a gift!

Here are your messages and insights for today. Try to sit quietly for a few moments, meditate on your card and think about how you can learn from, and act upon, its message...

Aries

: WORTHINESS

Know that you deserve to receive in good ways.

Taurus

: MAKE A WISH

This is a magical moment. Make a wish, and enjoy its manifestation.

Gemini

: WATCH YOUR THOUGHTS

It's important to only think about what you desire, not what you fear.

Cancer

: EXPLORE YOUR OPTIONS

It's time to look at other possibilities. It's a good time to make changes.

Leo

: POSITIVE ENERGY

Surround yourself with positive people and situations, and avoid negativity.

Virgo

: WAIT

Don't rush into action right now. Bide your time for better results.

Libra

: A NEW DAWN

The worst is now behind you, and positive new experiences are on the horizon.

Scorpio

: TIME TO MOVE ON

It's time to let go of the old and worn out so that the new can come in.

Sagittarius

: TREASURE CHEST

An unforeseen windfall of new abundance comes to you now!

Capricorn

: STAY OPTIMISTIC

Your dreams are coming true. Don't quit right before the miracle occurs.

Aquarius

: ALCHEMY

You have the Midas touch right now, and every project you begin turns to gold.

Pisces

: PAY ATTENTION

(two days in a row!)

Notice repetitious signs and your inner guidance, as this can yield valuable information.

Please feel free to leave any comments here on Blogger, or on my Facebook Page
The Daily Divination
, or on
Twitter
Thank you!