Good morning!

Today is Ostara and the first day of spring!

Here are 3 things about Ostara "that you didn't know you knew" from a lovely Facebook Page called Circle in a Box

Factoid #1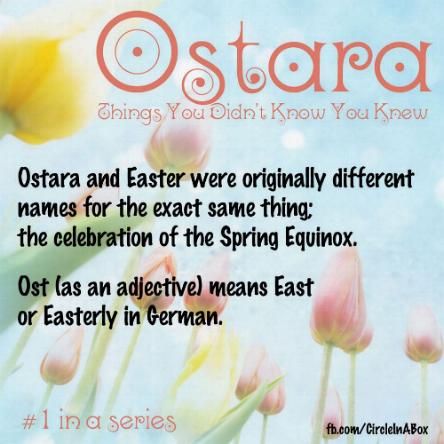 Factoid #2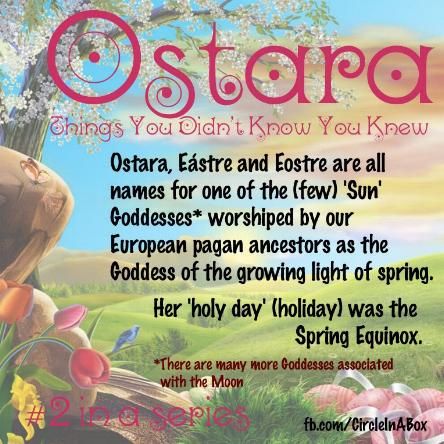 Factoid #3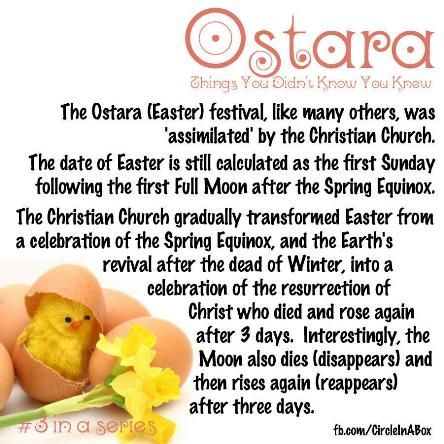 So now you know! If you didn't know already ;)
It's a lovely, bright day here in Pevensey Bay and I had a wonderful start to my day when I took Maisie for her walk - the first thing I saw was a shiny penny on the ground!
"Find a penny pick it up, all day long you'll have good luck!"
On the beach I was gifted with some treasures - including a beautiful shell, 2 holey stones and two more lovely stones, ideal for painting... which I have been collecting.
Through Facebook and the
Eastbourne Lammas Festival
last year I met a lovely lady, Elaine, who paints stones. She is such a talented artist and her artwork is just gorgeous! Here's an example:
Isn't it stunning? Click on the photo or
here
to visit her page -
Elluna Art
- and see more of her wonderful creations!
Sadly, painting has never been my strong point - although I used to draw quite well - but seeing Elaine's pretty stones has inspired me to want to give it a go... when I find some time.
Talking of which, I have another hectic day ahead, so I must get a move on!
Please find your cards and messages below and - whatever your star sign - enjoy your day :)
Brightest Blessings,
Kaz
www.blessingz.co.uk
www.cheekywitch.co.uk

This week I am using the beautiful
Magical Mermaids and Dolphins Oracle Cards


by Doreen Virtue, Ph.D.


Quoted from the pack: "The Magical Mermaids and Dolphins Oracle Cards are specifically designed to help you manifest your goals, life purpose, and Divinely inspired dreams. These 44 beautifully illustrated cards can help you swim into the ocean of your unconscious mind, where profound thoughts and feelings can create - or block - your heart's desire. The cards are easy to use, and the enclosed guidebook will help you perform amazingly accurate readings for yourself and others."
My personal card for today

: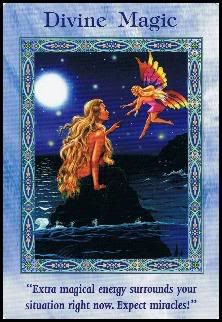 DIVINE MAGIC
Extra magical energy surrounds your situation right now. Expect miracles!
Divinatory meaning: This card signifies that the next oracle card you pull out of the deck is surrounded by Divine magical energy. The Divine Magic card urges you to pay very special attention to this card, and do your best to follow its message.
The divine magic card indicates that a spiritual gateway has opened for you. At such times, your ability to manifest is heightened. Use this time to focus upon your desires. If you're unsure what you truly want, ask for Divine guidance through prayer, meditation, or ritual.
(The next card I pulled was "Stay Optimistic" "Your dreams are coming true. Don't quit right before the miracle occurs." All very exciting and relevant!)

Today's cards for each of the star signs

:

Due to lack of time, etc. These are the 'quick reading' messages - for the whole message and meaning of the cards you will need to obtain these pretty cards for yourself - or get someone else to buy them for you as a gift!

Here are your messages and insights for today. Try to sit quietly for a few moments, meditate on your card and think about how you can learn from, and act upon, its message...

Aries

: A NEW DAWN

The worst is now behind you, and positive new experiences are on the horizon.

Taurus

: HAVE FAITH

Your prayers are manifesting. Remain positive, and follow your guidance!

Gemini

: SIMPLIFY YOUR LIFE

Eliminate clutter from your home and work life to balance the flow of activities.
Cancer

: MUSIC FOR MANIFESTING

To manifest rapidly, think of your desire while you chant, hum, sing, or play music.

Leo

: ACCEPT HEAVEN'S HELP

You've prayed for help, so get out of the way and let Heaven help you.

Virgo

: WATCH YOUR THOUGHTS

It's important to only think about what you desire, not what you fear.

Libra

: WORTHINESS

Know that you deserve to receive in good ways.

Scorpio

: LET YOURSELF RECEIVE

Allow others to give you loving care. Receive without guilt or apologies.

Sagittarius

: SELF-EMPLOYMENT

You're a born entrepreneur, and your business is surrounded by magical opportunities.

Capricorn

: PROTECTION

You, your loved ones, and your possessions are safe and protected by Heaven!

Aquarius

: FRIENDSHIP

Make a date for a play day with one or more friends.

Pisces

: PLAY TIME

The dolphins know the importance of playing, as joy creates miracles and manifestation.

Please feel free to leave any comments here on Blogger, or on my Facebook Page
The Daily Divination
, or on
Twitter
Thank you!