Good morning!

Well, I had quite an eventful and busy weekend in one way and another - a bit of an emotional rollercoaster really, which has left me with very mixed feelings - from excitement and elation, to frustration and despair - and a head full of career ideas and possibilities....

Lots of synchronicities and messages pointing me in a new direction and confirming the possibility of changes, including this week's Cancer Astrology Video from the wonderful Michele Knight.


Also, when I 'asked' my
Life Purpose Oracle Cards
"What do I need to know about my situation right now?"
I got the card "Protected" with the message "You are safe and supported while you change your career."
There's research to be done and plans to make... and my personal card for today looks very positive and encouraging too!
However, before I can do any of that - as it is Manic Monday, I have to get on with my emails, orders and queries!
I'm using the
Magical Mermaids and Dolphins Oracle Cards
this week.
Whatever your star sign - enjoy your day :)
Brightest Blessings,
Kaz
www.blessingz.co.uk
www.cheekywitch.co.uk

This week I am using the beautiful
Magical Mermaids and Dolphins Oracle Cards
by Doreen Virtue, Ph.D.


Quoted from the pack: "The Magical Mermaids and Dolphins Oracle Cards are specifically designed to help you manifest your goals, life purpose, and Divinely inspired dreams. These 44 beautifully illustrated cards can help you swim into the ocean of your unconscious mind, where profound thoughts and feelings can create - or block - your heart's desire. The cards are easy to use, and the enclosed guidebook will help you perform amazingly accurate readings for yourself and others."
My personal card for today

: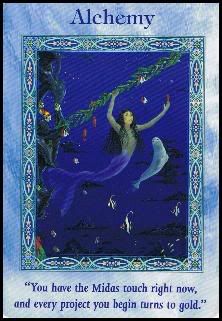 ALCHEMY
You have the Midas touch right now, and every project you begin turns to gold.
Divinatory meaning: You're on a roll at this time, with the energy of heightened success surrounding you and your endeavours. You instantly manifest your thoughts and ideas, so choose them carefully! Just as you're capable of manifesting masterpieces right now, you're also able to manifest problems. But the good news is that you can also undo any manifestation that you're unhappy about.
An alchemist is someone who turns base metal into precious gold or silver. You have the ability to take ordinary projects and make them come alive with meaning, blessings, and abundance for everyone involved.
Your gratitude for your God-given manifestation power; and also the joy you feel in response to the beautiful creations that stem from it, are keys to amplifying your alchemy abilities.
Affirm frequently: "Thank you for helping me focus my thoughts completely on joy and the desire to be connected to Divine love. I am so grateful that all of my needs are so carefully addressed = instantly."

Today's cards for each of the star signs

:

Due to lack of time, etc. These are the 'quick reading' messages - for the whole message and meaning of the cards you will need to obtain these pretty cards for yourself - or get someone else to buy them for you as a gift!

Here are your messages and insights for today. Try to sit quietly for a few moments, meditate on your card and think about how you can learn from, and act upon, its message...

Aries

: HAVE FAITH

Your prayers are manifesting. Remain positive, and follow your guidance!

Taurus

: SYNCHRONICITY

Your prayers and questions are being answered by synchronistic events. Notice them in order to increase their flow.

Gemini

: MORNING AFFIRMATIONS

Say positive affirmations each morning to open the gates of manifestation.

Cancer

: ACCEPT HEAVEN'S HELP

You've prayed for help, so get out of the way and let Heaven help you.

Leo

: DIVINE MAGIC

Extra magical energy surrounds your situation right now. Expect miracles!

Virgo

: CONTEMPLATION TIME

Spend time alone, meditating upon what you truly desire.

Libra

: MAKE A WISH

This is a magical moment. Make a wish, and enjoy its manifestation.

Scorpio

: WATCH YOUR THOUGHTS

It's important to only think about what you desire, not what you fear.

Sagittarius

: A NEW DAWN

The worst is now behind you, and positive new experiences are on the horizon.

Capricorn

: TIME TO MOVE ON

It's time to let go of the old and worn out so that the new can come in.

Aquarius

: EXPLORE YOUR OPTIONS

It's time to look at other possibilities. It's a good time to make changes.

Pisces

: PAY ATTENTION

Notice repetitious signs and your inner guidance, as this can yield valuable information.

Please feel free to leave any comments here on Blogger, or on my Facebook Page
The Daily Divination
, or on
Twitter
Thank you!