Good morning!

I'm back!

I'm sorry, I took a longer break than I intended, but it was necessary - the last 2 months of 2012 were very difficult, very stressful, traumatic and tiring - and then I came down with a flu-type bug just before Christmas and I haven't been fully well since then...

However! I am feeling loads better, and very optimistic and excited about what 2013 will bring!

We had a wonderful Christmas because - after being away for almost 7 weeks - we at last had Dad home from the hospital!

Here's a photo of me and my Dad taken on Christmas day.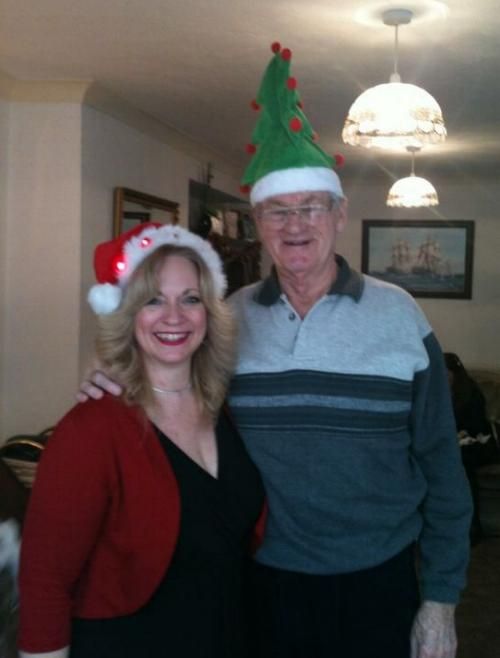 He is doing amazingly well, although he has to have a nurse visit every day, because he has to have antiobotics in a drip for the next couple of months at least - and he still doesn't have much feeling in his fingers, but we are hopeful that the feeling will return eventually and we are so grateful to have him home again!
I do you hope you all had a good Christmas?
So here we are, one week into 2013! Did you make any New Year Resolutions? (Have you broken them yet?!)
I have set a few 'goals' for the coming months...
Mind
: I am going to concentrate on expanding and growing my business - which may sound odd to say, as I have been self-employed for several years now - but as I am more of a 'creative' with lots of ideas and not much of a 'business brain', it's not easy for me...
However, I am really lucky to have Richard now, and he is so supportive of my efforts - and he has lots of great ideas on how to improve the business side of things - so I am feeling energised and encouraged to do better this year and learn to have some 'business sense'.
Body
: I am re-joining
Slimming World
today. I stopped going when Dad went into hospital at the beginning of November and I know that I will have a horrible shock when I get weighed in this evening - especially after all the delicious 'extra' food, chocolate and alcohol I consumed over the festive period!
However, I have a wedding to go to in February - so that's a good incentive to help me get back 'on plan'.
Now that I have eaten up all the leftover Christmas 'goodies', I don't have any 'naughties' in my cupboards to tempt me to go astray... and I can start to eat more healthily again.
Spirit
: I am going to make a concerted effort to manage my time A LOT better (something that I'm really terrible at doing) so that I get more sleep, more rest, and create more time to relax and enjoy the things that are good for my soul!
As usual my personal card for today spot on, as is my card for Cancer!
I hope you find your card and message helpful and inspiring too?
Whatever your star sign - have a wonderful day :)
Brightest Blessings,
Kaz
www.blessingz.co.uk
www.cheekywitch.co.uk
This week I am using
by Sally Morningstar
Quoted from the pack: "The Wicca Pack, weaving magic into your life. Contains the Wicca Book and set of Divinatory cards. Wiccan Magic. learn the basics of working with high magic, the importance of sacred spaces, the timing of high days and holy days, and the correct use of magical crafts. Connect with the archetypes of the ancient Pagan deities, and use the beautifully illustrated cards to develop your latent intuitive skills and explore the world of natural magic through inner spiritual work."

My personal card for today

: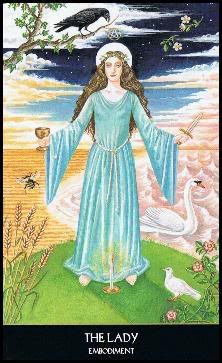 THE LADY - Embodiment
High Note: All that you need is present.
Low Note: Issues of disempowerment are highlighted.
Vibration: Archetype.
Keywords: Embodiment, character, empowerment.
Full meaning: The Lady signifies that you may have been feeling different recently. New blood seems to be coursing through your veins and you are changing as a result. It is possible to embody any characteristics we choose, and by so doing, match the energies that are presenting themselves to us in our outer world.
The Lady indicates that you do have the ability to stand up for yourself, even if it doesn't seem like it sometimes. You are the power behind your reality. If your reality does not fit your dream - start to change it now.
Call for the energies that are required to fill you with whatever you need.
Believe in your power and your strength.

Today's cards for each of the star signs

:

Due to lack of time, etc. These are the 'quick reading' messages - for the full reading and meaning of the cards you will need to obtain these cards for yourself - or get someone else to buy them for you as a gift!

Here are your messages and insights for today. Try to sit quietly for a few moments, meditate on your card and think about how you can learn from, and act upon, its message...

Aries

: SHEKINAH - Transcendence

High Note: Dreams can come true.

Low Note: You are not alone.

Vibration: Heaven on Earth.

Keywords: Transcendence, karmic purpose, faith.

Taurus

: THE MOON - Timing

High Note: Heavenly light illuminates a hidden treasure.

Low Note: Don't be deceived. Learn to stand in your power.

Vibration: Sacral Chakra.

Keywords: Timing, revelation, knowing.

Gemini

: SPIRAL - Attraction

High Note: Change is coming.

Low Note: Release, let go, prepare.

Vibration: Formative ethers

Keywords: Attraction, release, movement.

Cancer

: BAT - Rebirth in Consciouness

High Note: Consciousness awakens your flight to freedom.

Low Note: This too will pass.

Vibration: Third Eye Chakra

Keywords: Rebirth, change, spiritual awakening,

Leo

: BLACK CAT - Psychism

High Note: Visionary skills guide your way

Low Note: Psychic awareness is required.

Vibration: Third Eye Chakra

Keywords: Psychism, clairvoyance, psychic protection

Virgo

: NEMESIS - Lessons

High Note: The powers of truth will prevail.

Low Note: Embrace the lessons that life must bring if you are to grow.

Vibration: Soul

Keywords: Lessons, Karma, destiny.

Libra

: HOLY WATER - Purification

High Note: Cleansing provides a clear space for change.

Low Note: Seek purity in thought and action.

Vibration: Sacral Chakra

Keywords: Purification, cleansing, thirst for knowledge.

Scorpio

: CRYSTAL BALL - Insight

High Note: Clear vision now creates your future.

Low Note: Follow your own counsel.

Vibration: Third Eye Chakra

Keywords: Insight, divination, vision.

Sagittarius

: ATHAME - Commander of Power

High Note: Powerful energies protect and guide you.

Low Note: Boundary issues are highlighted.

Vibration: Solar Plexus Chakra

Keywords: Empowerment, direction, boundaries.

Capricorn

: PENTACLE - Evocation

High note: The Ancestors guide you to wisdom.

Low note: Balance your energies. You are drawing what you need in order to progress.

Vibration: The Elements

Keywords: Evocation, manifestation, protection.

Aquarius

: BELL - Awakening

High Note: Celebrate a change in circumstances.

Low Note: Wake up! It is time to listen and learn.

Vibration: Throat Chakra.

Keywords: Awakening, summoning.

Pisces

: THE HIGH PRIEST - Guardian

High note: With wisdom, absolutely anything is possible.

Low note: Humility is highlighted.

Vibration: Consciousness.

Keywords: Guardianship, wisdom, guidance.
Please feel free to leave any comments about this blog here on Blogger, or on my Facebook Page
The Daily Divination
, or on
Twitter.
Thank you!