Good morning!

I took some photos of Maisie on the beach today - and tried to film a little on my iphone - so I could share the beauty of my beach with you!

However, I've been reading emails, sorting a few things out, etc., and now I'm all behind and haven't time to figure out how to upload it! Maybe tomorrow....

In the meantime, as I have a lot to accomplish today, I shall just have to get straight on with the cards and messages for Wednesday!

Whatever your star sign - enjoy your day :)

Brightest Blessings,
Kaz
www.blessingz.co.uk
www.cheekywitch.co.uk



This week I am using the
Power Animal Oracle Cards

by Steven D.Farmer, Ph.D.


Quoted from the pack: "Power Animals are spirit guides in animal form who provide protection, guidance and healing. This deck of 44 oracle cards by Steven Farmer will connect you with animal spirit guides who will advise you about any aspect of your life. Whether you're a beginner or an experienced reader, the enclosed easy-to-follow guidebook provides instructions to help you immediately give accurate readings to yourself and others."
My personal card for today

: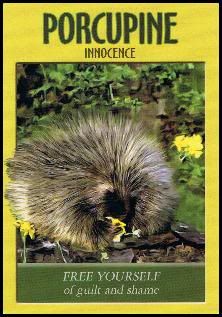 PORCUPINE - INNOCENCE
FREE YOURSELF of guilt and shame
Divinatory meaning: See the world through the eyes of a child, trusting your inner mother and father to be there whenever you need them. Protection is available when you need it, so you can feel safe in expressing yourself in all the different ways you've always wanted to. There's boldness in innocence, and no more need to hide behind any childhood guilt about perceived misdeeds or be consumed with shame about revealing your true self. You're a gentle soul and have never intentionally harmed anyone.
Release any guilt over your behaviour or shame about yourself in this situation. There's no need to feel resentful, victimized, or arrogant toward anyone else either. Be the child of God that you are. In your heart, live in the garden. Others may cause you to prickle, but truly, most of what they do or say to you is harmless and not a threat. So be joyful and grateful, and let everything you do be done with complete abandon. Dance, laugh, sing, and be free again, just like you were on the day you were born.
Additional Association: Humility; Protection; Sensitivity; Trust
Today's cards for each of the star signs

:

Due to lack of time, etc. These are the 'quick reading' messages - for the full reading and meaning of the cards you will need to obtain these cards for yourself - or get someone else to buy them for you as a gift!

Here are your messages and insights for today. Try to sit quietly for a few moments, meditate on your card and think about how you can learn from, and act upon, its message...

Aries

: OWL - OMENS Pay attention to SIGNS

Additional Association: Wisdom; Shadows; Secrecy; Magician

Taurus

: DOVE - SERENITY SLOW DOWN, pause, and breathe

Additional Associations: Love; Soul; Domesticity; Spirituality

Gemini

: KANGAROO - GRATITUDE BE GRATEFUL for all you are blessed with

Additional Association: Nurturing; Generosity; Abundance; Family
Cancer

: OTTER - SURRENDER LET GO of control

Additional Associations: Sensuality; Merging; Family; Playfulness

Leo

: DRAGONFLY - ILLUSION YOU KNOW who you really are

Additional Associations: Colourfulness; Mirage; Mystery; Deception

Virgo

: HAWK - FOCUS CHOOSE YOUR PRIORITIES and eliminate all distractions

Additional Associations: Messenger; Perspective; Detachment; Swiftness

Libra

: BEAR - BOUNDARIES STAND your ground

Additional Association: Protection; Creativity; Solitude; Healing

Scorpio

: SEAL - IMAGINATION IMMERSE YOURSELF in artistic and creative projects

Additional Associations: Creativity; Grace; Adaptation; Playfulness

Sagittarius

: WHALE - SOUL'S PATH HONOR your soul's purpose

Additional Associations: Migration; Devotion; Communication; Soul Memory
Capricorn

: DOLPHIN - PLAYFULNESS Take time to PLAY

Additional Association: Communication; Breath; Community; Guidance

Aquarius

: COUGAR - CONFIDENCE Be bold and TAKE CHARGE

Additional Associations: Stealth; Leadership; Focus; Conviction

Pisces

: PELICAN - FORGIVENESS LET GO of your judgments

Additional Association: Grace; Unselfishness; Self-sacrifice; Cooperation