Good morning!

I've done it again! Got caught up, doing other stuff, and competely lost track of the time! EEK!

You know what it's like...

You start off thinking "I must just do 'this', then I can do 'that'..." and you start doing 'this' and find it involves doing something else, which in turn leads you off to doing another thing, and then another... and before you know it, two and a half hours have passed and you still haven't done 'that'!

So here I am at last, doing 'that' - which just happens to be your cards and messages for Thursday!

But first, here's a slideshow of some of the cards in the Power Animal Oracle Cards deck! I know a lot of people really like this deck :)


Whatever your star sign - have a great day :)
Brightest Blessings, Kaz
www.blessingz.co.uk
www.cheekywitch.co.uk
This week I am using the
Power Animal Oracle Cards

by Steven D.Farmer, Ph.D.


Quoted from the pack: "Power Animals are spirit guides in animal form who provide protection, guidance and healing. This deck of 44 oracle cards by Steven Farmer will connect you with animal spirit guides who will advise you about any aspect of your life. Whether you're a beginner or an experienced reader, the enclosed easy-to-follow guidebook provides instructions to help you immediately give accurate readings to yourself and others."
My personal card for today

: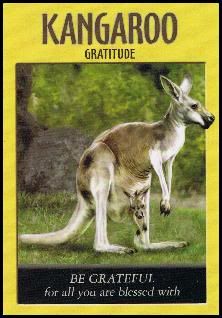 KANGAROO - GRATITUDE
BE GRATEFUL for all you are blessed with
Divinatory meaning:In this very materially oriented world where you're constantly bombarded with so many possibilities and choices for acquisition and accumulation, it's easy to forget to be grateful for what you do have rather than feeling envious and resentful for what you don't have. Trust that you'll always have what you need.
Allow the richness and goodness of our fair and generous Mother Earth to be yours, not for the taking out of avarice and greed, but out of acceptance and continuous appreciation for the gifts you receive. Everything that comes your way in actuality is a gift, whether or not you consciously manifested it.
"Thou shalt not want" doesn't mean that you shouldn't have any desires, but that you shall never have to go without food, water, shelter, or love - that is, unless you deny Life the privilege of providing these things for you.
Today, every time you receive a gift of goods, service, love or money, express your gratitude to the giver - and the Creator - if only by simply saying, "Thank you." Remember always that no matter who or how the gift is delivered, it comes from the Creator.
Additional Associations: Nurturing; Generosity; Abundance; Family
Today's cards for each of the star signs

:

Due to lack of time, etc. These are the 'quick reading' messages - for the full reading and meaning of the cards you will need to obtain these cards for yourself - or get someone else to buy them for you as a gift!

Here are your messages and insights for today. Try to sit quietly for a few moments, meditate on your card and think about how you can learn from, and act upon, its message...

Aries

: FROG - PURIFICATION CLEAR OUT the clutter

Additional Associations: Singing; Rhythm; Rainmaker; Sensitivity

Taurus

: MONKEY - INGENUITY The situation calls for ADAPTABILITY and INNOVATION

Additional Association: Dexterity; Clevernes; Inquisitiveness; Innovation

Gemini

: DOLPHIN - PLAYFULNESS Take time to PLAY

Additional Association: Communication; Breath; Community; Guidance
Cancer

: BUFFALO - ABUNDANCE YOU ARE PROVIDED FOR in all ways

Additional Associations: Generosity; Gratitude; Surrender; Sacrifice

Leo

: SWAN - GRACE APPRECIATE THE BEAUTY inside and all around you

Additional Associations: Elegance; Purity; Innocence

Virgo

: BLACK PANTHER - PASSION Follow your PASSION

Additional Associations: Sensuality; strength; Clarity; Solitude
Libra

: RABBIT - FERTILITY Your creativity is at a peak

Additional Association: Vigilance; Abundance; Agility; Sacrifice

Scorpio

: SALMON - DETERMINATION You know where you are going and YOU WILL GET THERE

Additional Association: Purpose; Sacrifice; Regeneration; Endurance

Sagittarius

: DEER - PATHFINDER TRUST YOUR INSTINCTS to guide you through this situation

Additional Association: Gentleness; Cunning; Grace; Purity

Capricorn

: OTTER - SURRENDER LET GO of control

Additional Associations: Sensuality; Merging; Family; Playfulness

Aquarius

: TURTLE - RETREAT STOP TRYING to make something happen

Additional Associations: Femininity; Slowness; Toughness; Fertility

Pisces

: OWL - OMENS Pay attention to SIGNS

Additional Association: Wisdom; Shadows; Secrecy; Magician