Good morning!

We had rather a stormy night! Heard a few bangs and crashes during the night and found things knocked over and blown around the garden this morning.

'Funnily' enough last night was the 25th anniversary of The Great Storm of 1987 - thankfully last night was just 'a little breezy' in comparison.

I remember the night of The Great Storm (as it was not classified as a hurricane, that's what it was called) because my son, Tom, was only about 6 weeks old and I was up in the middle of the night feeding him and could hear the gales and things crashing about outside. I looked out the window and I could see dustbins rolling down the road!

I tried to wake my husband at the time (who was a very deep sleeper) and said it was like a hurricane outside and I was scared of the chimney coming down - he grunted and rolled over...

A few moments later there was an almighty crash which did wake him and he realised this was more than just a windy night!

We got all four children out of bed and made a 'camp' downstairs, away from possible danger from chimneys blowing down... It was a scary night!

In the morning, surveying the damage, we found our next door neighbours glass conservatory spread across our back garden, our garage roof was in our front garden and our brick built garage was a pile of rubble - some of which had crashed through the back of our motorhome... but we got off lightly compared with many!

Click here to see some You Tube videos about the storm, if you're interested...

Back to last night - I was dreaming about spiders most of the night!

Not very pleasant, and luckily I have forgotten the details of the dreams, but I have come to (reluctantly) accept the presence of 'spider' in my life as it is one of my totems (it is often a totem for writers and creative people...) so I understand the message :)

For example, from the Just for Today cards - the message says:

Spider - Dance your dreams alive - Create from your hearts bliss. Weave the web you want to live.

Also - taken quite literally - I've been doing a lot of 'web work' - sorting out my websites, interlinking and interweaving everything... All very complicated, but it's all gradually starting to come together at last :)

(Thank Goddess for FatCow! I can HIGHLY recommend this webhosting company and the wonderful helpful people that work there!)

Sorry - I am rambling on this morning...

Time to get on with the cards and messages for Tuesday - then I have lots of Bags of Blessings to make!

Whatever your star sign - have a great day :)

Brightest Blessings,
Kaz
www.blessingz.co.uk
www.cheekywitch.co.uk



This week I am using the Power Animal Oracle Cards

by Steven D.Farmer, Ph.D.


Quoted from the pack: "Power Animals are spirit guides in animal form who provide protection, guidance and healing. This deck of 44 oracle cards by Steven Farmer will connect you with animal spirit guides who will advise you about any aspect of your life. Whether you're a beginner or an experienced reader, the enclosed easy-to-follow guidebook provides instructions to help you immediately give accurate readings to yourself and others."
My personal card for today

: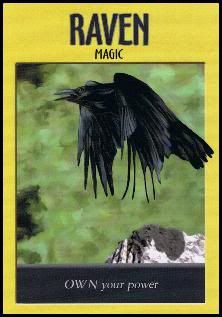 RAVEN - MAGIC
OWN your power
Divinatory meaning: Trying to keep yourself little by denying your power so you wont be a threat to anyone merely keeps you in a false bubble of safety. Of course, at least that way you won't get noticed much or stand out. Well, that trick has worn out its welcome. You're more powerful that you think you are, so it's time to stop pretending. Those psychic games you play - like finding convenient parking spaces or knowing when someone is going to call - those are just parlour tricks, yet they're subtle testimonies to the gifts you have.
There's no need to take on airs about your incredible talents. Let them serve you, but mainly let them be of service to others - whether human, animal, plant, or mineral. Use your abilities to demonstrate to others that there is this amazing power of Spirit available that can move mountains. A force that can be accessed with the proper mix of faith, intention, and focus. So stop doubting, worrying, or making excuses, and own your capacity to be a powerful magician. Use these gifts to help make this a better world for all beings.
Additional Association: Shadow; Insight; Prophecy; Shape-Shifting
Today's cards for each of the star signs

:

Due to lack of time, etc. These are the 'quick reading' messages - for the full reading and meaning of the cards you will need to obtain these cards for yourself - or get someone else to buy them for you as a gift!

Here are your messages and insights for today. Try to sit quietly for a few moments, meditate on your card and think about how you can learn from, and act upon, its message...

Aries

: RACCOON - RESOURCEFULNESS You have all the RESOURCES you need

Additional Association: Stealth; Ingenuity; Cleverness; Dexterity

Taurus

: COUGAR - CONFIDENCE Be bold and TAKE CHARGE

Additional Associations: Stealth; Leadership; Focus; Conviction

Gemini

: ELEPHANT - RESOLVE You will OVERCOME ANY OBSTACLES

Additional Association: Protective; Motivated; Maternal; Family

Cancer

: EAGLE - SPIRIT TRUST in your higher self

Additional Association: Vision; Courage; University; Masculinity

Leo

: HUMMINGBIRD - JOY LIGHTEN UP

Additional Association: Flexibility; Sensitivity; Vibration; Colour

Virgo

: SQUIRREL - PREPARATION Get ready for BIG CHANGES

Additional Associations: Gathering; Activity; Alertness; Guardian
Libra

: DRAGONFLY - ILLUSION YOU KNOW who you really are

Additional Associations: Colourfulness; Mirage; Mystery; Deception

Scorpio

: RABBIT - FERTILITY Your creativity is at a peak

Additional Association: Vigilance; Abundance; Agility; Sacrifice

Sagittarius

: BLACK PANTHER - PASSION Follow your PASSION

Additional Associations: Sensuality; strength; Clarity; Solitude
Capricorn

: BEAVER - PRODUCTIVENESS Go ahead and JUST DO IT

Additional Associations: Enthusiasm; Community; Cooperation; Ingenuity

Aquarius

: OTTER - SURRENDER LET GO of control

Additional Associations: Sensuality; Merging; Family; Playfulness

Pisces

: DOVE - SERENITY SLOW DOWN, pause, and breathe

Additional Associations: Love; Soul; Domesticity; Spirituality