Good morning!

I hope you had an enjoyable weekend?

Mine was spent mostly working, just for a change, but when you're self-employed you have to put a lot of work in, to try to build your business. No one else can do it for you....

I never did like working "9 til 5" anyway!

So, I have an Ebay UK Shop and an Amazon UK Store - and now I have been working on setting up some Bonanza (US) Booths!


Click on the banner above to visit one of them (still a work in progress) but while you're there have a good look around Bonanza - it's an interesting site, with loads of beautiful, unusual and wonderful things to see!
Bearing in mind that there are only 71 days until Christmas - you could find some great gifts at "The Ranch" (as it is affectionately called by its 'inhabitants').
There is a great sense of community and fun on the site - and it's well worth a visit!
If you like what you see, please spread the word and tell your friends to visit
www.bonanza.com
too!
Well, it's Manic Monday - must get on with my orders...
Whatever your star sign, I hope you find your message for today relevant and helpful? Have a productive day :)
Brightest Blessings,
Kaz
www.blessingz.co.uk
www.cheekywitch.co.uk
This week I am using the
Power Animal Oracle Cards
by Steven D.Farmer, Ph.D.
Quoted from the pack: "Power Animals are spirit guides in animal form who provide protection, guidance and healing. This deck of 44 oracle cards by Steven Farmer will connect you with animal spirit guides who will advise you about any aspect of your life. Whether you're a beginner or an experienced reader, the enclosed easy-to-follow guidebook provides instructions to help you immediately give accurate readings to yourself and others."
My personal card for today

: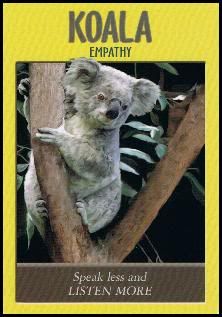 KOALA - EMPATHY
Speak less and LISTEN MORE
Additional Association: Rest; Detoxification; Safty; Sensitivity
Divinatory meaning: It seems that a lot of folks use lots of words, many moe than are really needed. It's rather narrow to consider communication to always be aboput words.
You can fill the air with words, and soemtimes even use them to cloud deeper sentiments and feelings. Talking so much can take away from the elegant pleasures inherent in stillness.
As the old adage goes: "Be still and know I AM!" Talk less and you'll find immense opportunities to not only listen, but to really hear. Even though it might sound strange, you can even hear silence.
Get to know others in a different way. Ask simple questions, then tune in not only to they words they say, but more important, to the subtle body language with which they express the words. You'll pick up nuances of feelings and meaning, some that even the speaker isn't aware of.
Listen closely as you walk through the woods. You can hear the sound of your heartbeat and breathing, the songs of the birds, and the whispery crunch as various critters make their way through the forest.
Make it a point today to speak as few times as possible, and only when absolutely necessary. Instead, use your ears, eyes, and physical senses as a conduit for a more profound connection with and understanding of the world around you.

Today's cards for each of the star signs

:

Due to lack of time, etc. These are the 'quick reading' messages - for the full reading and meaning of the cards you will need to obtain these cards for yourself - or get someone else to buy them for you as a gift!

Here are your messages and insights for today. Try to sit quietly for a few moments, meditate on your card and think about how you can learn from, and act upon, its message...

Aries

: ELEPHANT - RESOLVE You will OVERCOME ANY OBSTACLES

Additional Association: Protective; Motivated; Maternal; Family

Taurus

: BEAVER - PRODUCTIVENESS Go ahead and JUST DO IT

Additional Associations: Enthusiasm; Community; Cooperation; Ingenuity

Gemini

: OWL - OMENS Pay attention to SIGNS

Additional Association: Wisdom; Shadows; Secrecy; Magician
Cancer

: BUTTERFLY - TRANSFORMATION Get ready for a BIG BREAKTHROUGH

Additional Association: Rebirth; Vibrancy; Reincarnation; Colourfulness

Leo

: BLACK PANTHER - PASSION Follow your PASSION

Additional Associations: Sensuality; strength; Clarity; Solitude

Virgo

: PORCUPINE - INNOCENCE FREE YOURSELF of guilt and shame

Additional Association: Humility; Protection; Sensitivity; Trust
Libra

: SALMON - DETERMINATION You know where you are going and YOU WILL GET THERE

Additional Association: Purpose; Sacrifice; Regeneration; Endurance

Scorpio

: RACCOON - RESOURCEFULNESS You have all the RESOURCES you need

Additional Association: Stealth; Ingenuity; Cleverness; Dexterity

Sagittarius

: LION - COURAGE ASK for what you want

Additional Association: Ferocity; Nobility; Dignity; Assertiveness
Capricorn

: SNAKE - HEALING You are a HEALER

Additional Associations: Rebirth; Sexuality; Transmutation; Transformation

Aquarius

: EAGLE - SPIRIT TRUST in your higher self

Additional Association: Vision; Courage; University; Masculinity

Pisces

: FROG - PURIFICATION CLEAR OUT the clutter

Additional Associations: Singing; Rhythm; Rainmaker; Sensitivity