Good morning!

It's the 1st of October already!

Is it just me, or has this year just flown by?

I love this time of year, with the evenings drawing in and Halloween approaching...

I feel a growing excitement within me, and around me!

However, it is still a case of:

"Before Halloween, chopping wood, carrying water.
After Halloween, chopping wood, carrying water."

If you know what I mean ;)

I've had lots of orders over the weekend (always grateful for orders) so I'd better get on with my work!

Whatever your star sign - have a good Monday :)

Brightest Blessings,
Kaz
www.blessingz.co.uk
www.cheekywitch.co.uk


This week I am using the
Saints and Angels Oracle Cards

by Doreen Virtue, Ph.D.


Quoted from the pack: "Now you can easily receive messages and guidance from beloved saints such as Mother Teresa, Bernadette, Joan of Arc, Hildegard, Padre Pio, Anthony, Francis, and Cecilia. Doreen Virtue has created a nondenominational deck of oracle cards that people from various spiritual and religious backgrounds are sure to appreciate and enjoy.
Forty-four cards with breathtaking artwork depicting God, the Holy Spirit, Jesus, saints, archangels, and guardian angels give you answers and gentle advice. A guidebook accompanying the cards thoroughly explains how to receive guidance about the present and future, how to give an accurate reading to another person, and the general meaning of the card's message."
My personal card for today

: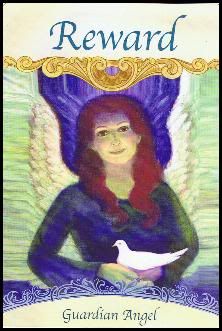 REWARD - Guardian Angel
Divinatory meaning: Your Guardian Angels are rewarding you for all your concerted efforts, hard work, and dedication on helping others. You've been giving so much, and now it's time for you to receive.
Your reward comes to you in an unexpected and happy way. It helps you know that you're not alone, and that you're being watched over. Allow this to boost your faith even further.
This is also a message for you to treat yourself with a few goodies. You've been expending so much energy that there's need for a retreat and rejuvenation. Indulge yourself with a massage, a pedicure, or a long soak in a warm bathtub. Rewarding yourself helps you keep going and feel appreciated for all your hard work, and it balances all the giving that you've been doing. You deserve this reward and remember: The more you allow yourself to receive, the more you have available to give to others.
Today's cards for each of the star signs

:

Due to lack of time, etc. These are the 'quick reading' messages - for the full reading and meaning of the cards you will need to obtain these cards for yourself - or get someone else to buy them for you as a gift!

Here are your messages and insights for today. Try to sit quietly for a few moments, meditate on your card and think about how you can learn from, and act upon, its message...

Aries

: YOU'RE A LEADER - St. Joan of Arc

Quick message: You're called upon to use your leadership skills to help an important cause. You probably know or suspect the nature of this endeavour already. You have natural qualities that will inspire others to help. Even if you don't think of yourself in this way, trust that this card comes to you as a clear message of your selection for this position. A leader best serves by being a living example and role model, so live in such a way that others admire your integrity and strength of character.

Taurus

: LEARNING EXPERIENCE - Guardian Angel

Quick message: This situation is an opportunity for you to learn some important life lessons. Instead of looking at this experience as a problem, see it as something that will help you to learn and grow. Your guardian angel will help you see the current situation in a more positive light, as well as identify the lessons involved and heal away unwanted patterns. Simply ask your angel for help with these issues, and then pay attention to any loving thoughts or feelings that guide you to take action.

Gemini

: PEACEFUL - Holy Spirit

Quick message: The Holy Spirit has descended upon you and the situation that you are enquiring about. Get in touch with this Divine energy by focusing upon the peace that's deep within your heart… This might require that you spend some quiet time alone in stillness. Rest assured that the Holy Spirit's peace is pervading this situation and opening the hearts of everyone involved. It brings about compassion so that everyone can see each other's point of view. This engenders forgiveness, which then opens and smoothes the path to peacefulness.
Cancer

: RETREAT - Guardian Angel

Quick message: This is a strong and clear message for you to go on a retreat as soon as possible. Your guardian angels want you to have some peace and quiet time, because you need to rest, rejuvenate and regroup. You'll gain new insights and the answers you seek, as well as develop a better understanding of the direction you need to go in and which step to take next.

Leo

: SLEEP - Guardian Angel

Quick message: Take a look at the topic of sleep in answer to your question. Most likely, this is a message for you to get more rest. Cut unnecessary activities from your schedule and get a good night's sleep. If emotional upsets are keeping you awake, give them to God and your angels. You can easily do this by mentally picturing your angel holding a bucket. Put any troubles into the bucket and watch the angel take them away to heaven, where everything is resolved.

Virgo

: HEALING - St. Padre Pio

Quick message: This is a powerful card, as it signifies the power of prayer. Your requests regarding health have been heard and answered. The situation is surrounded by God's rejuvenating love and is resolving itself in a miraculous way. This is also a message about your healing abilities and a call from Heaven for you to use those talents to help others in a more powerful way. If you elect to follow this calling, God will open the doors for your career. St Padre Pio, who both heals and helps those who follow this path, will inspire and protect you as you make any necessary life changes.
Libra

: FAITH - Guardian Angel

Quick message: Think of all the miracles you've experienced in your life so far. This card asks you to have faith that Heaven will continue to help and support you along the way. Your faith is a key factor right now, and it's important that you keep it strong. Like the angel in this card's painting, you're about to take a leap of faith. The message is that it's safe for you to make this leap - you're finally following your heart's wisdom, and it will pay you unseen dividends.

Scorpio

: PRACTICE MAKES PERFECT - Guardian Angel

Quick message: Practice, practice, practice… that's the message that your guardian angel has for you. The way for your to achieve what you're asking about is to practice your craft regularly. Your guardian Angel will help you carve out the time in your schedule to allow for regular work. This is a positive message for you to spend more time doing what you love. "Practice makes perfect" is an old adage - but you don't need to

perfect

your skills; you just need to

practice

them.

Sagittarius

: MIRACLE - Christ

Quick message: Christ is with you and engendering a miracle for you and the situation you're asking about. He shines God's light upon you and your loved ones, keeping you all safe and protected. You've asked for a miracle, and one is with you. Let go of how you think it should appear, as it comes directly from God's infinite wisdom, through Christ, and into your life.
Capricorn

: WISE DECISION - Guardian Angel

Quick message: The decision that you're considering is a wise one. This card is a message from your angels asking you to trust your inner wisdom. Sometimes you worry about your decision-making abilities because in the past, some of your choices seemed unwise. Yet if you truly think about it, you ultimately learned and gained a lot from them. In that way, you can't make a wrong decision, can you?

Aquarius

: VISION - Guardian Angel

Quick message: This is a message about honouring your vision. It asks you to trust the mental images that you've been receiving, as they're the answers to your prayers. Your prophetic visions with bring blessings to you and your loved ones. You know that they're Heaven-inspired because of their loving nature. Only follow the messages that ask you to act on behalf of God's love. Your angels surround your physical and spiritual vision with light. Look through their eyes and you'll see the best within yourself and life itself.

Pisces

: ACTIVIST - St. Mother Teresa

Quick message: You're guided to champion a cause, such as a social issue, a charitable group or a person in distress. Notice which issues arouse your passion or anger, and make a commitment to serve in some capacity to heal those situations. Like Mother Teresa, you can single-handedly make a positive difference in the world. She'll act as your guide in this matter if you'll ask for her help.