Good morning!

I have a busy day ahead of me again today - so popping in quickly to do the cards and message for Tuesday...

However, I just wanted to take this time to recommend the following site to lovers of all things 'Halloween'!

Samhain's Sirens
Yesterday they introduced their 'October Extravaganza' - which will inlude lots of interesting articles and blogs, recipes, craft ideas, songs and giveaways!
The Samhain's Sirens are promising a month of fun - so click on this pic to go and check it out!
Please visit
www.cheekywitch.com
if you're looking for some cute Halloween Mugs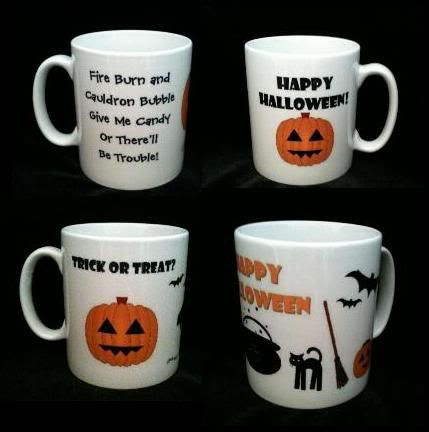 or Cheeky Witch Mugs, as gifts for your friends :)
Thanks!
You will find your message for Tuesday below and - whatever your star sign - have a great day :)
Brightest Blessings,
Kaz
www.blessingz.co.uk
www.cheekywitch.co.uk
This week I am using the
Saints and Angels Oracle Cards


by Doreen Virtue, Ph.D.


Quoted from the pack: "Now you can easily receive messages and guidance from beloved saints such as Mother Teresa, Bernadette, Joan of Arc, Hildegard, Padre Pio, Anthony, Francis, and Cecilia. Doreen Virtue has created a nondenominational deck of oracle cards that people from various spiritual and religious backgrounds are sure to appreciate and enjoy.
Forty-four cards with breathtaking artwork depicting God, the Holy Spirit, Jesus, saints, archangels, and guardian angels give you answers and gentle advice. A guidebook accompanying the cards thoroughly explains how to receive guidance about the present and future, how to give an accurate reading to another person, and the general meaning of the card's message."
My personal card for today

:
PAUSE - Guardian Angel
Divinatory meaning: Your guardian angel asks you to pause for a moment before moving forward. During this break, take time to consider your true thoughts and feelings about this situation. You've been moving so fast lately that you may have confused other people's wishes with your own. Take time out and really be honest with yourself: What do YOU want? What do YOU think is the right thing to do.
Pray to know God's will in this situation. You want to feel good before moving forward, so ask your questions and clear any issues before taking further action. You may decide to wait or cancel the entire project. If this is the case, you'll know why you did so after you take time to pause and consider your options.
This is a message to be true to yourself and God. Don't allow yourself to be swayed by others' judgements that run contrary to your own. Once you become clear about your true reasons an motivations, your actions will be fueled by truth, love and commitment. These winning ingredients spell sure success for any project!
Today's cards for each of the star signs

:

Due to lack of time, etc. These are the 'quick reading' messages - for the full reading and meaning of the cards you will need to obtain these cards for yourself - or get someone else to buy them for you as a gift!

Here are your messages and insights for today. Try to sit quietly for a few moments, meditate on your card and think about how you can learn from, and act upon, its message...

Aries

: PEACEFUL - Holy Spirit

Quick message: The Holy Spirit has descended upon you and the situation that you are enquiring about. Get in touch with this Divine energy by focusing upon the peace that's deep within your heart… This might require that you spend some quiet time alone in stillness. Rest assured that the Holy Spirit's peace is pervading this situation and opening the hearts of everyone involved. It brings about compassion so that everyone can see each other's point of view. This engenders forgiveness, which then opens and smoothes the path to peacefulness.

Taurus

: GENEROSITY - St. Nicholas of Myra

Quick message: You're asked to start or continue giving time, money, assistance or goods. This act helps you know how much you have, and leads to a feeling of abundance that automatically attracts greater prosperity into your life. The more you give, the more you'll receive. Contribute with joy and be totally detached from the outcome of your offering. St. Nicholas reminds you of the happiness that you receive when you give to others from the spirit of love. Allow yourself to be surprised at how the universe gives back to you.

Gemini

: STRESS MANAGEMENT - Guardian Angel

Quick message: Your angels are working with you to reduce the impact of stress. Pay close attention to your Divine guidance, such as thoughts or feelings about taking a rest, exercising, changing your routine, and avoiding conflict. You need to both reduce stress in your life and manage the way it's affecting you. To lessen this burden, you'll need to be assertive with people an say no to unwanted requests. Don't do anything out of guilt of obligation, and only engage in activities that you can perform out of loving service. Your angels will also help you see the love and light within each situation so that your thoughts are peaceful.
Cancer

: MOTHER - Mother Mary

Quick message: The answer to your question involves the topic of 'mother'. Mother Mary is with you, helping you with any emotional upsets with your own mother, such as grief, anger or worry. She can aid your healing from long-standing patterns between the two of you. This is also about you as a mother or caregiver. Mother Mary wants to help you in this life area. She'll alleviate any guilt or stress that may be interfering with the joy of parenting.

Leo

: BLESSINGS OF ABUNDANCE - Guardian Angel

Quick message: Your prayers have been heard and answered. Your daily bread and other needs are being provided for, now and in the future. Give your fears and worries over to God and the angels, and have faith that they're taking care of you and your loved ones. Let go of worrying about how your needs will be met, because God's infinite creative wisdom will take care of the details. Be open to receiving gifts and help from other people, as this is one way in which the Divine answers your prayers.

Virgo

: SLEEP - Guardian Angel

Quick message: Take a look at the topic of sleep in answer to your question. Most likely, this is a message for you to get more rest. Cut unnecessary activities from your schedule and get a good night's sleep. If emotional upsets are keeping you awake, give them to God and your angels. You can easily do this by mentally picturing your angel holding a bucket. Put any troubles into the bucket and watch the angel take them away to heaven, where everything is resolved.
Libra

: SPEAK YOUR TRUTH - St. Bernadette

Quick message: This is a strong message for you to speak up and tell the truth. Give any fears or worries about other's possible reactions to God, St. Bernadette and your angels. You can speak honestly in a loving way and still stay in integrity. No matter how others react you must give voice to the truth as you see it. Heaven will protect you and will guide your words as you say them.

Scorpio

: RETREAT - Guardian Angel

Quick message: This is a strong and clear message for you to go on a retreat as soon as possible. Your guardian angels want you to have some peace and quiet time, because you need to rest, rejuvenate and regroup. You'll gain new insights and the answers you seek, as well as develop a better understanding of the direction you need to go in and which step to take next.

Sagittarius

: DON'T COMPROMISE - St. Agnes of Rome

Quick message: You're asked to take a stand in favour of your truth and self-esteem. You don't need to compromise to get what you want, and you can live by the truth of your beliefs. St. Agnes is your guide and role model in this aspect. She shows that in love relationships - as well as career, home, health and other life areas - you mustn't compromise your values. As God's holy child, you deserve to be treated with love, respect and dignity. Accept nothing less.
Capricorn

: PRAY - Guardian Angel

Quick message: The answer to your question involves prayer. You're being guided to pray about the situation in order to elicit answers and assistance. Your guardian angels pray with you, asking for Divine intervention to help you and your loved ones. Take time right now to stop and pray from your heart. The words that you use aren't important compared to your sincere desire to connect with the Divine. Be open to a response appearing different from your expectations - and know that your prayers are heard and answered.

Aquarius

: YOU'RE A LEADER - St. Joan of Arc

Quick message: You're called upon to use your leadership skills to help an important cause. You probably know or suspect the nature of this endeavour already. You have natural qualities that will inspire others to help. Even if you don't think of yourself in this way, trust that this card comes to you as a clear message of your selection for this position. A leader best serves by being a living example and role model, so live in such a way that others admire your integrity and strength of character.

Pisces

: VISION - Guardian Angel

Quick message: This is a message about honouring your vision. It asks you to trust the mental images that you've been receiving, as they're the answers to your prayers. Your prophetic visions with bring blessings to you and your loved ones. You know that they're Heaven-inspired because of their loving nature. Only follow the messages that ask you to act on behalf of God's love. Your angels surround your physical and spiritual vision with light. Look through their eyes and you'll see the best within yourself and life itself.