Good morning!

I'm aching a bit this morning, because Richard and I went to dance class last night, and it was the first time we'd been few several weeks.

We had lots of fun though, and the steps soon came back to us. We did the Rumba, then started to learn the Quickstep, then a bit of Social Foxtrot and ended with a good 20 minutes of Jiving - my favourite!

We hadn't been for a while because of other commitments and sometimes because we've just felt too tired - as we both have very busy lives... but we're so glad we made the effort to go :)

I can highly recommend it, as it's good exercise and great fun!

I have a very busy day ahead, with lots of orders to make and several Cheeky Mugs, to package and post, before getting ready for this evening...

We're having a family get-together to say 'farewell' to my eldest daughter, Aimee, who is moving over 300 miles away, to live with her fiancé.

We're having an Indian Take-Away meal, from the new local Indian restaurant - and the menu looks amazing!

There will be eleven of us and my little grandaughter - so much feasting and merriment to look forward to :)

I'll be back on Monday, and I'll be using the Saints and Angels Oracle Cards next week!

Whatever your star sign - have a magical weekend :)

Brightest Blessings,
Kaz
www.blessingz.co.uk
www.cheekywitch.co.uk


This week I am using the
Wisdom Cards


by Louise L Hay

Illustrated by Eris Klein and Sarajo Frieden



Quoted from the pack: "A deck of 64 Affirmation Cards to help you develop your Inner Wisdom."

These cards are all about the power of positive thought!

My personal card for today

: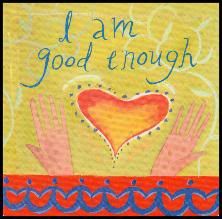 Affirmation: I am good enough.
I am not restricted by old, limiting beliefs from my family or from society.
Today's cards for each of the star signs

:

These cards are a bit different from some of the others I use, as they are a affirmation cards.

Read your message, think about its meaning and relevance to you and your situation, and use the affirmation throughout the day to remind yourself of its message - and change your thinking!

Aries

: Affirmation: I Release the Past with Ease, and I Trust the Process of Life.

I do not use yesterday's mental garbage to create tomorrow's experiences. I create fresh new thoughts and a fresh new life.

Taurus

: Affirmation: I Love and Accept myself right now.

(2 days in a row!)

I am in the process of becoming my own best friend - the person I am most joyous to be with.

Gemini

: Affirmation: I can Heal Myself on all Levels.

Healing means to make whole and accept all parts of myself - not just the parts I like, but all of me.
Cancer

: Affirmation: I am Willing to Change and Grow.

When I am ready to make positive changes in my life, I attract whatever I need to help me.

Leo

: Affirmation: I am on an endless Journey through Eternity.

Today is a very exciting time in my life. I am on a wonderful adventure and will never go through this particular experience again.

Virgo

: Affirmation: This Year I do the mental work for Positive Change.

My motto this year is: "I go for the joy!" Life is here for me to enjoy today.
Libra

: Affirmation: I have Unlimited Potential.

Loving myself and thinking joyful, happy thoughts is the quickest way to create a wonderful life.

Scorpio

: Affirmation: This World is our Heaven on Earth.

In the New Millennium of the Aquarian Age, we are learning to go within to find our saviour. We are the power we are looking for. Each one of us is totally linked with the Universe and with Life.

Sagittarius

: Affirmation: I Bless my Family with Love.

If I want love and acceptance from my family, then I must have love and acceptance for them.
Capricorn

: Affirmation: My Mind is a powerful Healing Tool.

Every illness holds a lesson for me to learn.

Aquarius

: Affirmation: I am a Harmonious Being.

I am in harmony with all of the people, places, and things that surround me in this world. I am at peace.

Pisces

: Affirmation: It is only a Thought, and a thought can be Changed.

The thoughts I choose to think and believe right now are creating my future. These thoughts form my experiences tomorrow, next week and next year.