Good morning!

Feeling a little stiff and achy after having a good dance session last night!

Richard and I go to a ballroom dancing class most Thursday nights. I admit that it isn't always easy to get out of the armchair and make the effort to go, after a long day working, when you're tired and you've started to relax after dinner... and it's getting cold and dark outside... and last night we had torrential rain too!

However, when we do make the effort, it is definitely worth it!

We started off with the rumba, then we 'had a go' at the Quickstep, followed by the Social Foxtrot and finished off with a bit of Jiving - which is my favourite!

Richard and I don't do 'ballroom jiving' as such, we do our own version - as we really want to learn to do 50's style jiving! Great fun, very energetic and a good work out too!

We're now looking for a local jive, or rock and roll club - then we just have to pluck up the courage to go and join in - which could be a bit daunting if they're all 'experts' - as we're just (enthusiastic) beginners!

In the meantime I've ordered a Rock 'N' Roll DVD
from Amazon - so we can try to learn a few new moves beforehand.

Wish us luck!

Time to get on with some work now, so here are the cards and messages for this weekend. :)

I shall be back on Monday and will be using the Power Animal Oracle Cards next week!

Whatever your star sign - have a great weekend :)

Brightest Blessings,
Kaz
www.blessingz.co.uk
www.cheekywitch.co.uk


This week I am using the
Cosmic Ordering Oracle Wish Cards

by Stephen Richards and Karen Whitelaw Smith


Quoted from the pack: "This guidance booklet will give you the meaning of the 44 pocket sized Cosmic Ordering Oracle Wish Cards. Use them in many different ways and learn to work with the energy of that card. Use the cards in your daily life to make a wish and watch it come true."

My personal card for today

: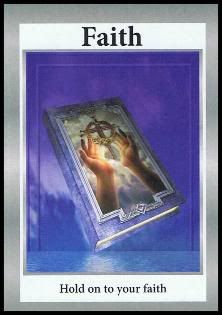 FAITH
Hold on to your faith
This card signifies the need to invoke the power of the Spirit. By having faith in a Infinite Power we in turn become empowered.
No matter how bleak your current situation, hold on to that faith. This act of trust will expel fear. Faith triggers cosmic vibrations, creating a circle of protection around us. Let the Source of all Power sustain you. Through it you will attain peace of mind.
Today's cards for each of the star signs

:

Due to lack of time, etc. These are the 'quick reading' messages - for the full reading and meaning of the cards you will need to obtain these cards for yourself - or get someone else to buy them for you as a gift!

Here are your messages and insights for today. Try to sit quietly for a few moments, meditate on your card and think about how you can learn from, and act upon, its message...

Aries

: LOVE True love never dies

Love is the greatest spiritual, magnetic force we know. Focus on its magnificent energy. Take a moment to revel in it, and then send out loving, peaceful thoughts to the world.

Taurus

: COSMIC INDULGENCE Look deeper

Ask the Cosmos for a special indulgence today, something wonderful, just for you. Remember too that the Cosmos will only reward you if you are giving back to the Universe.

Gemini

: SELF-DISCIPLINE To achieve you have to be self-disciplined

Self-discipline means aligning your actions with your desires, regardless of your emotional state. What will you do today to get closer to that dream?
Cancer

: TRAVEL Take a break

Book a mental vacation. Empower your life with regular meditations on beautiful places. Let their healing energy uplift your spirit

Leo

: DREAM BIG Live life to the full

You stand at the door of unlimited abundance. The bigger your dream, the further it will take you on your journey. There are no limitations but your imagination.

Virgo

: REFLECTIONS When you decide on what you want then that's what you get

Invoke the help of the Cosmos to change those things about your appearance you don't like.
Libra

: WISHES Make a wish and watch it come alive

Clear any obstacles to positivity. Keep your order free of ill thinking. Tune your will to the Spirit, and receive all the freedom and personal happiness you ever wanted.

Scorpio

: DETERMINATION Never, ever give up

Call on Spirit to give you strength, creativity and perseverance. Once you have made a decision to never, ever give up, anything is possible.

Sagittarius

: DETOX Wash away your worries

Have you been ignoring signs of overload in your body? Balance your physical body and clear your channel to the Cosmos. Drink more water to purify your system.
Capricorn

: TRUTH Be truthful with yourself

Are you truthful with your dealings with others? Do you lie to protect your ego? Redefine your relationship with honesty today and watch your life transform.

Aquarius

: JOURNAL

(3 days in a row! Never had that before - so giving you the full meaning, as it is obviously very important for you at the moment!)

Journal your thoughts to release your emotions

Full meaning: By journaling we unburden ourselves and find new ways of looking at life's challenges. Writing down our feelings alleviates emotional pain an brings us back into balance.

Keep a notebook beside your bed. Use it to interpret your dreams; use their daily insight to motivate you.

Journal a daily gratitude list. Thanks the Cosmos for all its blessings and allow more gifts to enter your life Journal your experiences, especially the painful ones. The Cosmos gives us lessons so that we can learn from them.

Pisces

: FORGIVENESS Learn to forgive others

Forgiving someone who has wronged us is the hardest lesson the human spirit can learn. But it is a vital lesson. Without forgiveness, anger rages through our lives like a torrent, destroying everything in its path.