Greetings!

What a glorious morning!

This is the sight that greeted me when I went up to the beach with Maisie earlier.


Gorgeous!
It's Friday again already, lots to do, so just time to tell you that I shall be back on Monday and I shall be using
The Wicca Pack
next week :)
I hope you find your message below interesting, relevant and insightful and - whatever your star sign - have a wonderful weekend!
Brightest Blessings,
Kaz
www.blessingz.co.uk
www.cheekywitch.co.uk
This week I am using the
'JUST FOR TODAY' CARDS

by Jamie Sams and David Carson


This deck is the daily, quick message version of the
Medicine Cards
deck by Jamie Sams and David Carson.
I have tried finding a link to The 'Just for Today' cards and can't find any, other than some listed on amazon for an incredibly expensive price! (I don't understand how they can be so expensive, as my set was very reasonable, although I have had them for quite a few years...)
The Medicine Cards are wonderful and come in a boxed set with a book of layouts, instructions and the full meanings for each of the animal guides. I have the Medicine cards too, but it is easier for me to give you the 'Just for Today' messages!
My personal card for today

: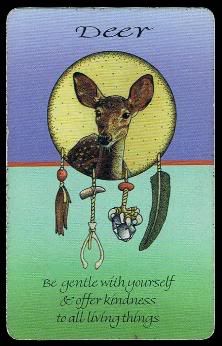 Deer - Be gentle with yourself.
Offer kindness to all living things.

Today's cards for each of the star signs

:

These are your messages from the animal guides for today! Try to sit quietly for a few moments, meditate on your card and think about how you can learn from and/or act upon its message...

Aries

: Opossum - Have a plan.

Use common sense. Honor the strategy that works best for you.

Taurus

: Armadillo - Respect your Sacred Space.

Drop hesitations and banish abuse. Use proper boundaries and thrive!

Gemini

: Grouse - Find your rhythm.

Honor the synchronicity. Spiral into your potential.
Cancer

: Buffalo - Make way for abundance.

Release fear of lack or scarcity. Open yourself to receive.

Leo

: Raven - Open yourself to miracles.

Use new eyes. Believe in magic. Embrace life's wonders.

Virgo

: Horse - Honor your Medicine.

Stand tall. Use your talents. Own who you are becoming.
Libra

: Dog - Be loyal to yourself.

Be true to others. Bolster your integrity.

Scorpio

: Fox - Blend in.

Avoid being the centre of attention. Become protective when needed.

Sagittarius

: Frog - Bring in the rain.

Tears cleanse your feelings. Refill with well-being.
Capricorn: Skunk - Attract what you need in order to grow.

Walk your talk. Know yourself.

Aquarius

: Spider - Dance your dreams alive.

Create from your hearts bliss. Weave the web you want to live.

Pisces

: Badger - Take charge of your life.

Go for it! Trust your abilities.