Good morning!

Another busy weekend - but spent mostly doing things I had to do (like the dreaded housework), not many of the things I needed to do (like sort through my stock after the Lammas Festival, in preparation for re-stocking for the next event in 4 weeks time) and none of the things I wanted to do (like work on my websites and new Cheeky Witch designs)!

However, I did manage to put up a lot of photos on Facebook, that Richard took with his new camera in and around the Cheeky Witch Stall over the Lammas Festival weekend - and I am hoping that the links below will allow you access to see the pics!

Click on this photo and it should open in the album of photos taken on the Saturday:


Click on the photo below and it should open in the album of photos taken on the Sunday:
Great fun was had by all!
Right - I promise not mention the
Lammas Festival
again after today! Well not until next year anyway ;)
Back to this weekend...
We enjoyed watching the Olympics on Saturday evening. It was very exciting - and nerve racking.... So proud of all our medal winners!
Sunday evening we chilled out in the garden, admiring the lovely little 'water feature' Richard has put in for me! (I am such a lucky girl!)
The garden is lovely at night now, with the coloured lights all around, the fountain and fire pit.
Here's little slideshow of some photos taken last night. They don't do it full justice - it's not easy getting good night-time shots because of the flash...
I took this photo of the fountain with my phone, which doesn't have a flash - showing it lit up by the spotlight - pretty eh?!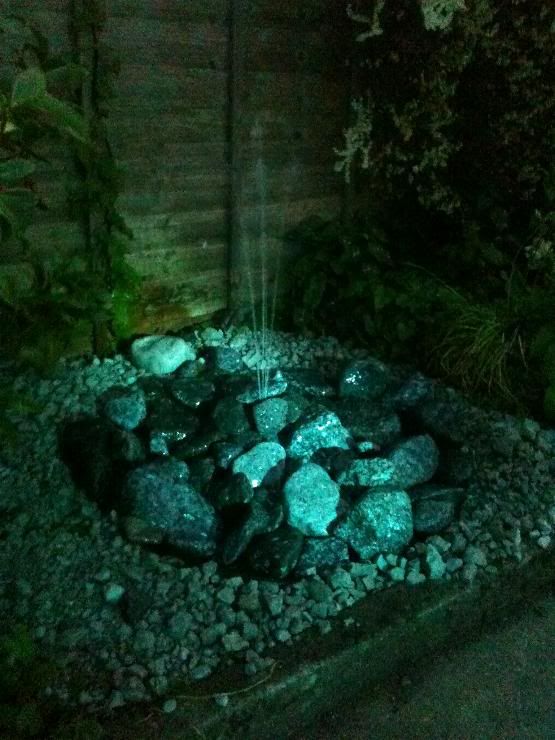 There is something so relaxing about a 'water feature'. I love hearing the water tinkling and splashing on the sparkly rocks, which I have been collecting from the beach for the past few months :)
Well, it's Manic Monday - no rest for the Cheeky - so I'd better get on with my orders...
Please find your cards and messages for Monday below, and - whatever your star sign - enjoy your day!
Brightest Blessings,
Kaz
www.blessingz.co.uk
www.cheekywitch.co.uk

This week I am using the


Messages from Your Angels Oracle Cards


by Doreen Virtue, Ph.D.


Quoted from the pack: "This card deck makes it easier than ever to give an amazingly accurate angel reading for yourself or others. Each card features a gorgeous angel painting, along with a one or two sentence message.
These cards will help you and others know what your exact life purpose it, whether ot not someone is your soulmate or not, what to do about your job and living situatuations, and other inportant life questions. Doreen based the cards upon her actual angel readings, using most commonly asked questions and angelic answers to create the ultimate deck for both the beginner and advanced card reader."
My personal card for today

: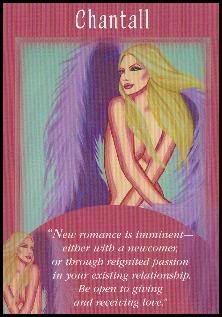 CHANTELLE
"New romance is imminent -either with a newcomer; or through re-ignited passion in your existing relationship. Be open to giving and receiving love."
Additional message: You have been hungering for more romance and passion, and your prayer is answered. I am a Romance Angel, and I am here to help you. New love is on its way to you, and you can open the door to this romance by opening your heart. The more that you welcome new love with open arms, the more romance will come your way. This also means you must express yourself romantically toward your partner. Be candid about your feelings and intentions. Be playful (like we angles are!). And most of all, be openly loving with your partner as a way of encouraging the flow of romance to return to you.
I will give you guidance along the way, and it may involve actions that seem unrelated to love. Yet you will know it is me who encourages you to join a gym, enrol in an evening class, or meet a new friend, for example. Mt trademark characteristic is that I create a very strong feeling in your heart, and then I surround it with warmth, like I'm giving you a big hug. The more that you follow my guidance, the faster the romance will be delivered to you."
Today's cards for each of the star signs

:

Due to lack of time, etc. These are the 'quick reading' messages - for the full reading and meaning of the cards you will need to obtain these cards for yourself - or get someone else to buy them for you as a gift!

Here are your messages and insights for today. Try to sit quietly for a few moments, meditate on your card and think about how you can learn from, and act upon, its message...

Aries

: CELESTE

Quick message: "A happy move to a new home or place of employment is in the works. This movement will usher in positive new energy."

Taurus

: OMEGA

Quick message: "Victory! Your desire is coming to fruition. Keep up the good work!"

Gemini

: SEREPHINA

Quick message: "I am the Angel of Families. a happy change or addition is coming to your family."
Cancer

: ARCHANGEL RAPHAEL

Quick message: "I am helping you heal physical challenges in yourself and others. You are a healer, like me."

Leo

: ISABELLA

Quick message:"Yes, the timing is right for this new venture. a happy outcome follows your positive expectations."

Virgo

: RAYE

Quick message: "Yoga and exercise are essential to your well-being, peace of mind, and spiritual growth right now."
Libra

: VANESSA

Quick message: "To make your decision, ask yourself, 'Which way brings me closer to my divine purpose? Which way takes me away from it?' "

Scorpio

: AZURE

Quick message: "Your desired outcome will occur in the very near future. Have patience and faith, and don't try to force it to happen."

Sagittarius

: ISAIAH

Quick message: "It's a good time to give birth to new ideas and situations in your life. I am watching over you, guiding you and protecting you during these changes."
Capricorn

: CRYSTAL

Quick message: "Have faith and hope, because there is something positive and new on the horizon that you can't yet see."

Aquarius

: OPAL

Quick message: "Your children on Earth and in Heaven are happy and well cared for by god and the angels."

Pisces

: TERESA

Quick message: "Time-out! You've been so busy taking care of everyone else's needs, but now it's time to stop and take care of yourself."