Good morning!

Lots to do today - I'm behind with my Ebay orders because my laminator broke yesterday - not surprising as it was getting on a bit (over 10 years old and it's been in constant use)! However, I now have nice shiny new one - which heats up in minutes - rather than half an hour like the old one, so that should speed things up a bit!

We've got our Slimming World group meeting tonight... I have not been very good for several weeks - because I have had so much going on in my life. I put on a few pounds :(

However, last week I stayed the same weight, as the week before, and this week I am hoping to have lost at least 1lb... I'm trying to be good for a couple of weeks before my daughter, Katie, and her partner, Jeff, come over from France for a visit!

I haven't seen Katie for 6 months - almost to the day actually! They're arriving on the 16th, staying here for a few days, before heading off up to Scotland for a week's holiday, then back here for a couple more days, before returning home to France.

There are already plans for a family Friday night out at The Happy Dragon (our favourite chinese restaurant) and then a family barbecue at the weekend...

I have come to the conclusion that it is very difficult to stick to a diet during the summer, when you have no willpower and there are so many social occasions going on!

Anyway, wish me luck for tonight...

Now I really must get on and catch up with those orders!

Whatever your star sign - have a fabulous day :)

Brightest Blessings,
Kaz
www.blessingz.co.uk
www.cheekywitch.co.uk



This week I am using the
Messages from Your Angels Oracle Cards


by Doreen Virtue, Ph.D.


Quoted from the pack: "This card deck makes it easier than ever to give an amazingly accurate angel reading for yourself or others. Each card features a gorgeous angel painting, along with a one or two sentence message.
These cards will help you and others know what your exact life purpose it, whether ot not someone is your soulmate or not, what to do about your job and living situatuations, and other inportant life questions. Doreen based the cards upon her actual angel readings, using most commonly asked questions and angelic answers to create the ultimate deck for both the beginner and advanced card reader."

My personal card for today

: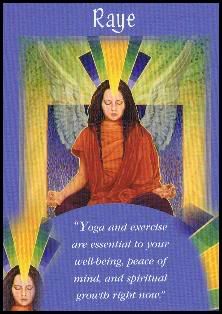 RAYE
"Yoga and exercise are essential to your well-being, peace of mind, and spiritual growth right now."
Additional message: You have received strong guidance to engage in yoga and other forms of exercise, and this card serves as additional validation. Physical movement is essential in realizing your dreams, desires and intentions. It gives you energy and vitality that will help you begin and complete your projects. It opens you up to new creative ideas. And yoga cleanses and enlarges your chakra centres so that you can hear the voice of heaven.
Although you may feel intimidated by yoga or exercise, I will help smooth the way. If you ask me, I will help you tailor an exercise program to fit your schedule, interests and fitness level. You will receive this guidance in the form of repetitive thoughts and feelings, and also through information about yoga or exercise that comes to you 'out of the blue.' I know that you're a busy person, but I promise you that the increased level of energy you'll feel after exercising will give you the equivalent of more hours in your day."
Today's cards for each of the star signs

:

Due to lack of time, etc. These are the 'quick reading' messages - for the full reading and meaning of the cards you will need to obtain these cards for yourself - or get someone else to buy them for you as a gift!

Here are your messages and insights for today. Try to sit quietly for a few moments, meditate on your card and think about how you can learn from, and act upon, its message...

Aries

: OCEANA

Quick message:"Take action. You're in touch with your truth in this situation, and you need to trust your gut and lovingly assert yourself."

Taurus

: ARCHANGEL GABRIELLE

Quick message: "You have an important life purpose involving communication and the arts. Please don't allow insecurities to hold you back. I will help you."

Gemini

: AKASHA

"You are a spiritual teacher. You have the ability to counsel others and help them awaken their spiritual gifts and Divine life mission."
Cancer

: PATIENCE

Quick message: "Now is the time to learn, study, and gather information. Enjoy being a student, because in the future, you will synthesize your knowledge into action."

Leo

: DESIRÉE

"No, conditions are not favourable right now. Wait, or look into other options; and ask the angels to help, guide and comfort you."

Virgo

: SEREPHINA

Quick message: "I am the Angel of Families. a happy change or addition is coming to your family."
Libra

: ADRIANA

"I am leading you toward the answer to your prayers. Please listen to and follow the steps I am communicating through your intuition, thoughts, and dreams.

Scorpio

: MERLINA

"You are confused and indecisive because you do not have enough information. Do research or seek expert advice before making a decision."

Sagittarius

: ARCHANGEL RAPHAEL

Quick message: "I am helping you heal physical challenges in yourself and others. You are a healer, like me."
Capricorn

: TERESA

Quick message: "Time-out! You've been so busy taking care of everyone else's needs, but now it's time to stop and take care of yourself."

Aquarius

: SERENA

"I am the Angel of Abundance. You will receive the money that you need, and God is in charge of how that will happen. Have faith."

Pisces

: SONYA

Quick message:"I bring you a message from your deceased loved one: 'I am happy, at peace, and I love you very much. Please don't worry about me."