Good morning!

Hard to believe that a week ago I was still getting ready for the Lammas Festival, hoping for good weather and for an enjoyable, successful weekend!

Well, the weather was 'mixed', but on the whole much better than expected and apart from the 'windy' incident and a few 'casualties' in my aromatherapy department - it was a fantastic weekend! Very enjoyable and very successful!

I have been trying all week to sort through the photos that Richard took (on his new camera) over the 2 days, which are mainly personal pictures of what was going on, in and around the Cheeky Witch stall and photos of my family.... but, they all need re-sizing and organising and I have had such a busy week, with Ebay and Amazon orders, that I just haven't had the time to do it yet.

However, on day one at the festival (when I was dressed as a purple fairy) I was asked by several people if they could take my photo - and one of them was a brilliant photographer, Graham Huntley (a.k.a. Bertie Bassett) who has very kindly given me permission to link to his Flickr pages!

So now you can get a feel of the sights and sounds of the Eastbourne Lammas Festival through his amazing and wonderful photographs!

Below are some of Bertie's photos of the festival, click on them to go through to his photo stream on Flickr (it should open in a new window - be patient as I found it took a while for the pages to load in, and you may need to 'refresh' the page, but it will be worth the wait!)

This one links through to photos of the Lammas Festival Procession 2012:


This one links through to photos of the Lammas Ritual which is always performed on the Saturday:
This one links through to photos taken on day one of the Lammas Festival 2012 - you may find me in there somewhere ;)
This one links through to photos taken on day two at the Lammas Festival 2012:
I love looking at his photos because, when you have a stall at an event like this, you don't get the time or opportunity to have a look around and miss such a lot. I was
so
busy at my stall that I didn't stop for the whole weekend - so it's great for me to get a chance to see what was going on elsewhere :)
I hope that seeing Bertie's wonderful pictures will give you the feel of this joyful, peaceful, fun, family event and help you to understand why it is always one of my favourite weekends of the year!
Oh! I almost forgot to mention - this year's festival raised £1663 for the
RNLI
:)
(The Eastbourne Lammas Festival has now raised over £10,500 since the Festival started in 2001!)
Time to get on with my work now...
Below are your cards and messages for today and the weekend ahead!
Whatever your star sign - have a magical weekend - I'll be back Monday with a different deck of cards...
Hmmm.... which ones should I use next week? Decisions, decisions ;)
Brightest Blessings,
Kaz
www.blessingz.co.uk
www.cheekywitch.co.uk

This week I am using the
The Wisdom of Avalon Oracle Cards


by Collette Baron-Reid


Quoted from the pack: "The Wisdom of Avalon Oracle Cards by Colette Baron-Reid is a 52 card divination system - an inspirational tool to bridge the unseen world of Spirit and the physical world of our day-to-day lives. Based on the rich mythology of ancient Britain's Isle of Avalon and the wisdom teachings of its priestesses, these cards (and the accompanying guidebook) will help you find valuable and powerful insights in all aspects of life as you chart your path and manifest your destiny with clarity and purpose."
My personal card for today

: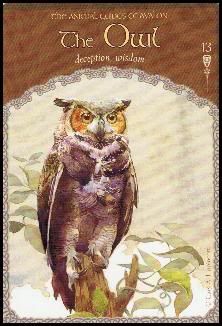 THE OWL - deception, wisdom
The Owl lends you eyes that you need in order to see in the dark around you. The Owl can cut through the shadows to illuminate the real truth. Someone may be trying to camouflage his or her real intentions. Deceit, lies and unclear intentions are exposed with Owl energy.
The Owl also reminds you to be honest with yourself and snap out of any lies and denial inside you. Lying to yourself is the way that you'll remain lost in a prison of your own making. The Owl appears to ask you to seek the truth in the darkest places within yourself. This will set you free and restore wholeness.
All is well with the Owl to guide you. Deep wisdom into human nature is gained through the ability to recognize untruths. Owl is an important and powerful ally.
Today's cards for each of the star signs

:

Due to lack of time, etc. These are the 'quick reading' messages - for the full reading and meaning of the cards you will need to obtain these cards for yourself - or get someone else to buy them for you as a gift!

Here are your messages and insights for today. Try to sit quietly for a few moments, meditate on your card and think about how you can learn from, and act upon, its message...

Aries

: THE HAWK - omens, messages

Quick reading: When Hawk appears, expect a message to be delivered to you to aid you in your quest. Perhaps a telephone call from a friend, or a chance meeting with someone, or an overheard conversation will reveal an answer to your question. You will know it when it comes. Be open to messages from others, and be aware of omens and signs in nature. The world is constantly attempting to communicate with us, but we human beings have forgotten how to listen.

Taurus

: THE DOG - loyalty, sincerity, unconditional love

Quick reading: The Dog is the most loyal animal to human beings. When Dog appears on your path, he reminds you of this trait. Are you steadfast with your loved ones? Are you true to yourself and your dreams? Do you act with sincerity? It's very important to do so now, for good fortune comes with the faithful Dog as your companion.

Gemini

: THE RAVEN - magic, coincidence, synchronistic events.

Quick reading: When the Raven appears, it's a sign of magic, where coincidence and Divine synchronicity bring surprising elements together. The Raven reminds you that on the path to wholeness, the magic of Avalon appears and all things become possible. Believe in magic and you cannot help but see it. Magic lives within belief itself! Expect the unexpected and prepare to be amazed.
Cancer

: THE GRAIL KNIGHT - romance, illusion, seeking the sacred

Quick reading: Romance, and the seeking of that which is sacred - such are the missions of the Grail Knight. He represents the coming together of all elements to form perfect life through a union of heaven and earth; or he signifies a romantic union of lover with lover. Love is in the air. Perhaps it is time to fall in love with yourself. Love attracts love. Be love and you shall find love.

Leo

: THE BEE - luck, industriousness, sweet victory

Quick reading: With hard work and a firm commitment to building your dream, a sweet outcome is assured. The Bee is a symbol of luck, so expect miracles and your life will be victorious and sweet. The Bee is an industrious, busy creature that's always making honey. The Bee "gets busy," and that honey will soon be yours. The Bee is always a fortunate omen.

Virgo

: THE STAG - pride, leadership

Quick reading: Take pride in all you do. Be the leader and hold your head high and others will follow by your example. Always ask yourself "what is the highest good for all?" The Stag leads you into the kind of pride that reminds you that you're always in service to the God/Goddess in every step you take. You may already be there, in which case you should be proud and happy. Look how far you've come! Rejoice, for the Stag always leads you to a higher place with a sure and steady footing.
Libra

: THE COW - nourishment, abundance, asking, receiving

Quick reading: The Cow says, "Nourishment is never-ending when I appear on your path. Don't forget to till the soil so that grass may grow. Do your part, and I will do mine with joy. Ask, and you will receive all the blessings I have to offer." The Cow reminds you that there is no shortage of blessings in the world. Ask to partake in infinite abundance, and you will, indeed, get exactly what you need.

Scorpio

: THE HIGH PRIESTESS - discernment, prescience, prophecy, vision

Quick reading: When the High Priestess appears before you, she asks you to trust your intuition and throw the net of your awareness out into the world around you, pulling in truths that may defy your intellect, rational mind, or what others wish to falsely or superficially portray. The High Priestess reminds you of the feminine principle of receptivity, gathering power by receiving information and waiting for others to act first. The goddess blesses and protects you when the High Priestess of Avalon appears on your path.

Sagittarius

: TRUST

Quick reading: Do you have issues with faith? Do you have expectations of betrayal? Do you trust the Mystery? Do you insist on mapping each time detail of your life, believing yourself to be the centre of the universe? This marker reminds you that trust is required to move forward on your path.
Capricorn

: JOY

Quick reading: This marks a time for celebration, for this portends the joyous completion of a project, the attainment of a goal, or the end of a long and arduous journey. Like the spring sun breaking through after a long and gloomy winter, joy reminds us to be grateful for all the gifts of life. Joy bestows the blessings of happiness. You truly have reason to smile when this marker appears on your path.

Aquarius

: BURDEN

Quick reading: What burdens are you carrying on this part of the journey? Is this burden so heavy that it slows you down? Are you clinging to an unhealthy relationship out of fear? Are you taking on the burdens of others to prevent them from getting hurt? Drawing this marker encourages you to release others to their own path. They also have their own angels and guides, just as you do. Trust in the Divine plan for all. This is the time to leave behind any unnecessary burdens, and to know you have the strength to carry yours.

Pisces

: FOCUS

(2 days in a row!)

Quick reading: Focus your attention on the job ahead. Do what is in front of you, no matter how small the task. Clear focus is required. Your path is marked with the need to regroup and remind yourself of your goal.. Then stay in the present time and do what is directly in front of you. Only one small, focused step at a time will place you at your destination.