Good morning!

Only 40 more orders to make and then I am on holiday!

Well, not really... Just taking a few days off from work :)

I have 'shut up shop' - put my holiday settings into action on Ebay, made all my listings on Amazon 'inactive', put an 'away' notice on my Blessingz website...

The trouble is, when you're self-employed you don't get paid holidays, so it's actually quite risky and a bit scary taking a few days off. Fingers crossed, customers will come back when I open up again next week!

I do hope you have found the messages interesting and relevant so far this week?

Here is a slideshow of some of the wonderful cards in the Goddess Guidance Oracle Cards deck:



As it is my birthday tomorrow (Friday the 13th!) and I'm having a break, I wont be doing my blog again until next week, so the cards and messages below are for the next few days and the weekend ahead. I shall probably be back on Tuesday.... or maybe Wednesday :)
My personal card is very appropriate and after the hectic couple of weeks I have just had and the indulgent weekend ahead, that Richard has planned for me, I shall certainly need to act upon Coventina's message next week!
In the meantime, whatever your star sign, enjoy the next few days and I'll be back before you know it :)
Brightest Blessings,
Kaz
www.blessingz.co.uk
www.cheekywitch.co.uk
This week I am using the
Goddess Guidance Oracle Cards


by Doreen Virtue, Ph.D.

Quoted from the pack: "The goddesses are angelic, powerful, loving beings who want to help you with every part of your life. In this set of oracle cards by Doreen Virtue, you'll learn who the different cross-cultural goddesses are and how they can help you. Each card gives a specific message about how you can improve your life, health, relationships, finances, career, and spiritual path. The gorgeous artwork on each card depicts Kuan Yin, Laksmi, Brigit, Isis and Athena; as well as goddesses Celtic, Mayan, Egyptian, Greek, Tibetan, Buddhist and other traditions.
The accompanying guide book helps you to give accurate readings for yourself, your loved ones, and your clients. Whether you're a beginner or seasoned pro, you'll find that working with the goddesses brings Divine magic into your life."

My personal card for today

: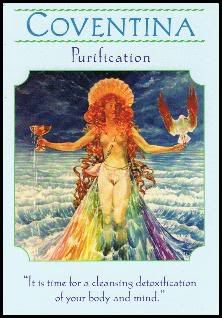 COVENTINA - Purification
"It is time for a cleansing detoxification of your body and mind."
Message from Coventina: This message comes as help, and not as an affront or a criticism. Your vessel has become clogged by overuse of harsh chemicals, and the offending source is within your psyche. You've been ignoring your body's many signals and screams for relief from the steady ingestion of impurities. Perhaps you've also noticed a slump in your energy level, and your degree of joy has lagged as well.
Never mind these past effects, though, as the solution is at hand right now! Now that you've heard this message, do not hesitate for even a moment to make arrangements. You'll want to keep a sharp focus on the contents of your mind and speech as well, for the words you think and speak are the very diet that supports or thwarts you. Choose purity, and I promise you a changed outlook for the better."
Various meanings of this card: Follow your intuition's guidance about making lifestyle changes * Stop abusing alcohol or drugs * Avoid processed foods such as sugar, white flour, and so on * Eat more organic foods * Keep your thoughts and speech positive * Adopt a vegetarian or vegan diet * (This card can also be a validation that your current healthful path is working.)
Today's cards for each of the star signs

:

Due to lack of time, etc. These are the 'quick reading' messages - for the full reading and meaning of the cards you will need to obtain these cards for yourself - or get someone else to buy them for you as a gift!

Here are your messages and insights for today. Try to sit quietly for a few moments, meditate on your card and think about how you can learn from, and act upon, its message...

Aries:

KUAN YIN - Compassion

"Release judgements about yourself and others, and focus on the love and light that is within everyone."

Various meanings of this card: Release guilt and shame to Heaven for healing and transmutation * Keep your thoughts about yourself and others positive * Avoid gossip or bad-mouthing of yourself or others * Forgive yourself or another * Don't be so hard on yourself or others * Release perfectionistic tendencies.

Taurus

: MAEVE - Cycles and Rhythms

"Honour the cycles of your body, energy levels and emotions."

Various meanings of this card: Female gynaecological changes (starting of menses or menopause, for example) are an issue for you * Make time to rest * Initiate steps to alleviate depression or lethargy * Take better care of your body * Seek support for dealing with emotional crises * Allow yourself to grieve or take time off * Know that this lull won't last forever * A doorway of opportunity has opened up, and you need to walk through it now.

Gemini

: MOTHER MARY - Expect a Miracle

"Have faith that your prayers have been heard and are being answered."

Various meanings of this card: Let go of worrisome thoughts * Keep your thoughts positive * Notice and follow any Divine guidance you may receive * Pray * Engage in spiritual healing.
Cancer

: MAWU - Mother Earth

"You are called upon to help with environmentalism."

Various meanings of this card: Your life's purpose involves environmentalism * Use earth-friendly products * Recycle * Get involved with an environmental group * Teach others about environmentalism.

Leo

: DIANA - Focused Intention

"Keep your unwavering thoughts, feelings and actions focused on your target, and you will make your mark."

Various meanings of this card: Stay positive * Know what your priorities are and take action on them * Take control of your schedule * Avoid nay-sayers and skeptics.

Virgo

: BAST - Independent

"Your independence is a foundation for your strength and success."

Various meanings of this card: Spend time alone * Give yourself permission to play * Ask for your needs to be met * Make your on decision * Work with cats * Pay attention to your pet feline and/or get a new cat.
Libra

: BUTTERFLY MAIDEN - Transformation

"You are experiencing enormous change right now, which brings great blessings."

Various meanings of this card: Don't be concerned about endings, as they're bringing in the new for you * Your prayers have been answered with this change * Let go of the old * Don't worry about these changes - they're truly for the best.

Scorpio

: SIGE - Quiet Time

"Take some quiet time alone to rest, meditate and contemplate."

Various meanings of this card: Go on a retreat * Listen more and talk less * Avoid loud noise and sounds * Meditate * Surrender mind chatter to heaven * Know that you're more sensitive to noise now.

Sagittarius

: KALI - Endings and Beginnings

"The old must be released so that the new may enter."

Various meanings of this card: Your current changes are for the best * Keep your thoughts positive, as they're very powerful * What appears to be a loss is really the beginning of a happy new phase * Let the past go * It's time to move on.

Capricorn

: MARY MAGDALENE - Unconditional Love

"Love yourself, others and every situation - no matter what the outward appearances may be."

Various meanings of this card: Don't worry what others think or say * Heal this situation with love * Send love to those who have hurt or misjudged you * Forgive yourself for what you think you've done or not done * Release old unforgiveness toward others to help yourself heal and move on.

Aquarius

: SARASVATI - The Arts

"Express yourself through creative activities."

Various meanings of this card: Play music, sing, dance, draw, paint, write, or do something creative * Study, or change to a career that gives you creative freedom * Take a creative class * Invest in an artistic hobby * Keep a journal of your creative ideas * Join a writing club or other creative support system.

Pisces

: WHITE TARA - Sensitivity

"You are becoming increasingly sensitive. Avoid harsh relationships, environments, situations, and chemicals."

Various meanings of this card: Acknowledge and honor your sensitivity * Take steps to protect yourself from negativity * Avoid chemicals * Steer clear of situations where there's loud noise, crowds, violent media, and other triggers.