Good morning!

I had another late night - up working until almost 1am (trying to get ahead with my orders)... Feeling very tired, but it will be worth it, to have a few, well-deserved, days off :)

Very disappointed with myself, after going to our Slimming World Group yesterday, as I put on a pound this week. (Richard lost another 1.5lbs - he is doing so well and I am so proud of him!)

However, I was expecting a gain, as I have lost the plot a bit - what with all the stuff going on at home and with my family. Moving Tom and Sophie, being so busy with work, etc., I have found it rather difficult staying 'on plan'. Too tired to cook and needing to 'grab food and go' on several occasions. Take-aways, celebratory bottles of wine, etc... and that was just last week! Now my birthday bash fast approaching and I'm already in party mood, so I have decided not only to have a few days off work, but also a week off from dieting - guilt-free - with the full intention of getting back on track after that!

In the meantime I am going to eat, drink and by merry!

I'd better get through all these Teacher Gift orders first though...

Whatever your star sign - have a wonderful day :)

Brightest Blessings,
Kaz
www.blessingz.co.uk
www.cheekywitch.co.uk




This week I am using the
Goddess Guidance Oracle Cards


by Doreen Virtue, Ph.D.

Quoted from the pack: "The goddesses are angelic, powerful, loving beings who want to help you with every part of your life. In this set of oracle cards by Doreen Virtue, you'll learn who the different cross-cultural goddesses are and how they can help you. Each card gives a specific message about how you can improve your life, health, relationships, finances, career, and spiritual path. The gorgeous artwork on each card depicts Kuan Yin, Laksmi, Brigit, Isis and Athena; as well as goddesses Celtic, Mayan, Egyptian, Greek, Tibetan, Buddhist and other traditions.
The accompanying guide book helps you to give accurate readings for yourself, your loved ones, and your clients. Whether you're a beginner or seasoned pro, you'll find that working with the goddesses brings Divine magic into your life."
My personal card for today

: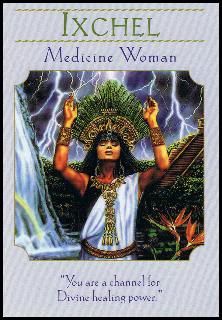 IXCHEL - Medicine Woman
"You are a channel for Divine healing power."
Message from Ixchel: "Commanding power is not the same as demanding it. Demanding comes from a childlike place akin to a tantrum, based upon fear that it might be withheld. Commanding is based upon the sure steady knowledge that you are part of the Great Spirit's grace and wisdom. You're a lightening rod that can conduct the power. Simply connect to the power through unyielding clarity of your thought processes. Don't waver for a monet in your sure and steady decision to be a conduit of the power that alreray resides within you. Connect to the even bigger source, and allow it to amplify your natural power. In this way, you're a staedy connector of the Infiite, from the Infinite. In other words it's Spirit: around you, through you, and to whomever you're healing."
Various meanings of this card: You're a healer * You're being healed * This situation and/or your loved one is being healed * Honor your healing knowledge and abilities * Learn about healing * Teach the healing arts * Start or continue your healing practice.
Today's cards for each of the star signs

:

Due to lack of time, etc. These are the 'quick reading' messages - for the full reading and meaning of the cards you will need to obtain these cards for yourself - or get someone else to buy them for you as a gift!

Here are your messages and insights for today. Try to sit quietly for a few moments, meditate on your card and think about how you can learn from, and act upon, its message...

Aries

: SEKHMET - Be Strong

"You are stronger than you think you are, and your strength assures a happy outcome."

Various meanings of this card: Don't underestimate yourself * Don't yield to pressure or temptation * Avoid complaining or indulging in negative thinking * Engage in weight training exercises to make your body stronger.

Taurus

: VESTA - Home

"Your household situation is improving, either through a move or healthy change in the occupants."

Various meanings of this card: You're moving to a new home * You've just moved * A new person is moving in * Someone is moving out * There is increased romance and/or harmony in the home * A problem with neighbours is resolved * Clear the space in your home * Remodel * Know that your home is safe and protected.

Gemini

: CORDELIA - Go outside

"You have been indoors too long. Go outside and get some fresh air."

Various meanings of this card: Your manifestation will appear in May and/or when the weather is warmer * Spend time in nature * Change to a job that allows for more connection with nature * Practice environmentalism * Recognize the need for balance in your life.
Cancer

: ARTEMIS - Guardian

"You and your loved ones are safe and spiritually protected."

Various meanings of this card: The angels are watching over you and your family * Your future is safe and secure * All your needs are being met and always will be * The worst is now behind you.

Leo

: BRIGIT - Don't back down

"Stand up for what you believe is right."

Various meanings of this card: Be assertive * Don't worry about what others think * Trust that your actions will work out fine * Speak your truth * Stick to your opinions * Put your foot down.

Virgo

: NEMETONA - Sacred Space

"Create an altar or visit a power place to connect with the Divine."

Various meanings of this card: Build an altar in your home * Take a spiritually oriented trip * You need a quiet place of refuge and retreat for yourself * Create a medicine circle or labyrinth * Walk the labyrinth * Clear the energy in your home with sage, prayer, toning, invoking Archangel Michael, or other space clearing methods.

Libra

: AERACURA - Blossoming

"You are just getting started, so have patience with yourself and the process, and do not give up."

Various meanings of this card: Slow down * Have patience * Get involved with gardening * Use aromatherapy and/or flower essences * Keep the faith.

Scorpio

: RHIANNON - Sorceress

"You are a magical person who can manifest your clear intentions into reality."

Various meanings of this card: Have absolute faith that your dream is manifested * Make a clear decision * Put your energy into manifesting your dreams * Know that you deserve to receive good * When you win, others win too * Keep your thoughts focused on your desire and away from fear.

Sagittarius

: SULIS - Bodies of water

"Spend time near water, such as a lake, river, or the ocean, to recharge your batteries."

Various meanings of this card: Go for a meditative walk near water * Take a vacation near the ocean * Move to a home closer to a body of water * Swim * Take a sea salt bath to detox your energetic and physical body * Drink more water.
Capricorn

: FREYJA - Bold

"Unleash your adventurous side! Take risks and be daring."

Various meanings of this card: Take a risk * Make a bold life change * Appreciate your body * Flirt * Go have fun and celebrate.

Aquarius

: KUAN YIN - Compassion

"Release judgements about yourself and others, and focus on the love and light that is within everyone."

Various meanings of this card: Release guilt and shame to Heaven for healing and transmutation * Keep your thoughts about yourself and others positive * Avoid gossip or bad-mouthing of yourself or others * Forgive yourself or another * Don't be so hard on yourself or others * Release perfectionistic tendencies.

Pisces

: YEMANYA - Golden Opportunity

"Important doors are opening for you right now. Walk through them."

Various meanings for this card: Don't hesitate * This is the right thing to do * Your prayers are being answered * Get ready for a big and happy change * Celebrate your success * Know that you're qualified and ready for this new opportunity.