Good morning!

I have had a wonderful few days off - including a lovely birthday on Friday and a fantastic party on Saturday night. For me - it seems that life begins at 52!

I am so happy - it's amazing what the love of a good man and a wonderful family will do for you :)

Here are a few photos...

Me and Mum on my birthday - Friday the 13th - very lucky for me :)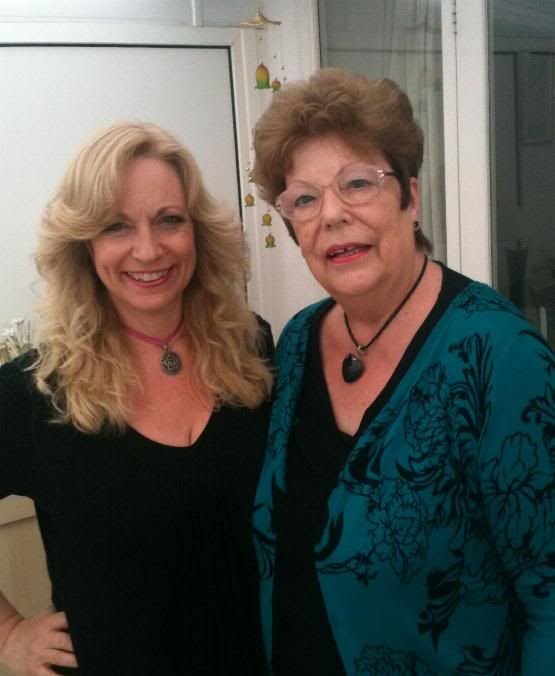 We went shopping and of course had to stop for coffee and cheesecake!
These beautiful flowers arrived from Lucy, Gary and Gabriella!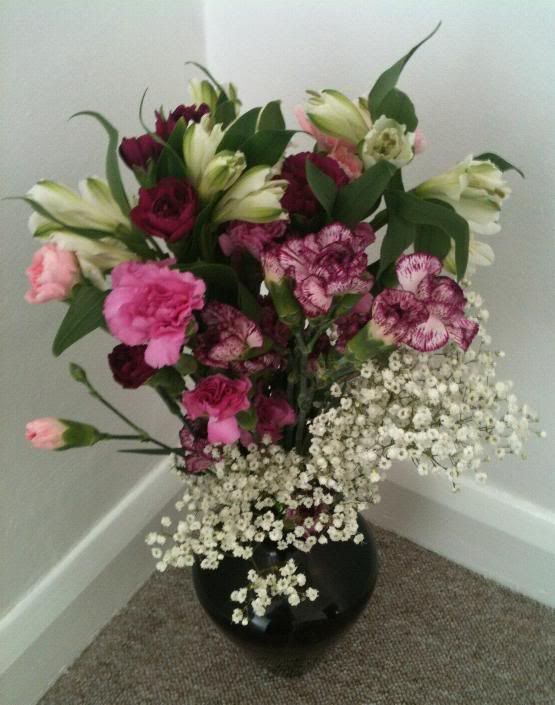 My daughter Katie couldn't make it over from France, but sent me this Roller Derby T Shirt, so I can be part of her team - an honorary Nantes,
Duchesses
Derby Girl!
This is a slideshow of the Crazy Hat BBQ!
Despite the weather, which wasn't great but not as bad as expected - a great time was had by all :)
Instead of a Manic Monday - I have a hectic Tuesday ahead of me - as I have lots of emailas and orders, despite having had an 'away' notice in my online shops!
Also, we have the Olympic Torch coming through our village later this afternoon and I want to finish my work in time to go and see it!
So I am just flying in quickly to do the cards and messages for today and will use the same deck as last week, as it's a short week again - however, I received a lovely new deck of cards for my birthday and hope to use them next week, but need to prepare them ready for the blog first ;)
In the meantime - whatever your star sign - have a great day!
Brightest Blessings,
Kaz
www.blessingz.co.uk
www.cheekywitch.co.uk
This week I am using the
Goddess Guidance Oracle Cards


by Doreen Virtue, Ph.D.

Quoted from the pack: "The goddesses are angelic, powerful, loving beings who want to help you with every part of your life. In this set of oracle cards by Doreen Virtue, you'll learn who the different cross-cultural goddesses are and how they can help you. Each card gives a specific message about how you can improve your life, health, relationships, finances, career, and spiritual path. The gorgeous artwork on each card depicts Kuan Yin, Laksmi, Brigit, Isis and Athena; as well as goddesses Celtic, Mayan, Egyptian, Greek, Tibetan, Buddhist and other traditions.
The accompanying guide book helps you to give accurate readings for yourself, your loved ones, and your clients. Whether you're a beginner or seasoned pro, you'll find that working with the goddesses brings Divine magic into your life."
My personal card for today

: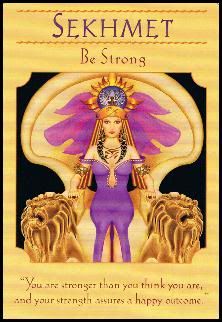 SEKHMET - Be Strong
"You are stronger than you think you are, and your strength assures a happy outcome."
Message from Sekhmet: "See yourself as strong and victorious. Don't complain about anything. Don't blame anyone or any condition. You're the embodiment of strength not victim-hood. As you rise above the old tendencies and see yourself in a new light of beautiful feminine strength, your life will automatically shift in miraculous ways. You'll attract new opportunities, forms of abundance, and relationships to help manifest your highest potential. Being strong means seeing yourself in the most favourable light you can imagine. Be real, allow yourself to feel genuine emotions, but most of all, be strong."
Various meanings of this card: Don't underestimate yourself * Don't yield to pressure or temptation * Avoid complaining or indulging in negative thinking * Engage in weight training exercises to make your body stronger.

Today's cards for each of the star signs

:

Due to lack of time, etc. These are the 'quick reading' messages - for the full reading and meaning of the cards you will need to obtain these cards for yourself - or get someone else to buy them for you as a gift!

Here are your messages and insights for today. Try to sit quietly for a few moments, meditate on your card and think about how you can learn from, and act upon, its message...

Aries

: NEMETONA - Sacred Space

"Create an altar or visit a power place to connect with the Divine."

Various meanings of this card: Build an altar in your home * Take a spiritually oriented trip * You need a quiet place of refuge and retreat for yourself * Create a medicine circle or labyrinth * Walk the labyrinth * Clear the energy in your home with sage, prayer, toning, invoking Archangel Michael, or other space clearing methods.

Taurus

: COVENTINA - Purification

"It is time for a cleansing detoxification of your body and mind."

Various meanings of this card: Follow your intuition's guidance about making lifestyle changes * Stop abusing alcohol or drugs * Avoid processed foods such as sugar, white flour, and so on * Eat more organic foods * Keep your thoughts and speech positive * Adopt a vegetarian or vegan diet * (This card can also be a validation that your current healthful path is working.)

Gemini

: MOTHER MARY - Expect a Miracle

"Have faith that your prayers have been heard and are being answered."

Various meanings of this card: Let go of worrisome thoughts * Keep your thoughts positive * Notice and follow any Divine guidance you may receive * Pray * Engage in spiritual healing.
Cancer

: HATHOR - Receptivity

"Allow yourself to receive. This will increase your intuition, energy, and ability to give to others."

Various meanings of this card: Be still and listen * Release guilt about receiving * Ask for help * Increase psychic awareness * Know that you're in a learning cycle * Healing is occurring * Be more in your feminine energy * Child conception, pregnancy, or birth, including adoption or favourable custody arrangements, are issues in your life.

Leo

: MAEVE - Cycles and Rhythms

"Honour the cycles of your body, energy levels and emotions."

Various meanings of this card: Female gynaecological changes (starting of menses or menopause, for example) are an issue for you * Make time to rest * Initiate steps to alleviate depression or lethargy * Take better care of your body * Seek support for dealing with emotional crises * Allow yourself to grieve or take time off * Know that this lull won't last forever * A doorway of opportunity has opened up, and you need to walk through it now.

Virgo

: SIGE - Quiet Time

"Take some quiet time alone to rest, meditate and contemplate."

Various meanings of this card: Go on a retreat * Listen more and talk less * Avoid loud noise and sounds * Meditate * Surrender mind chatter to heaven * Know that you're more sensitive to noise now.
Libra

: SULIS - Bodies of water

"Spend time near water, such as a lake, river, or the ocean, to recharge your batteries."

Various meanings of this card: Go for a meditative walk near water * Take a vacation near the ocean * Move to a home closer to a body of water * Swim * Take a sea salt bath to detox your energetic and physical body * Drink more water.

Scorpio

: EIREEN - Peace

"There is no need to worry, as everything is working out beautifully."

Various meanings of this card: Give your cares and worried to Heaven * Pray * Meditate * Engage in peace-enhancing activities such as yoga, sea-salt baths, massage, naps, music, playfulness, and the like.

Sagittarius

: DAMARA - Guiding Children

"You are good at helping, counselling, and healing children. Use your skills to help children now.

Various meanings of this card: Spend time with, or have a heart-to-heart talk with your own children * Get into a career involved with helping kids * Volunteer with young people * Know that children will be coming into your life soon * You will be a parent * Take care of your own inner child through play and laughter.
Capricorn

: YEMANYA - Golden Opportunity

"Important doors are opening for you right now. Walk through them."

Various meanings for this card: Don't hesitate * This is the right thing to do * Your prayers are being answered * Get ready for a big and happy change * Celebrate your success * Know that you're qualified and ready for this new opportunity.

Aquarius

: KALI - Endings and Beginnings

"The old must be released so that the new may enter."

Various meanings of this card: Your current changes are for the best * Keep your thoughts positive, as they're very powerful * What appears to be a loss is really the beginning of a happy new phase * Let the past go * It's time to move on.

Pisces

: OONAGH - Easy Does It

"There is no need to hurry or force things to happen. Everything is occurring in perfect timing."

Various meanings of this card: Don't worry about your purpose or your goals * Make no sudden moves * Slow, steady progress is best right now * Ease into your new life instead of rushing into it * Do your new work as a part-time venture to begin with, while slowing exiting your old career.