Good morning!

I was up and out much earlier than usual this morning - walking Maisie on the beach about 7:45am - thinking I'd get off to a flying start and get a head of myself for a change (I'm not morning person, so this was quite a big thing for me).

However, I'm still 'all behind' as usual - because I started doing bit's 'n' pieces on the internet and you know how time flies when you're absorbed...

I was excited because my new Cheeky Witch banner arrived yesterday!

I ordered it from Vistaprint to attach to my tent - particularly for when I have my stall at the Lammas Festival and Rock the Redoubt - but it's huge! Not quite sure how we're going to attach it yet, but Richard will help me sort it out - I have every faith in him :)

Here's my new banner!


I like the banner so much that I have been designing and ordering some new matching business cards this morning - which is why I'm all behind...
Now, though, I better take note of my personal card for today, which I think you'll agree is rather relevant:
HAWK - FOCUS
CHOOSE YOUR PRIORITIES and eliminate all distractions
:)
Whatever your star sign - have a wonderful day!
Brightest Blessings,
Kaz
www.blessingz.co.uk
www.cheekywitch.co.uk

This week I am using the
Power Animal Oracle Cards
by Steven D.Farmer, Ph.D.
Quoted from the pack: "Power Animals are spirit guides in animal form who provide protection, guidance and healing. This deck of 44 oracle cards by Steven Farmer will connect you with animal spirit guides who will advise you about any aspect of your life. Whether you're a beginner or an experienced reader, the enclosed easy-to-follow guidebook provides instructions to help you immediately give accurate readings to yourself and others."
My personal card for today

: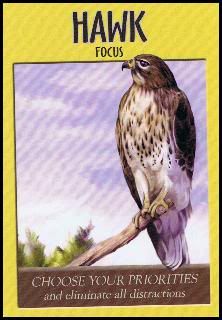 HAWK - FOCUS
CHOOSE YOUR PRIORITIES and eliminate all distractions
Divinatory meaning: Look at all the choices before you, and select one to which you're willing to give your passionate attention. Once you decide, the right action to take becomes apparent, and Life supports you and provides what you need. You can then arrange all your priorities around that which you've chosen. Set personal boundaries and practice self-care when and where needed. If you don't, you can easily get overwhelmed and fragmented, and your power will become scattered and diffused.
Let go of all those habitual diversions that you've made so important. It's time to go to work on the priority you chose and let it flow. The practice of staying focused is in itself a meditation, and this is how you can best express the gifts of service you have to offer to the world and to your Creator.
Additional Associations: Messenger; Perspective; Detachment; Swiftness
Today's cards for each of the star signs

:

Due to lack of time, etc. These are the 'quick reading' messages - for the full reading and meaning of the cards you will need to obtain these cards for yourself - or get someone else to buy them for you as a gift!

Here are your messages and insights for today. Try to sit quietly for a few moments, meditate on your card and think about how you can learn from, and act upon, its message...

Aries

: SWAN - GRACE APPRECIATE THE BEAUTY inside and all around you

Additional Associations: Elegance; Purity; Innocence

Taurus

: BEAR - BOUNDARIES STAND your ground

Additional Association: Protection; Creativity; Solitude; Healing

Gemini

: KANGAROO - GRATITUDE BE GRATEFUL for all you are blessed with

Additional Association: Nurturing; Generosity; Abundance; Family

Cancer

: ELEPHANT - RESOLVE You will OVERCOME ANY OBSTACLES

Additional Association: Protective; Motivated; Maternal; Family

Leo

: LION - COURAGE ASK for what you want

Additional Association: Ferocity; Nobility; Dignity; Assertiveness

Virgo

: DOVE - SERENITY SLOW DOWN, pause, and breathe

Additional Associations: Love; Soul; Domesticity; Spirituality
Libra

: BEAVER - PRODUCTIVENESS Go ahead and JUST DO IT

Additional Associations: Enthusiasm; Community; Cooperation; Ingenuity

Scorpio

: EAGLE - SPIRIT TRUST in your higher self

Additional Association: Vision; Courage; University; Masculinity

Sagittarius

: HORSE - FREEDOM You always have a CHOICE

Additional Association: Integrity; Compromise; Speed; Agility
Capricorn

: OTTER - SURRENDER LET GO of control

Additional Associations: Sensuality; Merging; Family; Playfulness

Aquarius

: SNAKE - HEALING You are a HEALER

Additional Associations: Rebirth; Sexuality; Transmutation; Transformation

Pisces

: COUGAR - CONFIDENCE Be bold and TAKE CHARGE

Additional Associations: Stealth; Leadership; Focus; Conviction