Good morning!

I hope you had a good weekend?

Mine was lovely, including a visit from my daughter, her partner and my beautiful grandaughter.... and later, sitting by the wonderful fire-pit that Richard made in the garden this weekend, gazing at the flames while enjoying a glass of wine... but I have no time to tell you all about that - as it's Manic Monday and I have loads of order emails and enquiries to read and respond to, before I can actually start making some Bags of Blessings!

So let's get straight to the cards and see what the messages are, from our animal guides, for Monday :)

Whatever your star sign - have a good day!

Brightest Blessings,
Kaz
www.blessingz.co.uk
www.cheekywitch.co.uk


This week I am using the
Power Animal Oracle Cards


by Steven D.Farmer, Ph.D.
Quoted from the pack: "Power Animals are spirit guides in animal form who provide protection, guidance and healing. This deck of 44 oracle cards by Steven Farmer will connect you with animal spirit guides who will advise you about any aspect of your life. Whether you're a beginner or an experienced reader, the enclosed easy-to-follow guidebook provides instructions to help you immediately give accurate readings to yourself and others."
My personal card for today

: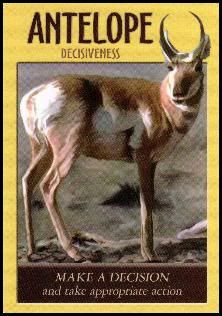 ANTELOPE - DECISIVENESS
MAKE A DECISION and take appropriate action
Divinatory meaning: If you're going to sit, then sit. If you're going to stand, then stand. If you're going to run, then run. Don't hesitate and don't equivocate. This is not the time for discussion, debate, deliberation, or hesitation. Even choosing to be still and do nothing can be a wise decision at times, especially in life-threatening circumstances. But let's face it: How often have you actually found yourself in such a situation? And if you ever have, you made it through, didn't you?
You've come to a point in your life where it's imperative that your choices are based on the combined will of Spirit and instinct, which we call
intuition
. The more finely tuned you are to your intuition, the more decisive you'll be. You'll see that there's no other way to live. In this situation in particular, that is absolutely the case. So listen, decide, then act, without hesitation or second-guessing. Trust that whatever the outcome is, it is ultimately the will of Spirit and in the best interests of all concerned.

Today's cards for each of the star signs

:

Due to lack of time, etc. These are the 'quick reading' messages - for the full reading and meaning of the cards you will need to obtain these cards for yourself - or get someone else to buy them for you as a gift!

Here are your messages and insights for today. Try to sit quietly for a few moments, meditate on your card and think about how you can learn from, and act upon, its message...

Aries

: HORSE - FREEDOM

You always have a CHOICE

Additional Association: Integrity; Compromise; Speed; Agility

Taurus

: DRAGONFLY - ILLUSION

YOU KNOW who you really are

Additional Associations: Colourfulness; Mirage; Mystery; Deception

Gemini

: MONKEY - INGENUITY

The situation calls for ADAPTABILITY and INNOVATION

Additional Association: Dexterity; Clevernes; Inquisitiveness; Innovation
Cancer

: DOVE - SERENITY

SLOW DOWN, pause, and breathe

Additional Associations: Love; Soul; Domesticity; Spirituality

Leo

: COYOTE - WISE FOOL

ACCEPT YOUR FOLLIES and find the teaching in them

Additional Association: Trickster; Sociability; Adaptability; Wisdom-Keeper

Virgo

: BEAR - BOUNDARIES

STAND your ground

Additional Association: Protection; Creativity; Solitude; Healing
Libra

: KOALA - EMPATHY

Speak less and LISTEN MORE

Additional Association: Rest; Detoxification; Safty; Sensitivity

Scorpio

: BLACK PANTHER - PASSION

Follow your PASSION

Additional Associations: Sensuality; strength; Clarity; Solitude

Sagittarius

: PORCUPINE - INNOCENCE

FREE YOURSELF of guilt and shame

Additional Association: Humility; Protection; Sensitivity; Trust
Capricorn

: BUTTERFLY - TRANSFORMATION

Get ready for a BIG BREAKTHROUGH

Additional Association: Rebirth; Vibrancy; Reincarnation; Colourfulness

Aquarius

: BEAVER - PRODUCTIVENESS

Go ahead and JUST DO IT

Additional Associations: Enthusiasm; Community; Cooperation; Ingenuity

Pisces

: DOLPHIN - PLAYFULNESS

Take time to PLAY

Additional Association: Communication; Breath; Community; Guidance