Greetings!

I hope you had a good weekend?

We went to the cinema on Friday evening - to see 'Red Lights' which, despite receiving some poor reviews, we really enjoyed. Great cast too!

Here's the trailer for those who may be interested:




I had a relaxed Saturday morning - then spent the afternoon, clearing and cleaning the conservatory, while Richard started working outside - he's making us a fire pit for the garden. We're having a party/ barbecue in a month and there's lots to do in the garden beforehand, but the weather has been mostly so awful that we haven't done much out there yet.
Yesterday we went to a Druid's
Summer Solstice Ritual
at the
Long Man of Wilmington
.
I'd never been to this particular gathering before, but our friend, Adam, suggested we go and I'm glad we did :)
We couldn't take photos during the ritual - but here's a photo of me having a rest, while we were waiting for everyone to join the gathering. It's quite a long, steep walk up to the Long Man, and I needed to catch my breath!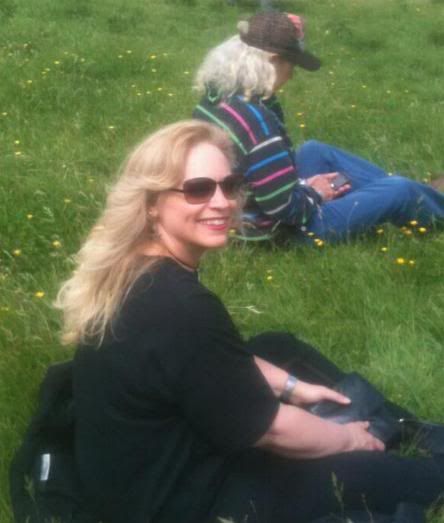 Richard took this photo of me and Adam, with his Dad, taken just after the ritual.
It was a very interesting afternoon and we really enjoyed it :)
Well, it's Manic Monday and it's time for me to start going through the weekend's orders, emails and queries - of which there are lots! So, without further 'ado' here are your cards and message for Monday!
Whatever your star sign - have a productive day :)
Brightest Blessings,
Kaz
www.blessingz.co.uk
www.cheekywitch.co.uk
This week I am using the
Saints and Angels Oracle Cards


by Doreen Virtue, Ph.D.
Quoted from the pack: "Now you can easily receive messages and guidance from beloved saints such as Mother Teresa, Bernadette, Joan of Arc, Hildegard, Padre Pio, Anthony, Francis, and Cecilia. Doreen Virtue has created a nondenominational deck of oracle cards that people from various spiritual and religious backgrounds are sure to appreciate and enjoy.
Forty-four cards with breathtaking artwork depicting God, the Holy Spirit, Jesus, saints, archangels, and guardian angels give you answers and gentle advice. A guidebook accompanying the cards thoroughly explains how to receive guidance about the present and future, how to give an accurate reading to another person, and the general meaning of the card's message."
My personal card for today

: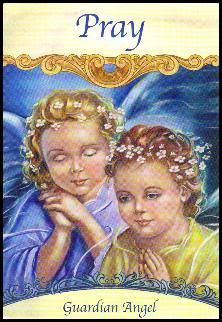 PRAY - Guardian Angel
Divinatory meaning: The answer to your question involves prayer. You're being guided to pray about the situation in order to elicit answers and assistance. Your guardian angels pray with you, asking for Divine intervention to help you and your loved ones.
Your life purpose involves prayer as well. Your entreaties are strong and powerful, and the world needs them. Your guardian angels ask you to amplify the volume and rate of your supplications for this situation. Prayer is extremely effective, so by engaging in this practice, you're making a tremendous contribution.
Take time right now to stop and pray from your heart. The words that you use aren't important compared to your sincere desire to connect with the Divine. Be open to a response appearing different from your expectations - and know that your prayers are heard and answered.
Today's cards for each of the star signs

:

Due to lack of time, etc. These are the 'quick reading' messages - for the full reading and meaning of the cards you will need to obtain these cards for yourself - or get someone else to buy them for you as a gift!

Here are your messages and insights for today. Try to sit quietly for a few moments, meditate on your card and think about how you can learn from, and act upon, its message...

Aries

: FORGIVENESS - St. Mary Magdalene

Quick message: The answer to your question involves letting go of resentment, judgment and anger. You already know who or what to forgive: It's the first person or situation that comes to mind... Unforgiveness only hurts you, not the person with whom you are angry. You're preparing for a wonderful new chapter of your life, and forgiveness is part of your preparation. Call upon St Mary Magdalene to help you to forgive or be forgiven so that you can move on with your life and your dreams.

Taurus

: YOU'RE A LEADER - St. Joan of Arc

Quick message: You're called upon to use your leadership skills to help an important cause. You probably know or suspect the nature of this endeavour already. You have natural qualities that will inspire others to help. Even if you don't think of yourself in this way, trust that this card comes to you as a clear message of your selection for this position. A leader best serves by being a living example and role model, so live in such a way that others admire your integrity and strength of character.

Gemini

: LOOK DEEPER - Guardian Angel

Quick message: You need to look beyond the surface of this situation, as there is important information that you're not currently aware of (or haven't admitted to yourself). Your guardian angel will bring this to your attention; however, it requires you to be open-minded.
Cancer

: CONFIDENCE - St. Michael the Archangel

Quick message: Archangel Michael is with you, shoring up your confidence so that you can fearlessly face (and enjoy) the tasks before you. This archangel is protecting you against negativity, helping you to remain optimistic and filled with faith, ensuring that only people and situations of high integrity come to you. You may worry whether you're prepared and qualified for what's ahead of you. Remember, though, that God won't bring you anything that you're unable to do.

Leo

: SPEAK YOUR TRUTH - St. Bernadette

Quick message: This is a strong message for you to speak up and tell the truth. Give any fears or worries about other's possible reactions to God, St. Bernadette and your angels. You can speak honestly in a loving way and still stay in integrity. No matter how others react you must give voice to the truth as you see it. Heaven will protect you and will guide your words as you say them.

Virgo

: BE BRAVE - Guardian Angel

Quick message: Although it may feel as if you're unsafe or in the dark, your guardian angel assures you that you are completely safe, protected and guided. Don't be fooled by illusions of fear - instead, be courageous and shore up your personal strength. There's a blessing in this situation, and by focusing on finding that benefit, you're sure to discover it. Your role is to stay positive, speak your truth and be brave.
Libra

: PAUSE - Guardian Angel

Quick message: Your guardian angel asks you to pause for a moment before moving forward. During this break, take time to consider your true thoughts and feelings about this situation. You've been moving so fast lately that you may have confused other people's wishes with your own. Take time out and really be honest with yourself: What do YOU want? What do YOU think is the right thing to do.

Scorpio

: VISION - Guardian Angel

Quick message: This is a message about honouring your vision. It asks you to trust the mental images that you've been receiving, as they're the answers to your prayers. Your prophetic visions with bring blessings to you and your loved ones. You know that they're Heaven-inspired because of their loving nature. Only follow the messages that ask you to act on behalf of God's love. Your angels surround your physical and spiritual vision with light. Look through their eyes and you'll see the best within yourself and life itself.

Sagittarius

: MIRACLE - Christ

Quick message: Christ is with you and engendering a miracle for you and the situation you're asking about. He shines God's light upon you and your loved ones, keeping you all safe and protected. You've asked for a miracle, and one is with you. Let go of how you think it should appear, as it comes directly from God's infinite wisdom, through Christ, and into your life.
Capricorn

: RETREAT - Guardian Angel

Quick message: This is a strong and clear message for you to go on a retreat as soon as possible. Your guardian angels want you to have some peace and quiet time, because you need to rest, rejuvenate and regroup. You'll gain new insights and the answers you seek, as well as develop a better understanding of the direction you need to go in and which step to take next.

Aquarius

: MOVE - Guardian Angel

Quick message: This is a message about moving - most likely it means that you'll soon be moving to a new home. You've been considering the possibility and this is a validation of that idea. The angels will help you locate a wonderful new home and assist with all the details. It is also a message about moving your body more, dancing, hiking, exercising and so on. All this movement helps you make a fresh start. It ushers in wonderful new people, experiences and opportunities, so give any worries that you may have about making these changes to God and your guardian angels.

Pisces

: LEARNING EXPERIENCE - Guardian Angel

Quick message: This situation is an opportunity for you to learn some important life lessons. Instead of looking at this experience as a problem, see it as something that will help you to learn and grow. Your guardian angel will help you see the current situation in a more positive light, as well as identify the lessons involved and heal away unwanted patterns. Simply ask your angel for help with these issues, and then pay attention to any loving thoughts or feelings that guide you to take action.