Good morning!

I'm a little bit achy this morning - but in a good way, because of all the dancing last night!

There was no dance class last week, as Jill and Adam were away on holiday, so we were a bit 'rusty' and had forgotten a lot of the steps, but it was great fun anyway - and it's great exercise!

It's amazing what a good work-out you get from an hour and 15 mins of ballroom dancing, doing the rumba, foxtrot, cha cha cha, jive... especially when you're overweight!

Try it if you don't believe me - you won't regret it. We love it :)

There were more couples than usual last night and the atmosphere was great. Nice for us beginners to take a breather from time to time and watch some of the more advanced dancers too - they looked amazing and made it look effortless....

May be one day that will be me and Richard - but for now we're just loving having fun, having a laugh with friends and really enjoying ourselves :)

I hope you have liked the cards and messages this week? Interesting and thought-provoking?

Here is a slideshow, showing some of the cards in this unusual deck:



Next week I shall be using the
Saints and Angels Oracle Cards!
I better get on with some work now so, whatever your star sign - have a wonderful weekend - see you Monday :)
Brightest Blessings,
Kaz
www.blessingz.co.uk
www.cheekywitch.co.uk
This week I am using the
Cosmic Ordering Oracle Wish Cards
by Stephen Richards and Karen Whitelaw Smith
Quoted from the pack: "This guidance booklet will give you the meaning of the 44 pocket sized Cosmic Ordering Oracle Wish Cards. Use them in many different ways and learn to work with the energy of that card. Use the cards in your daily life to make a wish and watch it come true."
My personal card for today

: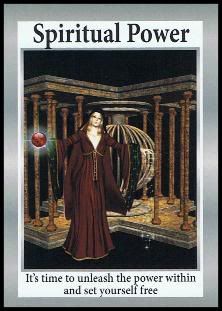 SPIRITUAL POWER
It's time to unleash the power within and set yourself free
Full meaning: Spiritual Power is an essential ingredient for an awakened spirit. It is the divine, healing energy which lies deep within each of us. Dormant, we are unaware of its potency. By bringing it daily into our awareness, we begin to create an abundant, joyous life. Spiritual Power is based in love and compassion, for others and ourselves. Being open to it we create happiness and empower others.
Use self-relaxation to discover your Spiritual power, which means connecting to Infinite Energy; with it we can move mountains.
Today's cards for each of the star signs

:

Due to lack of time, etc. These are the 'quick reading' messages - for the full reading and meaning of the cards you will need to obtain these cards for yourself - or get someone else to buy them for you as a gift!

Here are your messages and insights for today. Try to sit quietly for a few moments, meditate on your card and think about how you can learn from, and act upon, its message...

Aries

: DETERMINATION

Never, ever give up

Call on Spirit to give you strength, creativity and perseverance. Once you have made a decision to never, ever give up, anything is possible.

Taurus

: BEAUTY

Beauty lies within

Connect with your real Self today. Focus on the highest, purest part of you. Show your beauty. Smile.

Gemini

: REFLECTIONS

When you decide on what you want then that's what you get

Invoke the help of the Cosmos to change those things about your appearance you don't like.
Cancer

: DREAM BIG

Live life to the full

You stand at the door of unlimited abundance. The bigger your dream, the further it will take you on your journey. There are no limitations but your imagination.

Leo

: TRUTH

Be truthful with yourself

Are you truthful with your dealings with others? Do you lie to protect your ego? Redefine your relationship with honesty today and watch your life transform.

Virgo

: SELF-DISCIPLINE

To achieve you have to be self-disciplined

Self-discipline means aligning your actions with your desires, regardless of your emotional state. What will you do today to get closer to that dream?
Libra

: COURAGE

It only takes a little bit of courage to change

Be true to yourself and you will be given the courage to overcome your difficulties.

Scorpio

: BIRTH

The start of new beginnings

This card designates a new beginning. Choosing it signifies that today marks a new stage in your journey.

Sagittarius

: MESSAGES FROM YOUR LOVED ONES

Stop and listen

Our loved ones will always find ways of connecting with us, especially in times of need.

Capricorn

: COSMIC ORDERING

Learn to attract abundance

As we believe so we receive. Believe you are worthy, and place your Order today using positive language.

Aquarius

: SELF-BELIEF

Believe in yourself to change your life

Focus only on the positive. Make choices today in line with your highest good. Use your gifts, in gratitude, believing they will lead to the right path.

Pisces

: PLACE YOUR ORDER

What do you really desire

Itemise your desires, making your order very specific. Make it official; put it in writing. Announce it to the waiting Universe. Crystallise your order with faith