Good morning!

Happy Thanksgiving to all my friends in America -and Happy Thursday to the rest of us!

No long holiday weekend here - so I'd better get on with my work...

But first the cards!

My card is very timely and relevant for me - I hope your card is too?

Please find your message for Thursday below and whatever your star sign - have a wonderful day :)

Brightest Blessings,
Kaz
www.blessingz.co.uk
www.cheekywitch.co.uk



This week I am using the
Wisdom of Avalon Oracle Cards

by Collette Baron-Reid
Quoted from the pack: "The Wisdom of Avalon Oracle Cards by Colette Baron-Reid is a 52 card divination system - an inspirational tool to bridge the unseen world of Spirit and the physical world of our day-to-day lives. Based on the rich mythology of ancient Britain's Isle of Avalon and the wisdom teachings of its priestesses, these cards (and the accompanying guidebook) will help you find valuable and powerful insights in all aspects of life as you chart your path and manifest your destiny with clarity and purpose."

My personal card for today

: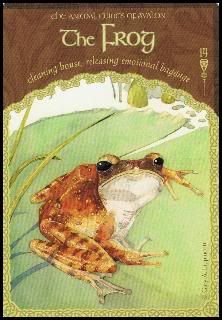 THE FROG - cleaning house, releasing emotional baggage.
Divinatory meaning: The Frog says that it's time to clean house and get rid of the clutter in your environment, your head, and your heart. Move out any objects, thoughts, or relationships that hold you back. It's time to get rid of anything that clutters your life or space with unwanted burdensome energy, or anything that weighs heavily on your heart.
Look around you and take stock of what surrounds you. Does what you see hold positive support and energy? If not, it's time to throw away and release you from its influence. When the Frog appears, it's always spring and time for cleaning your house so you can allow new and fresh energy to enter your world.
The Frog says, "It's time to release all things no longer appropriate to bring on your journey. Then you can hop to the next lily pad, light and free."

Today's cards for each of the star signs

:

Due to lack of time, etc. These are the 'quick reading' messages - for the full reading and meaning of the cards you will need to obtain these cards for yourself - or get someone else to buy them for you as a gift!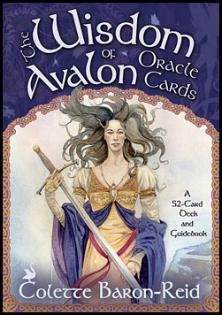 Here are your messages and insights for today. Try to sit quietly for a few moments, meditate on your card and think about how you can learn from, and act upon, its message...

Aries

: THE GOBLIN - the wounded human ego

Quick reading: When the Goblin appears on your path, your plans are, or are about to go, awry. It's time to stop what you're doing and check your motives. Are you coming from an ego-centered place? Are the circumstances in your life triggering unresolved past issues that still need healing? Now is the time for self-evaluation and taking inventory, before you take another step.

Taurus

: THE HIGH PRIESTESS - discernment, prescience, prophecy, vision

Quick reading: When the High Priestess appears before you, she asks you to trust your intuition and throw the net of your awareness out into the world around you, pulling in truths that may defy your intellect, rational mind, or what others wish to falsely or superficially portray. The High Priestess reminds you of the feminine principle of receptivity, gathering power by receiving information and waiting for others to act first. The goddess blesses and protects you when the High Priestess of Avalon appears on your path.

Gemini

: THE WATER FAERY - feelings and emotions

Quick reading: If you're happy right now, enjoy, for the Water Faery swirls her love around you. If things are making you sad, she comes to wash away your tears. The Water Faery knows the power of emotions, so when she appears, be mindful of them and how they affect you. Remember, feelings are the fuel for manifesting. Be certain that you want to create what you're feeling. Allow your feelings to pass through and focus on the positive.

Cancer

: THE SWAN - transformation, trusting psychic gifts.

Quick reading: This card represents a transformation from one state to another. This signals a period of growth that will ultimately be life-changing. It also reminds you to trust your intuition and psychic gifts to guide you through the process of wonderful and ultimate change. The Swan reminds you to see with your heart and listen with your spirit… and the whole world can be magically transformed.

Leo

: THE GRAIL KNIGHT - romance, illusion, seeking the sacred

Quick reading: Romance, and the seeking of that which is sacred - such are the missions of the Grail Knight. He represents the coming together of all elements to form perfect life through a union of heaven and earth; or he signifies a romantic union of lover with lover. Love is in the air. Perhaps it is time to fall in love with yourself. Love attracts love. Be love and you shall find love.

Virgo

: THE STAG - pride, leadership

Quick reading: Take pride in all you do. Be the leader and hold your head high and others will follow by your example. Always ask yourself "what is the highest good for all?" The Stag leads you into the kind of pride that reminds you that you're always in service to the God/Goddess in every step you take. You may already be there, in which case you should be proud and happy. Look how far you've come! Rejoice, for the Stag always leads you to a higher place with a sure and steady footing.

Libra

: THE OWL - deception, wisdom.

Quick reading: The Owl lends you eyes that you need in order to see in the dark around you. Watch for deception by others. Be honest with yourself and snap out of any lies and denial inside you. All is well with the Owl to guide you. Deep wisdom into human nature is gained through the ability to recognize untruths. Owl is an important and powerful ally.

Scorpio

: COMMUNICATION

Quick reading: Are you clear and straightforward when communicating with others? Do you have difficulty asking for what you need? This marker reminds you of many things related to how you speak to the world and how it speaks to you. It asks you to be clear and to seek clarity in all communications between yourself and others in your life. This card notes that communication is not just between human beings. Your spirit guides, angels and other helpers on your path are always trying to get your attention. Are you open to their messages?

Sagittarius

: THE BUTTERFLY - beauty

Quick reading: When you see the Butterfly, know that the power of beauty is in your life. Today, look for the loveliness even in the darkest places, and you'll be amazed. All of the Mystery is beautiful. Beauty is everywhere. You just have to open your eyes. The next step can only be achieved if you do this today. Someone may give you something beautiful today. Remember to be grateful.

Capricorn: THE KING - man, authority, male sexual energy, things pertaining to the law, justice.

Quick reading: The King appears to represent powers of justice, authority, the law, and male sexual energy. When the King appears on your path, it's time to put your house in order, complete any unresolved legal issues and deal with issues related to fairness. The King always lets you know that something significant is yours to experience and learn from.

Aquarius

: THE DOG - loyalty, sincerity, unconditional love

Quick reading: The Dog is the most loyal animal to human beings. When Dog appears on your path, he reminds you of this trait. Are you steadfast with your loved ones? Are you true to yourself and your dreams? Do you act with sincerity? It's very important to do so now, for good fortune comes with the faithful Dog as your companion.

Pisces

: THE HAWK - omens, messages

Quick reading: When Hawk appears, expect a message to be delivered to you to aid you in your quest. Perhaps a telephone call from a friend, or a chance meeting with someone, or an overheard conversation will reveal an answer to your question. You will know it when it comes. Be open to messages from others, and be aware of omens and signs in nature. The world is constantly attempting to communicate with us, but we human beings have forgotten how to listen.

Please feel free to leave any comments here on Blogger, or on my Facebook Page
The Daily Divination
, or on
Twitter
Thank you!