Good morning!

Busy, busy day ahead - preparing for tomorrow at Langney Shopping Centre!

As I have never done this before I am not sure what to expect, but hopefully it will be fun!

Still making my mind up about what to take, as there is limited space.

Decisions, decisions...

But first the cards!

I hope you have liked your messages this week? Have they been relevant and helpful?

My personal card for this weekend is always relevant for me - as I am a terrible hoarder!

Please find your animal message below and whatever your star sign - have a great weekend :)

Brightest Blessings,
Kaz
www.blessingz.co.uk
www.cheekywitch.co.uk



This week I am using the
Power Animal Oracle Cards
by Steven D.Farmer, Ph.D.
Quoted from the pack: "Power Animals are spirit guides in animal form who provide protection, guidance and healing. This deck of 44 oracle cards by Steven Farmer will connect you with animal spirit guides who will advise you about any aspect of your life. Whether you're a beginner or an experienced reader, the enclosed easy-to-follow guidebook provides instructions to help you immediately give accurate readings to yourself and others."

My personal card for today

: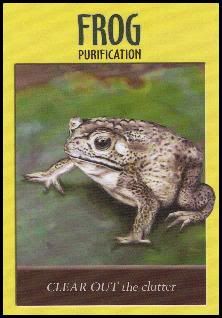 FROG - PURIFICATION
CLEAR OUT the clutter
Divinatory meaning: It's time to clear out and clean up. Look for any messy areas in your life, and tackle them one at a time. Don't try to do it all at once or you'll be overwhelmed. Start with one corner of the room, one area of your desk, your kitchen, or your closet and dedicate a couple of hours to sorting and sifting. Recycle and give away as much as you can. Believe it or not, the process can be one of the most spiritual experiences you'll ever have.
Another area to clear out is your body. Drink lots of water for the next few days, and if possible, do a detoxification diet. At the least, eat a vegetarian diet and eliminate alcohol and fatty foods. See how you feel when you do it. Another clean up job is mental. Abstain from television and newspapers for a while, and as much as possible, avoid negativity in yourself and others who tend to be negative.
Clear out and clean up your spiritual practice as well. Do whatever works that helps you feel closer to God, whether it's prayer, meditation, or a walk in the forest. It's simple.
Additional Associations: Singing; Rhythm; Rainmaker; Sensitivity

Today's cards for each of the star signs

:

Due to lack of time, etc. These are the 'quick reading' messages - for the full reading and meaning of the cards you will need to obtain these cards for yourself - or get someone else to buy them for you as a gift!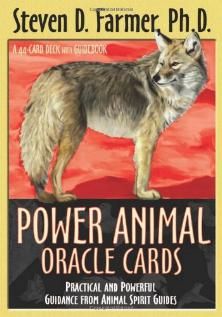 Here are your messages and insights for today. Try to sit quietly for a few moments, meditate on your card and think about how you can learn from, and act upon, its message...

Aries

: FOX - ADAPTABILITY

ADAPT TO THE CHANGES that are happening

Additional Association: Shape-shifting; Flexibility; Cunning; Subtlety

Taurus

: COUGAR - CONFIDENCE

Be bold and TAKE CHARGE

Additional Associations: Stealth; Leadership; Focus; Conviction

Gemini

: OWL - OMENS

Pay attention to SIGNS

Additional Association: Wisdom; Shadows; Secrecy; Magician

Cancer

: HORSE - FREEDOM

You always have a CHOICE

Additional Association: Integrity; Compromise; Speed; Agility

Leo

: EAGLE - SPIRIT

TRUST in your higher self

Additional Association: Vision; Courage; University; Masculinity

Virgo

: BUTTERFLY - TRANSFORMATION

(2 days in a row!)

Get ready for a BIG BREAKTHROUGH

Additional Association: Rebirth; Vibrancy; Reincarnation; Colourfulness

Libra

: HAWK - FOCUS

CHOOSE YOUR PRIORITIES and eliminate all distractions

Additional Associations: Messenger; Perspective; Detachment; Swiftness

Scorpio

: LYNX - DISCERNMENT

LOOK BEYOND immediate appearances

Additional Association: Confidentiality; Stealth; Privacy; Inner Vision

Sagittarius

: KANGAROO - GRATITUDE

BE GRATEFUL for all you are blessed with

Additional Association: Nurturing; Generosity; Abundance; Family

Capricorn

: PORCUPINE - INNOCENCE

FREE YOURSELF of guilt and shame

Additional Association: Humility; Protection; Sensitivity; Trust

Aquarius

: HUMMINGBIRD - JOY

LIGHTEN UP

Additional Association: Flexibility; Sensitivity; Vibration; Colour

Pisces

: TURTLE - RETREAT

STOP TRYING to make something happen

Additional Associations: Femininity; Slowness; Toughness; Fertility

Please feel free to leave any comments here on Blogger, or on my Facebook Page
The Daily Divination
, or on
Twitter
Thank you!