Good morning!

I hope you had a good weekend?

Mine was busy and tiring - but very interesting too!

It was my first time having a stall at Langney Shopping Centre in Eastbourne and I didn't know what to expect. I was also a bit nervous, as I am quite shy (believe it or not).

I've been working from home for several years, in my little 'cave' (as Richard calls it) so I don't get out much. I'm not used to being around lots of people. So when Richard first suggested it, I was rather reluctant, but he 'bullied me' into it and I was so glad, because I actually had a great day!

(I don't know what I would do without Richard - he is amazing! So supportive and encouraging of everything I want to do - and even things I dont want to do - because he seems to know what needs to be done, to make things better. I am so grateful to have him in my life.)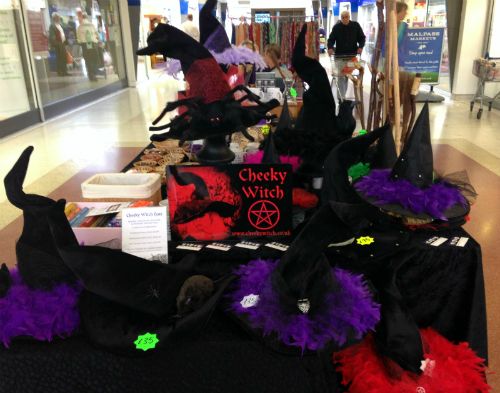 Please click on the photo above, to see a few more photos of my stall.
So Saturday was a day filled with loads of weird and wonderful 'coincidences' and synchronicities!
I met some lovely new people and reconnected with lots of old friends and acquaintances from my past, from when I had my own little shop in Pevensey Bay (2000-2002) some of whom I'd not seen for many, many years - including Veronica Bennett - a very gifted Palmist, who used to give readings in my shop.
I think that big changes are coming (as predicted by my cards last week!) and I am feeling optimistic and re-energised for the first time in a very long time!
I can't wait to go back again next Saturday - and perhaps I will be able to start having a stall there regularly, if they're not fully booked up, and I'll be able to connect with more like-minded people on, a regular basis.
This could be the start of working towards my dream of having another shop and spiritual centre, with rooms for readings and alternative therapy treatments, etc.
If it's meant to happen it will!
* * * * * * *
Saturday was a very long day though!
I was up at 5am, setting up my stall by 7:30am... After my amazing time at Langney I started packing away around 4pm. Then had to go home, get changed, take Maisie out for a walk (my dear old Dad had taken her out for her morning walk for me) and then I was off out again!
I was babysitting my darling little grandson, Ollie, so that Tom and Sophie could go out on their first 'date night' for 4 months, since Ollie was born!
He was as good as gold, only woke briefly, but soon went back to sleep with a little help from his dummy, and me stroking his head (and a little bit of reiki too).
Tom and Sophie had a lovely time, got home around midnight and put me in a taxi home. I got to bed just after 1am - tired but very happy :)
* * * * * * *
I was extra lucky this weekend, as I got to see both of my grandchildren!
Lucy, Gary and Gabriella popped over for a visit Sunday afternoon. I hadn't seen Gabriella for a few weeks and she looks so grown up!
Gabriella started school in September (she's 5 next Valentine's day) and she loves it! She proudly wrote her name, with coloured felt pens, to show us that she's been learning her 'letters'. She's got the longest name in the class too! lol
It was a lovely visit - and ended with her happily 'flying' up the garden path to their car, on her new witchling broomstick, which her Great Grandad made for her!
After that I was exhausted and felt like a zombie, because I was so tired, but it was a really magickal weekend!
However, it is now Manic Monday! On top of all my usual Monday stuff - I have boxes of stock all over the place that need sorting and organising...
But first - the cards!
* * * * * * *
I am using the
Cosmic Ordering Oracle wish Cards
this week - as I my dreams, desires and hopes for the future have been rekindled by my experiences this weekend.
I LOVE my personal card for today! 'Wishes'.... but I have to be careful what I wish for! lol
Please find your message for Monday below and whatever your star sign - have a good day :)
Brightest Blessings,
Kaz
www.blessingz.co.uk
www.cheekywitch.co.uk
www.kazzazzle.com

This week I am using the

Cosmic Ordering Oracle wish Cards

by Stephen Richards and Karen Whitelaw Smith



Quoted from the pack: "This guidance booklet will give you the meaning of the 44 pocket sized Cosmic Ordering Oracle Wish Cards. Use them in many different ways and learn to work with the energy of that card.

Use the cards in your daily life to make a wish and watch it come true."

My personal card for today

:
WISHES
Make a wish and watch it come alive
Full meaning: Be very careful what you wish for - Cosmic Orders do come true. Use your discrimination. Are your wishes guided by Spirit or ego? Be very precise about the areas of life you want to improve. Don't go overboard; the Cosmos is unimpressed by greed. Prioritise your cosmic needs.
Clear any obstacles to positivity. Keep your order free of ill thinking. Tune your will to the Spirit, and receive all the freedom and personal happiness you ever wanted.

Today's cards for each of the star signs

:

Due to lack of time, etc. These are the 'quick reading' messages - for the full reading and meaning of the cards you will need to obtain these cards for yourself - or get someone else to buy them for you as a gift!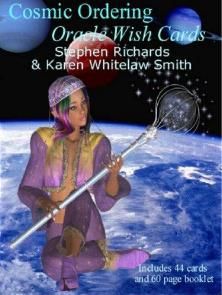 Here are your messages and insights for today. Try to sit quietly for a few moments, meditate on your card and think about how you can learn from, and act upon, its message...

Aries

: TRUTH

Be truthful with yourself

Are you truthful with your dealings with others? Do you lie to protect your ego? Redefine your relationship with honesty today and watch your life transform.

Taurus

: SPIRITUAL POWER

It's time to unleash the power within and set yourself free

Use self-relaxation to discover your Spiritual power, which means connecting to Infinite Energy; with it we can move mountains.

Gemini

: DREAM BIG

Live life to the full

You stand at the door of unlimited abundance. The bigger your dream, the further it will take you on your journey. There are no limitations but your imagination.

Cancer

: DETOX

Wash away your worries

Have you been ignoring signs of overload in your body? Balance your physical body and clear your channel to the Cosmos. Drink more water to purify your system.

Leo

: RELATIONSHIPS

The best relationship you will have is with yourself.

Use the law of attraction today to manifest your perfect partner or improve an existing relationship. Visit a friend or family member you haven't seen for a while. Show your appreciation of them.

Virgo

: BIRTH

The start of new beginnings

This card designates a new beginning. Choosing it signifies that today marks a new stage in your journey.

Libra

: COSMIC ORDERING

Learn to attract abundance

As we believe so we receive. Believe you are worthy, and place your Order today using positive language.

Scorpio

: TRAVEL

Take a break

Book a mental vacation. Empower your life with regular meditations on beautiful places. Let their healing energy uplift your spirit

Sagittarius

: CONFIDENCE

Confidence comes from believing in yourself

Using positive language at all times, we create more confidence - within others and our selves. When we acknowledge our power, we can achieve anything.

Capricorn

: PEACE OF MIND

Be at peace with yourself

Are you still looking to the external world for peace of mind? Only when we truly accept ourselves for who we are, love others and give back to the Cosmos will we know inner peace.

Aquarius

: TRUST

When you trust in yourself then others will trust you

Trust that the Cosmic Order you make today will be delivered.

Pisces

: MESSAGES FROM YOUR LOVED ONES

Stop and listen

Our loved ones will always find ways of connecting with us, especially in times of need.

Please feel free to leave any comments here on Blogger, or on my Facebook Page
The Daily Divination
, or on
Twitter
Thank you!