Greetings!

It's a grey, miserable and rainy day today - which matches my mood - as today is the 17th anniversary of the day we lost my brother, Colin.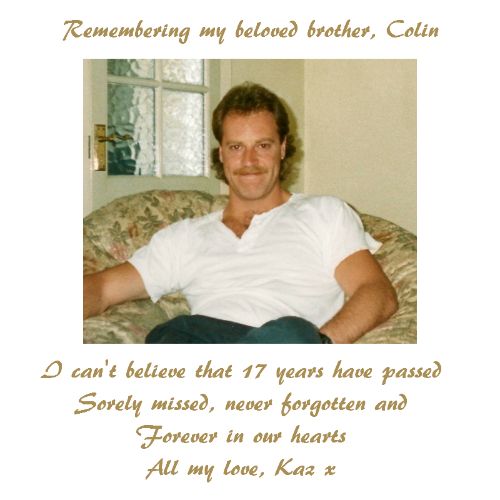 The years have passed so quickly... he is still much loved and much missed.
For anyone else who has lost a loved one , my heart goes out to you.
Please find your message for Wednesday below, and whatever your star sign - have a lovely day :)
Brightest Blessings,
Kaz
www.blessingz.co.uk
www.cheekywitch.co.uk

This week I am using the
Goddess Guidance Oracle Cards

by Doreen Virtue, Ph.D.


Quoted from the pack: "The goddesses are angelic, powerful, loving beings who want to help you with every part of your life. In this set of oracle cards by Doreen Virtue, you'll learn who the different cross-cultural goddesses are and how they can help you. Each card gives a specific message about how you can improve your life, health, relationships, finances, career, and spiritual path. The gorgeous artwork on each card depicts Kuan Yin, Laksmi, Brigit, Isis and Athena; as well as goddesses Celtic, Mayan, Egyptian, Greek, Tibetan, Buddhist and other traditions.
The accompanying guide book helps you to give accurate readings for yourself, your loved ones, and your clients. Whether you're a beginner or seasoned pro, you'll find that working with the goddesses brings Divine magic into your life."

My personal card for today

:
FREYJA - Bold
"Unleash your adventurous side! Take risks and be daring."
Message from Freya: "Don't play it safe right now. Instead, take bold action in the direction of your true heart's desire. Success comes not from timidity but from committing yourself fully to realizing your dream. Hold the clear intention of success and it shall come about. Enjoy the excitement of taking risks, of being bold and of being daring. And be sure to celebrate your success with a party or by splurging on a wonderful indulgence!"
Various meanings of this card: Take a risk * Make a bold life change * Appreciate your body * Flirt * Go have fun and celebrate.

Today's cards for each of the star signs

:

Due to lack of time, etc. These are the 'quick reading' messages - for the full reading and meaning of the cards you will need to obtain these cards for yourself - or get someone else to buy them for you as a gift!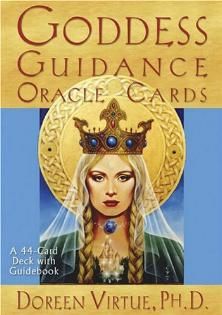 Here are your messages and insights for today. Try to sit quietly for a few moments, meditate on your card and think about how you can learn from, and act upon, its message...

Aries

: KALI - Endings and Beginnings

"The old must be released so that the new may enter."

Various meanings of this card: Your current changes are for the best * Keep your thoughts positive, as they're very powerful * What appears to be a loss is really the beginning of a happy new phase * Let the past go * It's time to move on.

Taurus

: MOTHER MARY - Expect a Miracle

"Have faith that your prayers have been heard and are being answered."

Various meanings of this card: Let go of worrisome thoughts * Keep your thoughts positive * Notice and follow any Divine guidance you may receive * Pray * Engage in spiritual healing.

Gemini

: IXCHEL - Medicine Woman

"You are a channel for Divine healing power."

Various meanings of this card: You're a healer * You're being healed * This situation and/or your loved one is being healed * Honor your healing knowledge and abilities * Learn about healing * Teach the healing arts * Start or continue your healing practice.

Cancer

: DANA - High-Priestess

"You have Divine knowledge that can help others through your spiritual teaching."

Various meanings of this card: Lead workshops * Write books or articles * Look for opportunities to teach * Be a role model of peace * Honour your divinity * Know that you are a leader.

Leo

: BAST - Independent

"Your independence is a foundation for your strength and success."

Various meanings of this card: Spend time alone * Give yourself permission to play * Ask for your needs to be met * Make your on decision * Work with cats * Pay attention to your pet feline and/or get a new cat.

Virgo

: GUINEVERE - True Love

"The romantic stirrings in your heart have propelled the universe to deliver great love to you."

Various meanings of this card: Your soul-mate relationship has arrived or is soon arriving * There is new renewed passion in an existing relationship * You're a very romantic person * Your romantic needs aren't being met, and you must take steps to alleviate this.

Libra

: ISHTAR - Boundaries

(2 days in a row!)

"Love yourself enough to say no to others' demands on your time and energy."

Various meanings of this card: You're giving too much * Become more assertive * Don't do things out of guilt or obligation.

Scorpio

: RHIANNON - Sorceress

"You are a magical person who can manifest your clear intentions into reality."

Various meanings of this card: Have absolute faith that your dream is manifested * Make a clear decision * Put your energy into manifesting your dreams * Know that you deserve to receive good * When you win, others win too * Keep your thoughts focused on your desire and away from fear.

Sagittarius

: APHRODITE - Inner Goddess

"Awaken the Goddess within you through dance, self-care, and appreciating your divinity."

Various meanings of this card: Balance your male energy with more female energy * Take steps to heal your sexuality * Enjoy being feminine * Dance more often * Be receptive * In relationships, allow your softer side to come forward * Don't hide your femininity (dress in a more feminine way.

Capricorn

: DAMARA - Guiding Children

"You are good at helping, counselling, and healing children. Use your skills to help children now.

Various meanings of this card: Spend time with, or have a heart-to-heart talk with your own children * Get into a career involved with helping kids * Volunteer with young people * Know that children will be coming into your life soon * You will be a parent * Take care of your own inner child through play and laughter.

Aquarius

: CORDELIA - Go outside

"You have been indoors too long. Go outside and get some fresh air."

Various meanings of this card: Your manifestation will appear in May and/or when the weather is warmer * Spend time in nature * Change to a job that allows for more connection with nature * Practice environmentalism * Recognize the need for balance in your life.

Pisces

: SIGE - Quiet Time

"Take some quiet time alone to rest, meditate and contemplate."

Various meanings of this card: Go on a retreat * Listen more and talk less * Avoid loud noise and sounds * Meditate * Surrender mind chatter to heaven * Know that you're more sensitive to noise now.

Please feel free to leave any comments here on Blogger, or on my Facebook Page
The Daily Divination
, or on
Twitter
Thank you!