Good morning!

This week is flying past - it's Halloween tomorrow!

I don't know what's wrong with me this year - I just can't seem to get it together - I haven't done anything in preparation yet.

Not like me at all...

I haven't even got a pumpkin - but I can't be bothered to get on a bus to the shops to buy one.

(I don't really have the time or the money either! lol)

However, I shall be ready for the (very few) trick-or-treaters that we get here, with or without a pumpkin, and they shall be greeted by a Witch and be given some candy - and a Magick Crystal too!

They soon forget about the candy when I get out my bag of magick crystals and I just love the look of wonder on their little faces when I tell them what magick powers their chosen crystal has!

Priceless!

In the meantime, I had better get on with today's Ebay and Amazon orders!

Please find your message for Thursday below, and whatever your star sign - have a great day :)

Brightest Blessings,
Kaz
www.blessingz.co.uk
www.cheekywitch.co.uk



This week I am using the
Goddess Guidance Oracle Cards
by Doreen Virtue, Ph.D.
Quoted from the pack: "The goddesses are angelic, powerful, loving beings who want to help you with every part of your life. In this set of oracle cards by Doreen Virtue, you'll learn who the different cross-cultural goddesses are and how they can help you. Each card gives a specific message about how you can improve your life, health, relationships, finances, career, and spiritual path. The gorgeous artwork on each card depicts Kuan Yin, Laksmi, Brigit, Isis and Athena; as well as goddesses Celtic, Mayan, Egyptian, Greek, Tibetan, Buddhist and other traditions.
The accompanying guide book helps you to give accurate readings for yourself, your loved ones, and your clients. Whether you're a beginner or seasoned pro, you'll find that working with the goddesses brings Divine magic into your life."

My personal card for today

: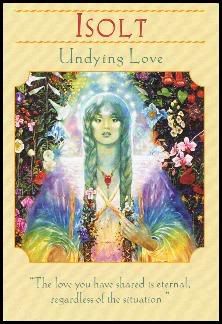 ISOLT - Undying Love
"The love you have shared is eternal, regardless of the situation."
Message from Isolt: "When it comes to matters of the heart, your help is here. It's all around you and inside of you. Your inner wisdom may seem quieted by any pain you feel. Yet, be assured that the healing you're undergoing is swift and efficient, and you truly are healing from the inside out. First your heart must heal from its grief, loneliness and any feelings of betrayal.
This can take some time, so be patient with yourself. Treat yourself as you would any ailing person: with caution, gentleness, and tenderness. Next, get yourself out into the world - not in a harsh fashion, but with outings to the parks, forests and such, which are essential to lightening your outlook. Nature is a great healer, you see. That's why I am frequently amidst the flowers and the trees. Although they may seem quiet on the outside, they're quite talkative when you breathe and simply ingest their magical tones in conversation. Spend time among the forest and the trees, as well as the plants and the animals, and you'll regain your foothold upon this planet. You'll revive your sense of spirit, and your desire to tread among the living once again. I promise you that your heart will mend, and that you'll be able to help others in this fashion along the way.
Various meanings of this card: Love from your romantic partner is eternal, regardless of outward appearances * You're healing from a break-up * You're healing from some other type of loss * Let go of an old relationship to make room for a new one * The love that you send into the world is an important part of your Divine purpose * Your deceased loved one is happy and sends you love.

Today's cards for each of the star signs

:

Due to lack of time, etc. These are the 'quick reading' messages - for the full reading and meaning of the cards you will need to obtain these cards for yourself - or get someone else to buy them for you as a gift!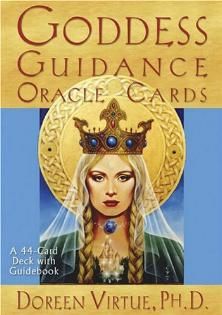 Here are your messages and insights for today. Try to sit quietly for a few moments, meditate on your card and think about how you can learn from, and act upon, its message...

Aries

: DIANA - Focused Intention

"Keep your unwavering thoughts, feelings and actions focused on your target, and you will make your mark."

Various meanings of this card: Stay positive * Know what your priorities are and take action on them * Take control of your schedule * Avoid nay-sayers and skeptics.

Taurus

: MAWU - Mother Earth

"You are called upon to help with environmentalism."

Various meanings of this card: Your life's purpose involves environmentalism * Use earth-friendly products * Recycle * Get involved with an environmental group * Teach others about environmentalism.

Gemini

: ISIS - Past Life

"This situation involves your past-life memories."

Various meanings of this card: Get a past-life regression to gain insights and answers * Ancient fears from the past are surfacing right now * You've known the person you're enquiring about in a past life. * Your current situation relates to a childhood issue.

Cancer

: ABUNDANTIA - Prosperity

"The universe is pouring its abundance out to you. Be open to receiving."

Various meanings of this card: be open to receiving * A new windfall of money is coming to you * You have nothing to worry about * Your new venture will be financially successful * Visualize and affirm abundance * Abundance comes to you in many ways, including extra time, support and ideas.

Leo

: RHIANNON - Sorceress

"You are a magical person who can manifest your clear intentions into reality."

Various meanings of this card: Have absolute faith that your dream is manifested * Make a clear decision * Put your energy into manifesting your dreams * Know that you deserve to receive good * When you win, others win too * Keep your thoughts focused on your desire and away from fear.

Virgo

: MARY MAGDALENE - Unconditional Love

"Love yourself, others and every situation - no matter what the outward appearances may be."

Various meanings of this card: Don't worry what others think or say * Heal this situation with love * Send love to those who have hurt or misjudged you * Forgive yourself for what you think you've done or not done * Release old unforgiveness toward others to help yourself heal and move on. http://i101.photobucket.com/albums/m75/crystalstarwoman/blogger/goddess%20guidance%20oracle%20cards/marymagdalene.jpg

Libra

: IXCHEL - Medicine Woman

"You are a channel for Divine healing power."

Various meanings of this card: You're a healer * You're being healed * This situation and/or your loved one is being healed * Honor your healing knowledge and abilities * Learn about healing * Teach the healing arts * Start or continue your healing practice.

Scorpio

: VESTA - Home

"Your household situation is improving, either through a move or healthy change in the occupants."

Various meanings of this card: You're moving to a new home * You've just moved * A new person is moving in * Someone is moving out * There is increased romance and/or harmony in the home * A problem with neighbours is resolved * Clear the space in your home * Remodel * Know that your home is safe and protected.

Sagittarius

: LAKSHMI - Bright Future

"Stop worrying. Everything is going to be fine."

Various meanings of this card: You and your loved ones will be protected and provided for * Let go of any 'bag-lady' fears about your future * Hold positive thoughts and intentions * Know that you'll always have your needs met, now and in the future * Don't worry about money, but instead visualise abundance.

Capricorn

: NEMETONA - Sacred Space

"Create an altar or visit a power place to connect with the Divine."

Various meanings of this card: Build an altar in your home * Take a spiritually oriented trip * You need a quiet place of refuge and retreat for yourself * Create a medicine circle or labyrinth * Walk the labyrinth * Clear the energy in your home with sage, prayer, toning, invoking Archangel Michael, or other space clearing methods.

Aquarius

: SEDNA - Infinite Supply

"You are supplied for today and all of your tomorrows."

Various meanings of this card: Don't worry about the future * Know that you'll always have enough to eat * Your needs will always be provided for * Spend time at the ocean * Swim with the dolphins * Move to a beach or island community * Go swimming, sailing, or surfing * Give time or money to a cause that protects the ocean .

Pisces

: BAST - Independent

"Your independence is a foundation for your strength and success."

Various meanings of this card: Spend time alone * Give yourself permission to play * Ask for your needs to be met * Make your on decision * Work with cats * Pay attention to your pet feline and/or get a new cat.

Please feel free to leave any comments here on Blogger, or on my Facebook Page
The Daily Divination
, or on
Twitter
Thank you!