Good morning/afternoon!

It's already lunchtime here!

I've been busy all morning, making gifts and photographing them for ebay and didn't realise what the time was!

Then realised I hadn't done the cards! Ooops!

Better late than never...

Please find your Animal message for Tuesday below and whatever your star sign - have a great day :)

Brightest Blessings,
Kaz
www.blessingz.co.uk
www.cheekywitch.co.uk



This week I am using the
Power Animal Oracle Cards
by Steven D.Farmer, Ph.D.
Quoted from the pack: "Power Animals are spirit guides in animal form who provide protection, guidance and healing. This deck of 44 oracle cards by Steven Farmer will connect you with animal spirit guides who will advise you about any aspect of your life. Whether you're a beginner or an experienced reader, the enclosed easy-to-follow guidebook provides instructions to help you immediately give accurate readings to yourself and others."

My personal card for today

: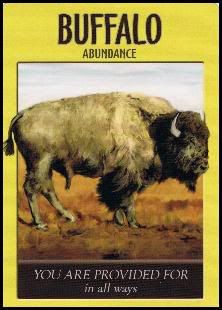 BUFFALO - ABUNDANCE
YOU ARE PROVIDED FOR in all ways
Divinatory meaning: You need never go hungry. You will always have plenty - plenty of physical and emotional sustenance and, just as important, spiritual nourishment. To sustain this state of abundance, it's important to remain appreciative of all that you do have and consistently express your gratitude to Great Spirit as the true source of your supplies. Have faith in this fact, rather than getting caught up in beliefs in lack and limitation.
In fact you will have more than enough, so give away any surplus willingly and enthusiastically. Whenever you do give something away, do so out of love, from your heart, rather than from any sense of martyrdom or to gain others' approval. Nature gives unabashedly and generously unto life and death. Let that part of your nature be the fount from which your giving generates. In this way, you will experience a deep satisfaction and heartfelt sense of connectedness to others in your family and community, and quite naturally feel immensely grateful for all that life gives to you.
Additional Associations: Generosity; Gratitude; Surrender; Sacrifice

Today's cards for each of the star signs

:

Due to lack of time, etc. These are the 'quick reading' messages - for the full reading and meaning of the cards you will need to obtain these cards for yourself - or get someone else to buy them for you as a gift!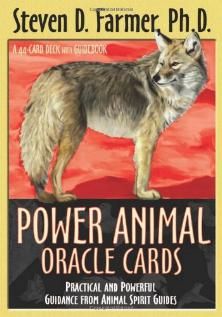 Here are your messages and insights for today. Try to sit quietly for a few moments, meditate on your card and think about how you can learn from, and act upon, its message...

Aries

: GIRAFFE - FORESIGHT

YOU ARE ABLE TO SEE what is in store for the future

Additional Associations: Prophecy; Divination; Risk-taking; Gentleness

Taurus

: LIZARD - DREAMTIME

Pay attention to your DREAMS AND VISIONS

Additional Association: Primal; Ancient; Reflexive; Spontaneous

Gemini

: HORSE - FREEDOM

You always have a CHOICE

Additional Association: Integrity; Compromise; Speed; Agility

Cancer

: BLACK PANTHER - PASSION

(2 days in a row!)

Follow your PASSION

Additional Associations: Sensuality; strength; Clarity; Solitude

Leo

: ANTELOPE - DECISIVENESS

MAKE A DECISION and take appropriate action

Additional Associations: Vigilance; Action; Speed; Sacrifice

Virgo

: RAVEN - MAGIC

OWN your power

Additional Association: Shadow; Insight; Prophecy; Shape-Shifting

Libra

: FOX - ADAPTABILITY

ADAPT TO THE CHANGES that are happening

Additional Association: Shape-shifting; Flexibility; Cunning; Subtlety

Scorpio

: HAWK - FOCUS

CHOOSE YOUR PRIORITIES and eliminate all distractions

Additional Associations: Messenger; Perspective; Detachment; Swiftness

Sagittarius

: BEAR - BOUNDARIES

STAND your ground

Additional Association: Protection; Creativity; Solitude; Healing

Capricorn

: OTTER - SURRENDER

LET GO of control

Additional Associations: Sensuality; Merging; Family; Playfulness

Aquarius

: SNAKE - HEALING

You are a HEALER

Additional Associations: Rebirth; Sexuality; Transmutation; Transformation

Pisces

: SEAL - IMAGINATION

IMMERSE YOURSELF in artistic and creative projects

Additional Associations: Creativity; Grace; Adaptation; Playfulness

Please feel free to leave any comments here on Blogger, or on my Facebook Page
The Daily Divination
, or on
Twitter
Thank you!