Good morning!

I hope you had a good weekend?

I didn't 'rest up' as I intended (and unfortunately I am still unwell) instead I came up with a plan of action to try to solve my problems and kick-start my business!

I've had an ebay shop for many years, selling my little Bagz of Blessingz, and although my income is low, I have always had fairly steady sales - until ebay started introducing lots of changes...

Ebay's 'improvements' and new criteria this year have included demanding that sellers upload bigger pictures (and at least 3 photos for each item) offer free postage, next day delivery, etc., and unless you offer 'fast and free' postage, and make your items eligible for their new 'click and collect' feature - your products dont seem to rank in the searches.

After many years of steady sales, my sales have got less and less since they've made so many changes... It's not easy to offer 'next day delivery' when your products are mostly made-to-order personalised gifts!

So I have spent the weekend starting to make some necessary changes - including having to re-photograph all my products and re-think my listings.

It's going to be a VERY long job, as I have about 80 'multi-variation' listings which will need updating, but I've made a start with my New Baby Gifts, Christening Gifts and Christmas Gifts!


However - today is Manic Monday and I have emails and queries to respond to and I do have some orders to make today, for which I am very grateful, so I shall have to get back to the ebay updating this evening!
But first the cards!
This week I am using the
Power Animal Oracle Cards!
Please find your message for Monday below and whatever your star sign - have a good day :)
Brightest Blessings,
Kaz
www.blessingz.co.uk
www.cheekywitch.co.uk

This week I am using the
Power Animal Oracle Cards

by Steven D.Farmer, Ph.D.
Quoted from the pack: "Power Animals are spirit guides in animal form who provide protection, guidance and healing. This deck of 44 oracle cards by Steven Farmer will connect you with animal spirit guides who will advise you about any aspect of your life. Whether you're a beginner or an experienced reader, the enclosed easy-to-follow guidebook provides instructions to help you immediately give accurate readings to yourself and others."

My personal card for today

: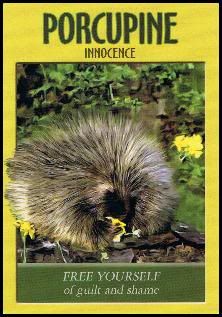 PORCUPINE - INNOCENCE
FREE YOURSELF of guilt and shame
Divinatory meaning: See the world through the eyes of a child, trusting your inner mother and father to be there whenever you need them. Protection is available when you need it, so you can feel safe in expressing yourself in all the different ways you've always wanted to. There's boldness in innocence, and no more need to hide behind any childhood guilt about perceived misdeeds or be consumed with shame about revealing your true self. You're a gentle soul and have never intentionally harmed anyone.
Release any guilt over your behaviour or shame about yourself in this situation. There's no need to feel resentful, victimized, or arrogant toward anyone else either. Be the child of God that you are. In your heart, live in the garden. Others may cause you to prickle, but truly, most of what they do or say to you is harmless and not a threat. So be joyful and grateful, and let everything you do be done with complete abandon. Dance, laugh, sing, and be free again, just like you were on the day you were born.
Additional Association: Humility; Protection; Sensitivity; Trust

Today's cards for each of the star signs

:

Due to lack of time, etc. These are the 'quick reading' messages - for the full reading and meaning of the cards you will need to obtain these cards for yourself - or get someone else to buy them for you as a gift!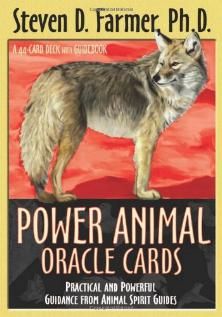 Here are your messages and insights for today. Try to sit quietly for a few moments, meditate on your card and think about how you can learn from, and act upon, its message...

Aries

: BUFFALO - ABUNDANCE

YOU ARE PROVIDED FOR in all ways

Additional Associations: Generosity; Gratitude; Surrender; Sacrifice

Taurus

: RACCOON - RESOURCEFULNESS

You have all the RESOURCES you need

Additional Association: Stealth; Ingenuity; Cleverness; Dexterity

Gemini

: BADGER - PERSEVERANCE

Dig in and see it through to COMPLETION

Additional Associations: Self-reliance; Determination; Assertiveness; Willingness

Cancer

: BLACK PANTHER - PASSION

Follow your PASSION

Additional Associations: Sensuality; strength; Clarity; Solitude

Leo

: COUGAR - CONFIDENCE

Be bold and TAKE CHARGE

Additional Associations: Stealth; Leadership; Focus; Conviction

Virgo

: OWL - OMENS

Pay attention to SIGNS

Additional Association: Wisdom; Shadows; Secrecy; Magician

Libra

: ANTELOPE - DECISIVENESS

MAKE A DECISION and take appropriate action

Additional Associations: Vigilance; Action; Speed; Sacrifice

Scorpio

: BEAVER - PRODUCTIVENESS

Go ahead and JUST DO IT

Additional Associations: Enthusiasm; Community; Cooperation; Ingenuity

Sagittarius

: DEER - PATHFINDER

TRUST YOUR INSTINCTS to guide you through this situation

Additional Association: Gentleness; Cunning; Grace; Purity

Capricorn

: FROG - PURIFICATION

CLEAR OUT the clutter

Additional Associations: Singing; Rhythm; Rainmaker; Sensitivity

Aquarius

: OTTER - SURRENDER

LET GO of control

Additional Associations: Sensuality; Merging; Family; Playfulness

Pisces

: COYOTE - WISE FOOL

ACCEPT YOUR FOLLIES and find the teaching in them

Additional Association: Trickster; Sociability; Adaptability; Wisdom-Keeper

Please feel free to leave any comments here on Blogger, or on my Facebook Page
The Daily Divination
, or on
Twitter
Thank you!