Good morning!

Can you believe that it's Thursday already? Where does the time go? So scary how quickly the weeks fly by...

I have so many things to prepare for Halloween, and I have 2 events booked as well!

I shall be at Langney Shopping Centre in Eastbourne, on the 18th and 25th of October, selling my Witches' Hats, Cheeky Witch Mugs and crystals, etc.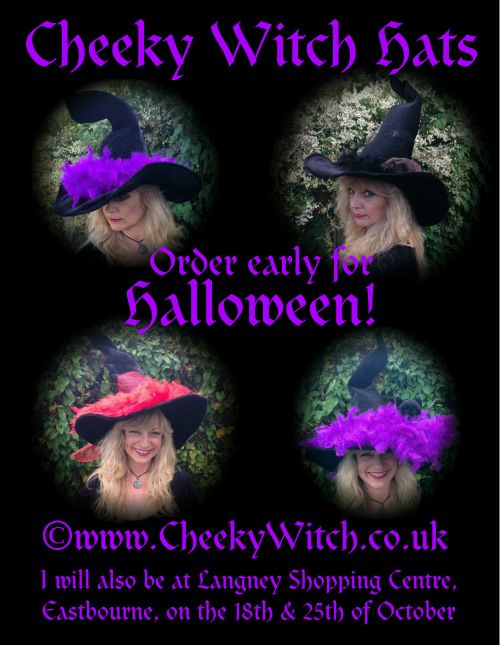 I need to make a couple more hats and have received a special hat order too.
However, I am still full of cold and feeling very run down and lacking in energy - with lots of money worries and it's all getting on top of me - so I had to laugh when I saw my personal 'Wisdom Card' for today!
My affirmation for today is "I am healthy and filled with energy"
It's obviously a message telling me that it's time to get myself out of this negative rut and 'walk my talk'!
"I am healthy and filled with energy! I feel the bounce in my step. I see my shining eyes. The radiant me is right here. I claim it now."
Please find your affirmation for Thursday below and whatever your star sign - have a positively wonderful day :)
Brightest Blessings,
Kaz
www.blessingz.co.uk
www.cheekywitch.co.uk

This week I am using the
Wisdom Cards
by Louise L Hay
Illustrated by Eris Klein and Sarajo Frieden


Quoted from the pack: "A deck of 64 Affirmation Cards to help you develop your Inner Wisdom."
These are affirmation cards and are all about the power of positive thought!

My personal card for today

:
Affirmation: I am Healthy and filled with Energy.
I feel the bounce in my step. I see my shining eyes. The radiant me is right here. I claim it now.

Today's cards for each of the star signs

:

(If you are interested in treating yourself to these cards -please click on the pic below for details!)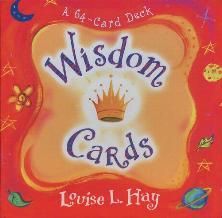 Here are your messages and insights for today. Try to sit quietly for a few moments, meditate on your card and think about how you can learn from, and act upon, its message... and don't forget to repeat your affirmation throughout the day!

Aries

: Affirmation: I am Motivated by Love.

Resentment, criticism, guilt, and fear come from blaming others and not taking responsibility for my own experiences.

Taurus

: Affirmation: I Accept all the Parts of Myself.

I look in the mirror and say: "I love and accept myself exactly as I am."

Gemini

: Affirmation: I am on an endless Journey through Eternity.

Today is a very exciting time in my life. I am on a wonderful adventure and will never go through this particular experience again.

Cancer

: Affirmation: I Express my True being Today.

This is a new day. I begin anew to claim and create all that is good.

Leo

: Affirmation: I am Willing to learn something new every day.

I cannot learn other people's lessons for them. They must do the work themselves, and they will do it when they are ready.

Virgo

: Affirmation: I am good enough.

I am not restricted by old, limiting beliefs from my family or from society.

Libra

: Affirmation: I Forgive Myself for any wrong doing.

Guilt never makes anyone feel better, nor does it change a situation. I now stop feeling guilty. I let myself out of that prison.

Scorpio

: Affirmation: I can Heal Myself on all Levels.

Healing means to make whole and accept all parts of myself - not just the parts I like, but all of me.

Sagittarius

: Affirmation: I Listen with Love to my body's messages.

My body, like everything else in life, is a mirror of my inner thoughts and beliefs. Every cell responds to every single thought I think and every word I speak.

Capricorn

: Affirmation: I Always have a Choice.

I choose to believe that it is easy to change a thought or a pattern.

Aquarius

: Affirmation: I speak and think positively.

I listen to what I say. If I hear myself using negative or limiting words, I change them.

Pisces

: Affirmation: I have Unlimited Potential.

Loving myself and thinking joyful, happy thoughts is the quickest way to create a wonderful life.

Please feel free to leave any comments here on Blogger, or on my Facebook Page
The Daily Divination
, or on
Twitter
Thank you!