Good morning!

It's the middle of August, but I noticed quite a nip in the air this morning, when walking Maisie on the beach...

A nip in the air makes it feel autumnal and the autumn is probably my favourite time of year!

However, I don't really want summer to be over yet (even though I'm not a lover over too much heat) as it would be nice to have good weather for a little while longer - for this bank holiday weekend - and especially for The Grand Witches Tea Party on the 31st of August!

I have been working on a very special Witchy hat for the tea party - and really enjoying myself doing it!

I would love my hat to be the best witch's hat there... but as we are hoping to beat the record for the most witches at one gathering (which is 765) there should be loads of other fabulous witches' hats too!

We shall make sure to take lots of photos :)

Less than 2 weeks to go! So, if you are in the area (Exeter, Devon, UK) on Sunday 31st of August please join us!

For more details, please click on the photo:


Time to get on with today's orders...
But first the cards!
Please find your message and affirmation below and whatever your star sign - have a great day :)
Brightest Blessings,
Kaz
www.blessingz.co.uk
www.cheekywitch.co.uk

This week I am using the
Angels of Light Cards
by Diana Cooper
Quoted from the pack: "Angels are high spiritual beings. They come from the heart of God as guides, protectors, helpers and healers. Angels are willing and able to help us in many ways throughout our lives, all we need to do is call on them and they will respond. Allow these cards to help you bring them into your life.
Diana Cooper, best selling author of 'A Little Light on Angels', 'A Little Light on Ascension' and 'A Little Light on the Spiritual Laws' has created this beautiful new set of cards. This pack contains 52 cards, a 48 page booklet and a velvet bag which will allow you to carry the cards wherever you go."
(These cards do not have different illustrations just the beautiful image below on the back and all text on the front.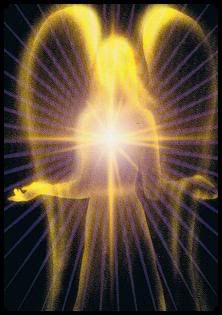 My personal card for today

: LIGHT

Full meaning: Light illuminates darkness and gloom, bringing hope and inspiration.

Ask the angels to fill you with more light, for it contains spiritual information and knowledge. These are the keys to the Universe and bring love and peace, as well as unlocking the wisdom within you.

As your light becomes stronger and clearer, you will find clarity and purpose.

You will radiate brightly and become a beacon, reminding others of the Divine help available.

Angel wisdom suggests you ask the angels to ignite and strengthen the Divine flame within you.

Affirmation: I am a light.

Today's cards for each of the star signs

:

Due to lack of time, etc. These are the 'quick reading' messages - for the full reading and meaning of the cards you will need to obtain these cards for yourself - or get someone else to buy them for you as a gift!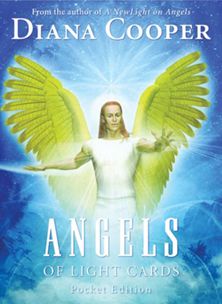 Here are your messages and insights for today. Try to sit quietly for a few moments, meditate on your card and think about how you can learn from, and act upon, its message...

Aries

: GRATITUDE

Quick message: Your guidance is to count your blessings. When you say thank-you to the Universe for its gifts, it responds generously to you. Angel wisdom reminds you to say thank-you for all that you have, the intangible as well as the tangible. Whenever you say thank-you from your heart, more is bestowed on you, for gratitude is the key to opening the doors to universal abundance.

Affirmation: I am grateful for everything in my life.

Taurus

: WISDOM

Quick message: Knowledge is learned, but wisdom is the divine prompting within you. Your angel guidance is to connect to your still, quiet centre and listen to the wisdom of your soul. Then you will take decisions and act from your own infinite self. With wisdom life takes on a new perspective, as dramas and fears become insignificant in comparison with the magnificence of the overall picture.

Affirmation: I listen to my wisdom.

Gemini

: CO-OPERATION

Quick message: Angel wisdom suggests that you use your skills and talents for the common good. Eliminate power struggles, conflict and competition, which come from a desire to win. Co-operation for the highest good promotes harmony and togetherness and draws the best from everyone. Your angel guidance is to bring people together and explore how you can mutually assist each other.

Affirmation: I co-operate with everyone.

Cancer

: CURIOSITY

Quick message: See life through the curious eyes of a child and you will discover a never-ending source of happiness and excitement. Curiosity keeps you alive, interested and interesting. The angels are inviting you to be curious about yourself. Start exploring who you are and you will grow personally and spiritually. Be interested in people. Be curious about the wonderful Universe in which you live, about the angels and their role in the divine plan.

Affirmation: I explore the wonder of life.

Leo

: SELF-WORTH

Quick message: Self-worth bestows a sense of confidence, expectation of success and ability to love. When you value yourself, you become open and friendly, slow to take offence and quick to forgive. With true self-worth, you radiate a golden aura which enfolds others and makes them feel good too. Ask your angels to step into your aura and guide you.

Affirmation: I am confident and worthwhile.

Virgo

: OPPORTUNITY

Quick message: We are all presented with opportunities and are expected to flow with the currents that come our way. Drawing this angel card suggests that something is now being made available to you and it is up to you to use it to your greatest advantage. Be alert, be aware and be prepared. Quieten your mind and ask the angels to help you.

Affirmation: I am ready for all opportunities.

Libra

: SYNCHRONICITY

Quick message: There is no such thing as chance in our incredible Universe. The coincidences and synchronicities are carefully orchestrated by your guides and angels - so recognize them as the hand of spirit. Be aware that there is a divine reason behind them and consider what the message or lesson is. Synchronicity is also a reminder to you that all things happen in divine timing.

Affirmation: All things happen in perfect timing.

Scorpio

: ARCHANGEL CHAMUEL

Quick message: Archangel Chamuel works on the pink ray of love and being blessed with this archangel card indicates that you are ready to open your heart to unconditional love. Love has no restrictions and accepts all people as they are. Nor does it judge. Let love flow from your heart and touch your loved ones, those you dislike and strangers. In return your life will be blessed and filled with love.

Affirmation: My heart is filled with the flame of love.

Sagittarius: ADVENTURE

Quick message: Life is an adventure. Be ready for the unexpected and make the most of all opportunities. The angel wisdom suggests you get out of any habits or ruts in which you are stuck. Do things which are different and face life with a sense of wonder. The angels are inspiring you to move forward with anticipation, expectancy and hope.

Affirmation: I face the adventure of life eagerly.

Capricorn

: DISCERNMENT

Quick message: Discernment means sensing what feels right or wrong, trusting your judgement and acting on it. Your angel guidance is to look at the people and situations in your life now and respond to your gut feeling. Angel wisdom reminds you that when you can be trusted to use discernment, you can serve the Universe in a great way.

Affirmation: I trust my intuition.

Aquarius

: ARCHANGEL RAPHAEL

Quick message: You are blessed to attract this angel card, for Archangel Raphael brings health, healing and abundance. He will help you to develop your intuition and inner vision. Call on him if you need help in these areas now. If you are a healer or wish to become one, Archangel Raphael will direct pure divine energy through you. He works on the green ray of healing and balance, so visualise yourself surrounded by a clear green light and invoke his guidance.

Affirmation: I am happy, healthy and abundant.

Pisces

: SURRENDER

Quick message: Whatever you resist in life persists. Ask your angels to help you dissolve all the resistances of your ego (the inner conflict and struggle, the rigid mind sets and habits) so that they can flood your life with higher truth and joy. When you surrender to the guidance of your Higher Self, all the energy you have been using in resistance becomes available to you. Vitality, inner peace, harmony and, most of all, love, are you spiritual rewards.

Affirmation: I surrender to the flow of life.

Please feel free to leave any comments here on Blogger, or on my Facebook Page
The Daily Divination
, or on
Twitter
Thank you!