Good morning!

Long time no blog! lol

Well July WAS a busy month!

Cheating (and to save time) here's what I wrote on Facebook about it during my 5 day positivity challenge on Friday:

DAY 3 POSITIVITY CHALLENGE! July was an amazing, crazy busy month - so my 3 positives today are about July!

1. July Birthdays!

My son, Tom, and his lovely fiancée, Sophie, had a baby! My adorable grandson, Ollie (below), was born on the 3rd of July.

We also had my Dad's birthday on the 5th, my daughter Lucy's birthday on the 7th and mine on the 13th!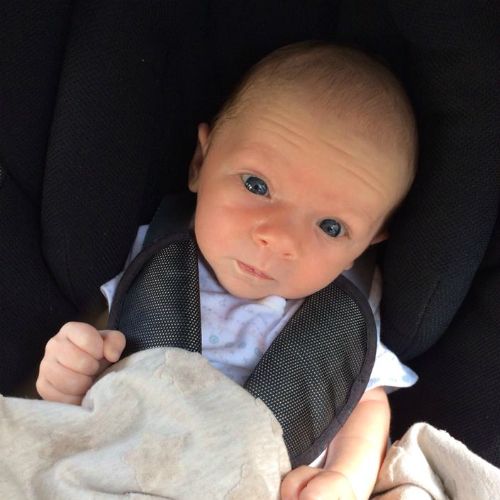 2. My daughter Katie came over from France and my daughter Aimee came down from Warrington for a week and were here for my birthday - so we had all the family together - all 4 generations - my Mum and Dad, all 4 of my children, my 2 grandchildren and me! Full family get-togethers are rare and SO precious! Happy times!
Sadly my grandaughter Gabriella refused to have her photo taken with the rest of us - such a shame...
3. The Eastbourne Lammas Festival on the 26th and 27th of July, my favourite weekend of summer!
Highlights included - family and friends gathering in the gazebo behind the Cheeky Witch tent and enjoying a picnic together, seeing lots of old friends and acquaintances and meeting some of my FB followers! Selling my first 2 Cheeky Witch Hats and seeing their new owners proudly walking around the festival wearing them! Wicked
Here's me and my grandaughter, Gabriella, who was happy to have a photo taken in her new hat!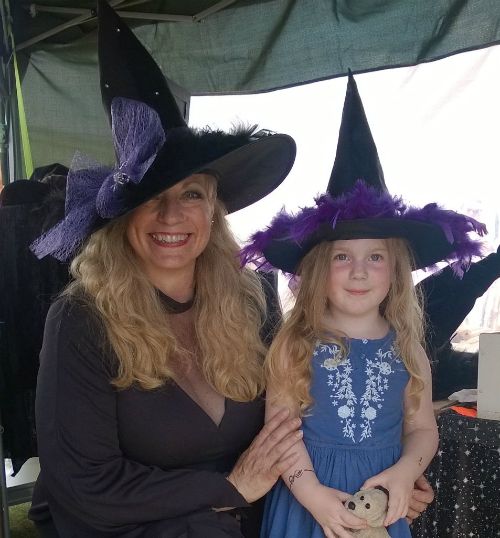 I launched my new venture at the Lammas Festival!
Cheeky Witch Hats
!
I sold the first one to Sue - who fell in love with my Crow Hat. Here we are below (I'm modelling my Rat Hat!)
Please click on the photo to see a few photos of the Cheeky Witch Stall taken at the Lammas Festival this year.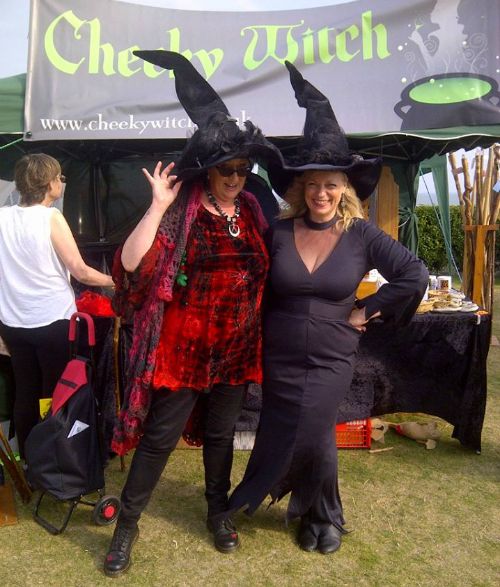 To see some amazing photos of the festival by our local, very talented photographer,
Graham Huntley
, please click
here
* * * * * * *
I am having great fun with my new Cheeky Witch Hats!
I've been creating dramatic hats like this one: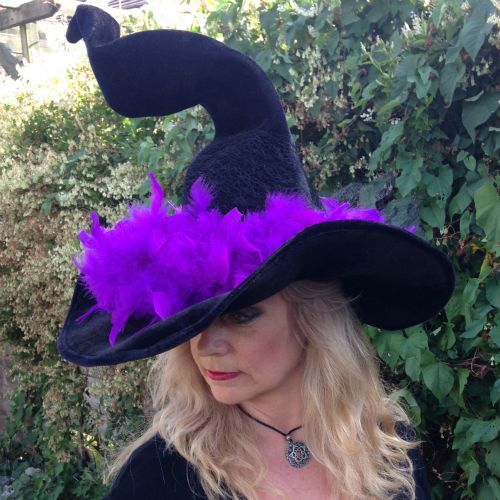 As well as glamorous sparkly hats like this one:
I
f you are thinking about treating yourself to a stunning new hat for Halloween, please click on the photos to visit my
Cheeky Witch Etsy Store
.
* * * * * * *
Time to do the cards!
Please find your message for Monday below and whatever your star sign - have a good day :)
Brightest Blessings,
Kaz
www.blessingz.co.uk
www.cheekywitch.co.uk

This week we are addressing the 'inner child' because I am using the

Magical Unicorns Oracle Cards

by Doreen Virtue, Ph.D.
Quoted from the pack: "With the Magical Unicorns Oracle Cards deck, you can receive messages and guidance related to your present life, your future, and your spiritual path. Suitable for adults and children of all ages, each card features a beautiful unicorn painting and a life-affirming message. The enclosed easy-to-follow guide book, allows you instantly give accurate readings to yourself and others."
These cards are beautiful and the messages are simple, innocent and child-like. They can be used to help teach your child how to use and work with guidance cards, but also it is nice to address our own 'inner child' at times... so that's what we're doing this week!

My personal card for today

: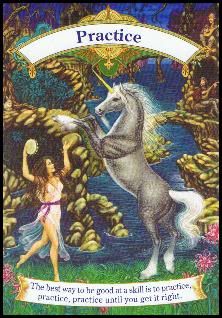 Practice
Full meaning: Do you want to know why some people are really good at sports, music or art? They practice these skills a lot! This card is a sign that you need to practice a skill that's important to you so that you can be really good at it.
As you practice, some days you'll feel stronger than other, yet you'll notice that your skills improve the more you use them. So have patience with yourself and your teachers. It may take time for you to learn how to do something in the best way. Practice really is the best way to improve your skills.
As you practice, you'll learn new ways and methods. You'll also enjoy yourself more as you get better at your new skills. So, whether your dream is to paint, write, dance, sing, or do crafts, practice is one way to make your dreams come true.

Today's cards for each of the star signs

:

Due to lack of time, etc. These are the 'quick reading' messages - for the full reading and meaning of the cards you will need to obtain these cards for yourself - or get someone else to buy them for you as a gift!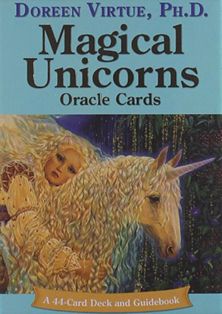 Here are your messages and insights for today. Try to sit quietly for a few moments, meditate on your card and think about how you can learn from, and act upon, its message...

Aries

: Healer

Quick message: You have the power to help and heal others.

Being a healer means that you're open to Divine love coming through you - and also through people, animals, or situations that can benefit from this love. Ask your angels to help you with your healing work. They can answer your questions, help you with classes, and guide your healings.

Taurus

: Let go of stress

Quick message: Don't take on other people's stress. Breathe it out now.

Now, think of something that makes you feel happy. You can also talk to a friend, a pet, or your angels and unicorns. You don't have to feel stress, anger, or sadness. You have the power to choose your thoughts and feelings. The unicorns hope that you'll choose to feel happy right now.

Gemini

: Very soon

Quick message: What you're asking for will happen soon in a happy way.

This card wants you to know that your prayers are coming true very soon. There's no need to hurry or rush, and there's definitely no need to worry. (After all, worry can slow down your wishes.) Your desires are coming true in what's known as "Divine Timing". This means that they're happening at exactly the perfect time for everyone involved. All the pieces of the puzzle are falling into place in just the right way. You'll be very pleased with the results!

Cancer

: Just be yourself

Quick message: You're a great person - enjoy being yourself.

Sometimes you may worry whether people like you. At those times, you may pretend to be somebody other than yourself. For example you may try to act, talk, or dress like someone you admire. This card says that you're great right now! You don't need to act like anyone else. In fact, things will go a lot better, and you'll feel a lot happier, if you'll just be yourself.

Leo

: Love

Quick message: The answer that you're seeking is love.

This card wants you to know the simple yet powerful answer that you seek: It is love - pure love, Divine love, healing love. You can heal your current situation by acting more lovingly toward others.

Virgo

: Relax - Everything's okay

Quick message: Don't worry... it's all going to be fine.

Your current situation will be over soon, and you'll be fine. You'll learn life lessons that will help you in the future. So use this current time to make yourself stronger. Breathe deeply, try your best to stay positive and happy, and remember to relax because everything's going to be okay.

Libra

: Change

Quick message: The changes that you're going through are positive.

At times, we're afraid of making changes because we don't know what will happen in the future. This card wants you to know that the changes you're going through are for the best. You're walking through a gate into a new life. Don't worry about your future, because it's all going to work out just fine.

Scorpio

: Thankful

Quick message: Think about the people and things you feel grateful for.

Gratitude warms your heart with good feelings that are healthy for your mind and body. You can make yourself feel better by making a list of everything and everyone you're thankful for. Gratitude replaces sadness, and makes everything go better. Gratitude is such a powerful way to make your life better that it's almost magical!

Sagittarius

: Laughter

Quick message: You need a good laugh!

This card asks you to see the humour within each situation, and not take life so seriously. You can ease your own stress and that of others with humour and laughter. Learn to feel joy, no matter what is happening around you. Laughter and joy are magical because they bring happy situations into your life.

Capricorn

: Family Culture

Quick message: Learn more about your family's stories and history.

The most important time in your life is right now, so don't spend too much time focused on your family's past. However, learning about it will definitely help you enjoy yourself more right now. So, take the time to ask your family and your inner mind some questions about your past, but put most of your energy into enjoying all the present moments.

Aquarius

: Light

Quick message: See the light within yourself and everyone else.

Everyone has a beautiful light within them, no matter what they look like or how they act. This light is pure. The more you focus on the light within others, the more you can help them be happy and healthy. As you focus on seeing and feeling light within yourself and everyone, you'll notice a positive change in your life. For example, people will treat you better, your family members will seem happier, and you'll sleep better at night.

Pisces

: Finish what you started

Quick message: You've started something important, and now it's time to complete it.

It's actually easier to finish something than it is to deal with feelings related to the project being incomplete. The easiest way to finish is to spend daily time working on it a little bit. What can you do today to bring the project to completion? If you're unsure, ask your angels and unicorns for help. They can give you ideas, as well as the energy to work on finishing what you've started. You'll thank them and yourself after the task is done!

Please feel free to leave any comments here on Blogger, or on my Facebook Page
The Daily Divination
, or on
Twitter
Thank you!