Good morning!

Apologies for my absence - life has been rather hectic just lately!

My son, Tommy, and my lovely daughter-in-law-to-be, Sophie, are now very proud parents!

My beautiful grandson, Oliver William Bourner, was born on the Thursday 3rd of July at 2:59am!

Here he is!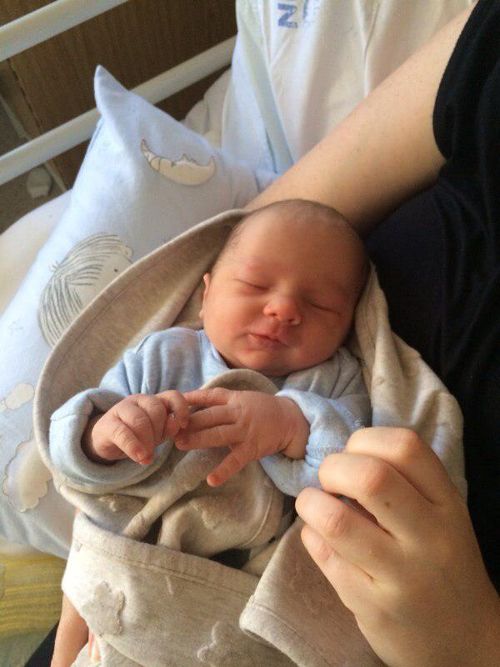 Isn't he adorable?!
This was me having my first cuddle!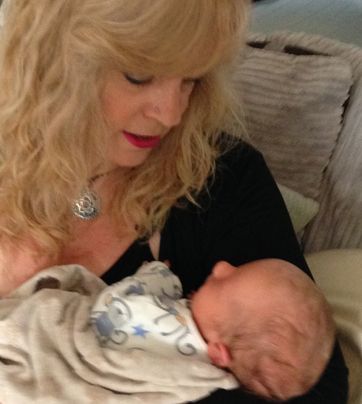 What a blessing :)
So we have a new addition to our family and another July birthday!
We now have 4 generations of Cancerians!
Ollie's birthday is July 3rd, my Dad - Ollie's Great Grandad's birthday was on Saturday (July 5th), my daughter Lucy - Ollie's Aunty's birthday is today (July 7th) - Happy birthday Lucy! - and mine is next Sunday, 13th.
Phew! The beginning of July is going to be a VERY busy time of the year for our family from now on!
* * * * * * *
It's going to be another hectic week, with my daughters Aimee and Katie arriving (from their homes in Warrington and France) on Thursday, for an eagerly awaited family reunion.
In the meantime, it is Manic Monday, so I had better knuckle down and get on with some work - which is not easy when there's so much going on!
* * * * * * *
I am using another favourite deck this week -
The Wicca Pack
by Sally Morningstar.
Please find your message for monday below and whatever your star sign - have a great day :)
Brightest Blessings,
Kaz
www.blessingz.co.uk
www.cheekywitch.co.uk

This week I am using

The Wicca Pack

by Sally Morningstar


Quoted from the pack: "The Wicca Pack, weaving magic into your life. Contains the Wicca Book and set of Divinatory cards. Wiccan Magic. learn the basics of working with high magic, the importance of sacred spaces, the timing of high days and holy days, and the correct use of magical crafts.
Connect with the archetypes of the ancient Pagan deities, and use the beautifully illustrated cards to develop your latent intuitive skills and explore the world of natural magic through inner spiritual work."

My personal card for today

: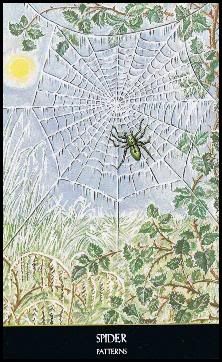 SPIDER - Patterns
High Note: The joys of creating your own reality are the threads.
Low Note: Challenge issues of control and manipulation in self and others.
Vibration: Solar Plexus Chakra
Keywords: Patterns, free will, self-expression.
Meaning: Patterns in life are revealed now so that you can consciously create what you want from this point onward. Situations that have been a little sticky for you are passing, and you no longer need to feel trapped by anyone or anything. With a new sense of freedom, you can move forward with threads that have personal meaning. These let you build designs that catch the light, and weave a life web that supports your real dreams.

Today's cards for each of the star signs

:

Due to lack of time, etc. These are the 'quick reading' messages - for the full reading and meaning of the cards you will need to obtain these cards for yourself - or get someone else to buy them for you as a gift!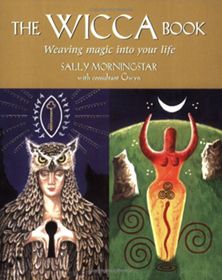 Here are your messages and insights for today. Try to sit quietly for a few moments, meditate on your card and think about how you can learn from, and act upon, its message...

Aries

: SPELL - Enchantment

High Note: A wish shall be granted.

Low Note: Illusions and fantasies are being uncovered.

Vibration: Astral

Keywords: Enchantment, illusion, fantasy.

Taurus

: WIZARD - Spiritual Impeccability

High Note: Actions taken now wield powerful results.

Low Note: More ego, less spirit.

Vibration: Spirit.

Keywords: Impeccability, egotism, self-importance.

Gemini

: BOOK OF SHADOWS

High Note: Wisdom from experience is being integrated into your soul.

Low Note: Have no fear - you are returning to your true self.

Vibration: Crown Chakra

Keywords: Experience, discovery. Acceptance

Cancer

: THE LADY - Embodiment

High Note: All that you need is present.

Low Note: Issues of disempowerment are highlighted.

Vibration: Archetype.

Keywords: Embodiment, character, empowerment.

Leo

: CORD - Initiation

High Note: Your soul steps closer to the source

Low Note: No need to control. Trust and let go.

Vibration: Soul

Keywords: Initiation, willpower.

Virgo

: THE HORNED GOD - Life Force

High Note: Fun and celebration are indicated.

Low Note: Be honorable. Find what makes you truly happy.

Vibration: Base Chakra

Keywords: Life force, inhibitions, joy.

Libra

: CLOAK - Camouflage

High Note: The wise one in you knows when to maintain silence.

Low Note: Observe, watch and wait. Curb impulsiveness.

Vibration: Astral

Keywords: Camouflage, containment, invisibility.

Scorpio

: THE MOON - Timing

High Note: Heavenly light illuminates a hidden treasure.

Low Note: Don't be deceived. Learn to stand in your power.

Vibration: Sacral Chakra.

Keywords: Timing, revelation, knowing.

Sagittarius

: THE SILVER BOUGH - Love

High Note: The heart is open to love and harmony.

Low Note: Hold desires and wants in check.

Vibration: The Heart

Keywords: Love, happiness, health.

Capricorn

: SPIRAL - Attraction

High Note: Change is coming.

Low Note: Release, let go, prepare.

Vibration: Formative ethers

Keywords: Attraction, release, movement.

Aquarius

: NEMESIS - Lessons

High Note: The powers of truth will prevail.

Low Note: Embrace the lessons that life must bring if you are to grow.

Vibration: Soul

Keywords: Lessons, Karma, destiny.

Pisces

: CAVE - Retreat

High Note: Rebirth is on its way.

Low Note: Retreat and restore your energy.

Vibration: Sacral Chakra.

Keywords: Retreat, withdrawal, gestation.

Please feel free to leave any comments here on Blogger, or on my Facebook Page
The Daily Divination
, or on
Twitter
Thank you!