Good morning!

Apologies for missing yesterday's Daily Divinations - I had orders to make before heading off to my follow-up appointment at the dentist - to complete my root canal treatment - so I just didn't have time!

All is good now though - finger's crossed there will be no more dental pain :)

Straight on with the cards and messages as I have a very busy day ahead!

My card is rather apt for me today - Balance...

Please find your message for Thursday below and whatever your star sign - enjoy your day :)

Brightest Blessings,
Kaz
www.blessingz.co.uk
www.cheekywitch.co.uk



This week I am using the
Atlantis Cards

by Diana Cooper


Quoted from the pack: "The myth of the magical world of Atlantis has fascinated people for centuries: the spiritually highly evolved inhabitants of the Golden Atlantis revered and honoured every aspect of the natural world, recognising that everyone and everything is a part of the Source. From this respectful position they lead lives full of grace, compassion and love for each other.
Diana Cooper has magnificently captured and put to use the positive vibrations of the Atlantean time in this new card set richly illustrated by Damian Keenan. They can provide insights and inspiration for our life path, highlighting our strengths and helping us to work with our weaknesses in the best possible way."

My personal card for today

: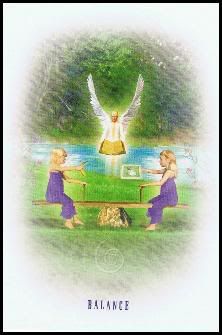 BALANCE
Full meaning: In the Golden Days of Atlantis, people never gave without gave without receiving or received without giving. This meant that no karma accrued and the balance-sheets of life were kept clear.
Everything was fair, so the citizens enjoyed a sense of justice and well-being. In the halcyon days, the healer priests were able to keep the inhabitants in optimum health and vitality simply by aligning people's chakras.
Keep your life in balance. Your guidance is to find equilibrium in every area of your life. Make sure you give and receive equally and keep your work and play in balance, breathe deeply into any part of your body that feels low in energy.
Balance every area of your life.

Today's cards for each of the star signs

:

Due to lack of time, etc. These are the 'quick reading' messages - for the full reading and meaning of the cards you will need to obtain these cards for yourself - or get someone else to buy them for you as a gift!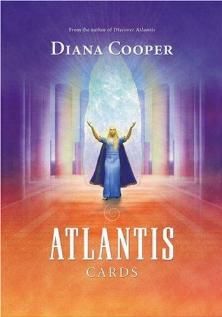 Here are your messages and insights for today. Try to sit quietly for a few moments, meditate on your card and think about how you can learn from, and act upon, its message...

Aries

: BLESSING

Quick message: Give Blessings. Your guidance is to bless everyone you meet today. Blessings, silent or aloud, allow a divine light to flow from you to others, whether friends or enemies or strangers. This touches them with love and helps to open their hearts. Remember all you give out returns to you multiplied.

Use your power to light up the world.

Taurus

: CLAIRVOYANCE

Quick message: There are many ways of seeing with your inner vision. You may physically see pictures on your inner screen, you may sense you 'know'. It is time to develop your third eye and trust your intuition.

Trust your inner vision and knowing.

Gemini

: THE SEVEN PILLARS OF WISDOM

Quick message: Order and consequences. This card reminds you that you live in an ordered Universe where there is consequence for all your thoughts, words and actions. Change your beliefs, understandings and patterns. Watch your thoughts and concentrate on wholesome ones to create the life you want.

Change your life by following the Spiritual laws.

Cancer

: DOLPHIN

Quick message: Wisdom and joy. This card suggests that you live lightly and wisely, bringing joy, fun and laughter into your life. You are also guided to develop your healing abilities, serving your fellow humans and the planet.

Serve with wisdom and joy.

Leo

: BLACK MAGE

Quick message: Change. This card indicates the end of a cycle. In this plane of duality, situations and relationships inevitably end, making room for different experiences. It is time to watch your ego and purify yourself, so that the new can be better than the old.

Watch your ego as you prepare for change.

Virgo

: DIVINE ESSENCE

Quick message: Innocence. In golden Atlantis, the people lived in their essence - in other words, with the joyful innocence of a child. Drawing this card suggests that you return to your basics and examine who you truly are. Allow your divine essence to guide you. Your guidance is to be yourself.

Be true to yourself.

Libra

: POSITIVITY

Quick message: Watch your thoughts. Watch your thoughts, words and beliefs today. Eliminate everything negative - including words of gossip doubt or fear. Decide on your personal goal and your vision for your community and the world.

Success awaits you.

Scorpio

: CONTENTMENT

Quick message: Satisfaction. This card suggests that it is time to experience a well-deserved feeling of satisfaction. Accept yourself as you are and acknowledge all your good qualities and gifts. Then breathe in quiet contentment.

Be content as you are.

Sagittarius

: TWELVE CHAKRAS

Quick message: Potential. You are reminded that you have enormous, untapped, spiritual and psychic powers. By relaxing deeply you can start to activate your cellular knowledge and bring back the wisdom you held in Atlantis. Your guidance is to access this potential. Find time and space to become quiet and still so that you can remember who you truly are.

Relax and tune into your potential.

Capricorn

: RELAXATION

Quick message: The breath of life. If you chose this card, your guidance is to let go and relax, for busy-ness and stress block your divine essence. Breathe deeply so that the cells of your body can release your full, divine potential.

Find time to rest and relax.

Aquarius

: THE SILENCE

Quick message: Quiet contemplation. Receiving this card indicates that you are called on to spend some time in contemplation or meditation. Remember that you can more readily access your inner wisdom where it is silent.

Be still and access your inner wisdom.

Pisces

: BIRTH CRYSTALS

Quick message: Roots. If you draw this card you are guided to strengthen your connection with 'home', which may mean meditating on your stellar origins. Alternatively, it may suggest that you explore your background and ancestral heritage. You may even need to put down more roots to enhance your feeling of belonging.

Deepen your roots to create a solid foundation.

Please feel free to leave any comments here on Blogger, or on my Facebook Page
The Daily Divination
, or on
Twitter
Thank you!