Good morning!

Having a VERY Manic Monday today - but just flying in quickly to do the cards for you!

I am using the lovely Magical Mermaids and Dolphins Oracle Cards by Doreen Virtue, Ph.D. this week.

Whatever your star sign - have a great day :)

Brightest Blessings,
Kaz
www.blessingz.co.uk
www.cheekywitch.co.uk



This week I am using the beautiful
Magical Mermaids and Dolphins Oracle Cards

by Doreen Virtue, Ph.D.


Quoted from the pack: "The Magical Mermaids and Dolphins Oracle Cards are specifically designed to help you manifest your goals, life purpose, and Divinely inspired dreams. These 44 beautifully illustrated cards can help you swim into the ocean of your unconscious mind, where profound thoughts and feelings can create - or block - your heart's desire. The cards are easy to use, and the enclosed guidebook will help you perform amazingly accurate readings for yourself and others."

My personal card for today

: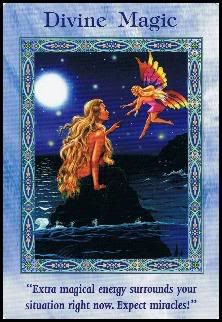 DIVINE MAGIC
Extra magical energy surrounds your situation right now. Expect miracles!
Divinatory meaning: This card signifies that the next oracle card you pull out of the deck is surrounded by Divine magical ebergy. The Divine Magic card urges you to pay very special attention to this card, and do your best to follow its message.
The divine magic card indicates that a spiritual gateway has opened for you. At such times, your ability to manifest is heightened. Use this time to focus upon your desires. If you're unsure what you truly want, ask for Divine guidance through prayer, meditation, or ritual.

Today's cards for each of the star signs

:

Due to lack of time, etc. These are the 'quick reading' messages - for the full reading and meaning of the cards you will need to obtain these cards for yourself - or get someone else to buy them for you as a gift!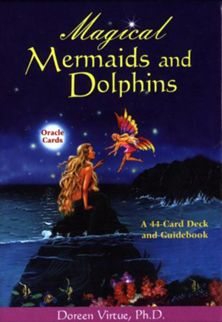 Here are your messages and insights for today. Try to sit quietly for a few moments, meditate on your card and think about how you can learn from, and act upon, its message...

Aries

: FRIENDSHIP

Make a date for a play day with one or more friends.

Taurus

: HEALING HEART

You are a powerful healer. Keep up the great work!

Gemini

: WATCH YOUR THOUGHTS

It's important to only think about what you desire, not what you fear.

Cancer

: SELF-FORGIVENESS

Let go of old guilt, and remember that you're God's perfect child!

Leo

: SET YOUR SIGHTS HIGHER

Increase your standards, and expect more for yourself. Don't settle!

Virgo

: A NEW DAWN

The worst is now behind you, and positive new experiences are on the horizon.

Libra

: MORNING AFFIRMATIONS

Say positive affirmations each morning to open the gates of manifestation.

Scorpio

: YES

Your intuition is correct. Take action accordingly.

Sagittarius

: MAKE A WISH

This is a magical moment. Make a wish, and enjoy its manifestation.

Capricorn

: WAIT

Don't rush into action right now. Bide your time for better results.

Aquarius

: WORTHINESS

Know that you deserve to receive in good ways.

Pisces

: TIME TO MOVE ON

It's time to let go of the old and worn out so that the new can come in.

Please feel free to leave any comments here on Blogger, or on my Facebook Page
The Daily Divination
, or on
Twitter
Thank you!