Good morning/afternoon!

We are so lucky to be having some lovely weather this week - let's hope it stays until the weekend so we can get out in the sunshine and enjoy it!

We had planned on a day out last weekend, but had to change plans and went to the cinema instead - we saw Noah. It was not what I was expecting and I actually rather enjoyed it! It felt very pagan and magickal...

I'm sure lots of people wil hate it! Have you seen it? What did you think?

Lots of orders to make again today, so I had better get stuck in!

It's very unusual, but today three of the star signs have received the same cards as yesterday!

I always find this amazing because I thoroughly shuffle the cards before I begin each day - and shuffle the deck in between drawing each of the cards too.

So, if you have the same card as yesterday, you should take special notice of its message!

Please find your message for Thursday below and whatever your star sign - enjoy your day :)

Brightest Blessings,
Kaz
www.blessingz.co.uk
www.cheekywitch.co.uk



This week I am using the
Ascended Masters Oracle Cards

by Doreen Virtue, Ph.D.


Quoted from the pack: "By popular demand, Doreen Virtue has created a beautiful deck of cards based on her best-selling book
Archangels and Ascended Masters
. The deck includes gorgeous paintings of 44 male and female cross-cultural deities, such as Ganesh, Merlin, Saint Germain, apollo, Pallas athena, White Buffalo Calf Woman, Jesus, Moses, Yogananda, Green man, and Kuthumi. The enclosed guide book gives expanded explanations of each card's meaning, and a brief history of the particular ascended master. As with all of Doreen's oracle card decks, the messages for the cards are positive, accurate and life-affirming."

My personal card for today

: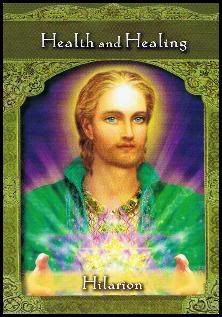 Hilarion - Health and Healing
This card is a sign of healing. Your Divine healing power has awakened and you feel compelled to help others to heal. Just have you have been healed, so too do you want others to enjoy health and vitality. You're supported in making life changes so that you can continue to heal yourself and others. Let go of any fears or restrictive thinking to fully open to the miracle of healing.
Additional meanings for this card: An illness or injury is healed or healing * You are a healer * It is a good and safe time for you to change to a healing career * Study healing modalities.
Hilarion, also know as Saint Hilarion or Master Hilarion, was a 4th century Middle Easterner who became renowned for his successful healing work. Hilarion was beloved by both Christians and those who practiced the old religions. Much of his life and healing work was immortalized by Saint Jerome's writings, which described Hilarion healing by commanding earthbound spirit attachments to leave. Call upon Hilarion for any issue involving healing or the clearing of energy.

Today's cards for each of the star signs

:

Due to lack of time, etc. These are the 'quick reading' messages - for the full reading and meaning of the cards you will need to obtain these cards for yourself - or get someone else to buy them for you as a gift!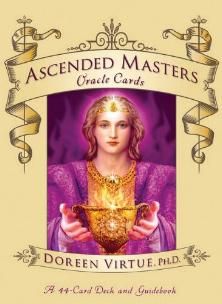 Here are your messages and insights for today. Try to sit quietly for a few moments, meditate on your card and think about how you can learn from, and act upon, its message...

Aries

: Quan Yin - Let it go

Quick message: It's time to stop struggling, pushing or forcing things to happen. Such actions push against the universal flow and lead to frustrations and blocks. When you let the situation go to Spirit, you automatically open supportive doors that will bring solutions. Trust that the Universe is on your side.

Taurus

: Avalokitesvara - See the other Person's Point of View

Quick message: You have strong emotions about this situation and may feel upset, misunderstood, or used. This card comes to you as a pathway to peace by asking you to consider others' points of view. You don't need to agree with these other individuals; you're simply asked to understand their motivations and to have compassion for their feelings. As you see the other person's point of view, you open the door for creative solutions to enter.

Gemini

: Aengus - Twin Flame

Quick message: This card indicates a twin-flame relationship which is the deepest form of romantic love. To form such a partnership, you must follow your inner guidance, learn personal-growth lessons, and have patience with Divine timing. Once twin flames find each other, everything in their life reaches new heights of love and light.

Cancer

: Green Man - Retreat into Nature

Quick message: You've been indoors too long and you need a refreshing break from stressful conditions. No matter how busy you are, there's always time to pause for fresh air. This card comes to you today with a strong message for you to spend time alone outdoors. The healing effects of nature will revive your energy and outlook, and you'll return to home or work with new ideas and a fresh perspective.

Leo

: Hina - Freedom

(2 days in a row!)

Quick message: Walk away from restrictions and be free! You have the power and the right to change your life so that you experience more freedom. This card signifies that your soul is crying out for more freedom, especially as it involves your life's purpose. Perhaps it's time to take a break so that you can think clearly about your desires and available options.

Virgo

: Moses - Take Charge of This Situation

Quick message: You have the power to heal and alter the course of this situation. It's time for you to take charge and assume a leadership position. First decide what you want. Be clear about the conditions that are acceptable or unacceptable to you. The universe responds when you are clear about your aims and intentions.

Libra

: Vishnu - Trust

Quick message: You can trust the situation you're enquiring about. The solid foundation of your situation gives it a trustworthy basis. Keep purifying your motivations so that they're completely about love and service to elevate the energy and experiences even further.

Scorpio

: Maitraya - Power of Joy

Quick message: To find you desired outcome, follow the path of joy. Your life's purpose is supported by the joy and passion you feel when you're thinking about or working on your purpose. The joy that you feel within relationships keeps them alive, exciting and growing. The joy that comes from your hobbies gives you extra energy. Joy has the power to remove all obstacles and attract all your needs. We can fulfill our purpose, help ourselves and others, and heal through the power of joy.

Sagittarius

: Krishna - Find the Blessing in Your Current Situation

Quick message: Every situation offers opportunities to grow and learn. When we curse a situation, we block its energy flow and things fester and grow worse. In contrast, as you recognize the blessings within your current situation, supportive and healing energy flows toward you. Recognize the blessing to accelerate the healing and manifestation that's trying to come to you.

Capricorn

: Saint Germain - Work Your Magic

Quick message: You have the power to resolve the situation you're inquiring about. This card signifies your untapped magical abilities, which you've used successfully in the past. Pull these abilities out of storage and use them to work your magic now. Your clear and focused intentions, positive expectations, prayers, decrees and action steps all create the healings and manifestations you desire.

Aquarius

: Babaji - Yoga

(2 days in a row!)

Quick message: Babaji and the other ascended masters guide you to do yoga regularly. Yoga's benefits are one of the answers to your question. Through yoga, you'll gain increased clarity, energy, flexibility, toning, and psychic awareness. You may also meet wonderful new friends and have fun at yoga classes.

Pisces

: El Morya - Clear and Shield Your Energy

(2 days in a row!)

Quick message: As a sensitive person, you've absorbed some harsh and toxic energy from other people. This card asks you to stop and call on El Morya and Archangel Michael to clear yourself. They can also clear and elevate the energies in other people, your home, or your office. After clearing yourself, ask them to shield you from further intrusions. This process, called "shielding", needs to be conducted once or twice a day. You can also wear a crystal pendant to act as a buffer in harsh energy situations.

Please feel free to leave any comments here on Blogger, or on my Facebook Page
The Daily Divination
, or on
Twitter
Thank you!