Greetings!

Happy Valentine's Day and Happy 4th Birthday to my grandaughter, Gabriella!


She's having a lovely day out with her Mum and Dad today (despite the terrible weather!) and tomorrow she's having a Wizard of Oz themed birthday party, which should be fun :)
* * * * * * *
It really is a dreadful day today, after a brief respite yesterday, as yet more stormy wet and windy weather batters the UK.
I have to admit I am not looking forward to my walk to the post office later - I will definitely need my wellies as the torrential rain is turning the pavement into a waterway... and we have amber weather warnings for the strong gale force winds too.
However, we are still extremely lucky here, in comparison to other areas!
* * * * * * *
I hope you have found the cards and messages relevant and interesting this week?
This is a lovely, though very rare, little deck - but the full version
Medicine Cards
are really wonderful, with lots of very interesting indepth meanings for each card.
On with the cards and messages for today and the weekend ahead!
Please find your animal wisdom below, and whatever your star sign - have a great weekend :)
Brightest Blessings,
Kaz
www.blessingz.co.uk
www.cheekywitch.co.uk

This week I am using the "Just for Today" version of the

Medicine Cards

by Jamie Sams and David Carson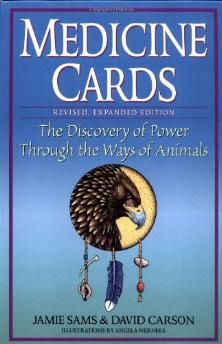 I have tried finding a link to The 'Just for Today' cards and can't find any, other than some listed on Amazon for an incredibly expensive price! (I don't understand how they can be so expensive, as my set was very reasonable, although I have had them for quite a few years...)
The Medicine Cards are wonderful and come in a boxed set with a book of layouts, instructions and the full meanings for each of the animal guides. I have the Medicine cards too, but it is easier for me to give you the 'Just for Today' messages!

My personal card for today

:
Turtle - Connect to Earth Mother.
Ask for her blessings. Fertility and manifestation will follow.

Today's cards for each of the star signs

:

These are your messages from the animal guides for today! Try to sit quietly for a few moments, meditate on your card and think about how you can learn from and/or act upon its message...

Aries

: Weasel

- Be the detective.

Honor what you find. The truth is out there!

Taurus

: Opossum

- Have a plan.

Use common sense. Honor the strategy that works best for you.

Gemini

: Bear

- Go within.

Personal strength comes from inner knowing.

Cancer

: Snake

- Transmute all poisons.

Shed the skin of the past. Honor the change in progress.

Leo

: Frog

- Bring in the rain.

Tears cleanse your feelings. Refill with well-being.

Virgo

: Skunk

- Attract what you need in order to grow.

Walk your talk. Know yourself.

Libra

: Elk

- Persistence brings rewards.

Support you health and stamina. Honor your ability to endure.

Scorpio

: Badger

- Take charge of your life.

Go for it! Trust your abilities.

Sagittarius

: Raven

- Open yourself to miracles.

Use new eyes. Believe in magic. Embrace life's wonders.

Capricorn

: Spider

- Dance your dreams alive.

Create from your hearts bliss. Weave the web you want to live.

Aquarius

: Deer

- Be gentle with yourself.

Offer kindness to all living things.

Pisces

: Mouse

- Focus. Pay attention.

Handle one thing at a time. Honor your perceptions.

* * * * * * *

Please feel free to leave any comments here on Blogger, or on my Facebook Page

The Daily Divination

, or on

Twitter

Thank you!