Good morning! (Afternoon here.)

Once again Britain is being battered by terrible weather - with severe weather warnings being given out by the met office.

I continue to count my blessings every day when watching the news, seeing all the people whose homes and businesses are under water. My heart goes out to them... I cannot begin to imagine what they are going through.

Over the next few days, apparently, the weather is going to be even worse than we've already had. With the West of England and Wales expecting up 100mph winds later today and a month's worth of rainfall due in the south over the next 3 days, these are desperate times for many people.

To see photos and videos and up-to-date news about the red alert weather warnings, please click here.

I am in the south east of England - and although it is nasty out there - raining and very, VERY windy (and getting windier with gusts of up to 80 mph forecast) we are really lucky here at the moment, in comparrison to other areas.

I have just been out with Maisie, battling the winds, to get to the Post Box and post urgent orders.

I decided to go and do that much earlier than usual, as the strongest winds are due to hit us here later this afternoon. So glad I did, as it's getting worse by the minute. Glad to be back home safe and sound!

Please find your card and message below and wherever in the world you are, and whatever the weather (and Mother Nature) is throwing at you, stay safe everyone!

Brightest Blessings,
Kaz
www.blessingz.co.uk
www.cheekywitch.co.uk



This week I am using the "Just for Today" version of the

Medicine Cards

by Jamie Sams and David Carson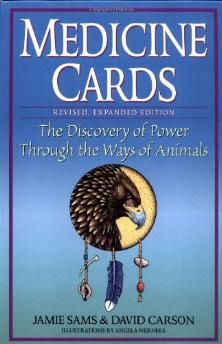 I have tried finding a link to The 'Just for Today' cards and can't find any, other than some listed on Amazon for an incredibly expensive price! (I don't understand how they can be so expensive, as my set was very reasonable, although I have had them for quite a few years...)
The Medicine Cards are wonderful and come in a boxed set with a book of layouts, instructions and the full meanings for each of the animal guides. I have the Medicine cards too, but it is easier for me to give you the 'Just for Today' messages!

My personal card for today

: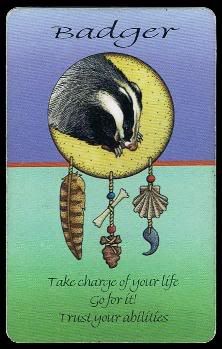 Badger - Take charge of your life.
Go for it! Trust your abilities.

Today's cards for each of the star signs

:

These are your messages from the animal guides for today! Try to sit quietly for a few moments, meditate on your card and think about how you can learn from and/or act upon its message...

Aries

: Mouse

- Focus. Pay attention.

Handle one thing at a time. Honor your perceptions.

Taurus

: Opossum

- Have a plan.

Use common sense. Honor the strategy that works best for you.

Gemini

: Mountain Lion

- Take courage and be brave.

Risk being a living example. Become a leader without followers.

Cancer

: Rabbit

- Banish fear.

Move beyond fears stagnation. Listen to your heart.

Leo

: Skunk

- Attract what you need in order to grow.

Walk your talk. Know yourself.

Virgo

: Whale

- Acknowledge your mission.

Trust your path. Become your chosen destiny.

Libra

: Grouse

- Find your rhythm.

Honor the synchronicity. Spiral into your potential.

Scorpio

: Horse

- Honor your Medicine.

Stand tall. Use your talents. Own who you are becoming.

Sagittarius

: Hawk

- Honor all life forms and all humans as messengers.

Trust life's messages and signals.

Capricorn

: Unlimited Potential

- Open your eyes! Pay attention!

Trust yourself to recognize the gift being offered at this time.

Aquarius

: Spider

- Dance your dreams alive.

Create from your hearts bliss. Weave the web you want to live.

Pisces

: Bear

- Go within.

Personal strength comes from inner knowing.

Please feel free to leave any comments here on Blogger, or on my Facebook Page
The Daily Divination
, or on
Twitter
Thank you!