Good morning!

I was so tired yesterday that I was in bed before 10pm - most unusual for me!

This morning I must have hit the snooze button on my alarm at least 6 times before I reluctantly crawled out of bed...

I keep yawning and just can't seem to get going this morning - despite 2 large mugs of coffee!

Do you get days like that?

I must make an effort though - I have lots to do as usual... but first the cards!

Please find your message for Tuesday below and whatever your star sign - enjoy your day :)

Brightest Blessings,
Kaz
www.blessingz.co.uk
www.cheekywitch.co.uk



This week I am using the

Atlantis Cards



by Diana Cooper


Quoted from the pack: "The myth of the magical world of Atlantis has fascinated people for centuries: the spiritually highly evolved inhabitants of the Golden Atlantis revered and honoured every aspect of the natural world, recognising that everyone and everything is a part of the Source. From this respectful position they lead lives full of grace, compassion and love for each other.
Diana Cooper has magnificently captured and put to use the positive vibrations of the Atlantean time in this new card set richly illustrated by Damian Keenan. They can provide insights and inspiration for our life path, highlighting our strengths and helping us to work with our weaknesses in the best possible way."

My personal card for today

:
CO-OPERATION
In the Golden times of Atlantis, everyone co-operated selflessly for the highest good, with the benefit that they all felt safe and nurtured. The people also pooled everything - their produce, gifts, skills and work. All was offered with love to the community.
There was no such thing as money. Because each family took only what they needed, there was always plenty for everyone and a sense of abundance prevailed.
Togetherness. What can you share today? It may be your friendship, your time or something more tangible. Receiving this card guides you to give away anything you no longer need. It also suggests that you co-operate with others for the greater good. Be generous-hearted and your rewards from the Universe will be great.
Co-operate in a vision greater than yourself.

Today's cards for each of the star signs

:

Due to lack of time, etc. These are the 'quick reading' messages - for the full reading and meaning of the cards you will need to obtain these cards for yourself - or get someone else to buy them for you as a gift!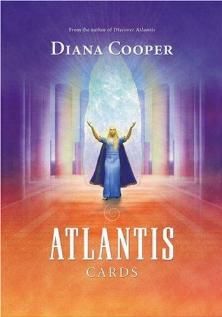 Here are your messages and insights for today. Try to sit quietly for a few moments, meditate on your card and think about how you can learn from, and act upon, its message...

Aries

: NOURISHMENT

Quick message: Your food. Your guidance is to watch what you eat for your physical body must be pure to enable you to carry more light for your pathway ahead. Simple, fresh, locally grown produce is the most effective in enhancing your cosmic energy.

Prepare your body for the work ahead.

Taurus

: THE SPHINX

Quick message: Keep secrets. Your guidance is to maintain silence until it is appropriate for you to divulge information. The sphinx may indicate that you must keep your own, other people's secrets, to prove that others can trust you.

Keep your own counsel and the secrets of others.

Gemini

: CREATIVE EXPRESSION

Quick message: Be individual. Your guidance is to do or make something creative. However you express this, you are called on to channel your divine energy into the unique, beautiful, harmonious and original.

Create something unique and satisfying.

Cancer

: DOLPHIN

Quick message: Wisdom and joy. This card suggests that you live lightly and wisely, bringing joy, fun and laughter into your life. You are also guided to develop your healing abilities, serving your fellow humans and the planet.

Serve with wisdom and joy.

Leo

: THE SILENCE

Quick message: Quiet contemplation. Receiving this card indicates that you are called on to spend some time in contemplation or meditation. Remember that you can more readily access your inner wisdom where it is silent.

Be still and access your inner wisdom.

Virgo

: HEALING

Quick message: Be a healer. This card reminds you that there are people who need your help, so it is time to develop, hone, or practise your healing abilities. It also suggests that you may need a boost of spiritual, Reiki or emotional healing to raise your light levels.

Reach out to others today.

Libra

: MIND CONTROL

Quick message: Concentration. Your guidance is to watch your thoughts carefully today for an undisciplined mind can be influenced by others and creates chaos. A positively-focused mind is a tool for powerful leadership.

Concentrate the power of your mind for good.

Scorpio

: CLAIRVOYANCE

Quick message: There are many ways of seeing with your inner vision. You may physically see pictures on your inner screen, you may sense you 'know'. It is time to develop your third eye and trust your intuition.

Trust your inner vision and knowing.

Sagittarius

: MARRIAGE

Quick message: Commitment. Your guidance is to commit yourself to something - a project, you home, family, work or relationship. Commitment is a powerful contract that will focus your energy to enable your intent to flourish.

Make a commitment.

Capricorn

: POOLS OF ENERGY

Quick message: Cosmic help. Your guidance is to call on the Great Cosmic Pool of energy for it is now time to manifest your dreams. Only negative thoughts can hold you back, so call in the Violet Flame to dissolve them. Move forward now.

The Cosmos is ready to help you.

Aquarius

: ENLIGHTENMENT

Quick message: Being. Your guidance is to stop doing and striving. Forget about tomorrow. Just still your mind, and be in the now. In this quiet time, contemplate the wonders of life and appreciate all that you do have, including the opportunity for life on earth.

Enlightenment is being in Oneness.

Pisces

: WATER

Quick message: Purification. Your guidance is to spend time today near water, preferably by a river, lake, or the sea, or in a bath or shower. As you immerse yourself in the cosmic energy, sense it purifying each cell of your body. If you cannot physically be in or near water, visualise it.

Use water for deep inner and outer cleansing.

Please feel free to leave any comments here on Blogger, or on my Facebook Page
The Daily Divination
, or on
Twitter
Thank you!