Good morning!

Running late today - probably because I was up until gone 1am again - working on updating my website.

Time flies when you're having fun!

You can imagine my delight (and gratitude) when my Dad knocked on my door around 9am, volunteering to take Maisie out for her morning walk! I could have kissed him! Indeed I did kiss him - despite his 'orrible whiskers. (He's decided to grow a beard - much to mine and my Mum's dismay.)

Anyway, with Maisie walked for me, I could get straight to work - after a large mug of steaming coffee of course!

I am trying to get myself better organised, which is not an easy task, as I wasn't born that way! (Where's a Virgo when you need one?)

Organised chaos? Nearly! (Except for the organised bit! lol)

So here I am, after a morning of multi-tasking, late with the divinations, and it's gone midday already!

Please find your card and message below and whatever your star sign - enjoy the rest of your day :)

Brightest Blessings,
Kaz
www.blessingz.co.uk
www.cheekywitch.co.uk



This week I am using the

Saints and Angels Oracle Cards

by Doreen Virtue, Ph.D.



Quoted from the pack: "Now you can easily receive messages and guidance from beloved saints such as Mother Teresa, Bernadette, Joan of Arc, Hildegard, Padre Pio, Anthony, Francis, and Cecilia. Doreen Virtue has created a nondenominational deck of oracle cards that people from various spiritual and religious backgrounds are sure to appreciate and enjoy.

Forty-four cards with breathtaking artwork depicting God, the Holy Spirit, Jesus, saints, archangels, and guardian angels give you answers and gentle advice. A guidebook accompanying the cards thoroughly explains how to receive guidance about the present and future, how to give an accurate reading to another person, and the general meaning of the card's message."

My personal card for today

:
BELIEVE - St.Hildegard of Bingen
Divinatory meaning: To heal and improve this situation, it's important for you to believe. Have faith in miracles, the power of God's healing love, and the essential goodness within people. This is an important factor in determining the outcome of this situation.
St. Hildegard of Bingen demonstrated that to bring god's message to the world, you must believe in yourself. You are qualified. You are ready and prepared. You can do it.
This saint overcame tremendous self-doubt and became a multitalented author, musician, and healer. This was especially remarkable, considering that women in her era (1098-1179) weren't expected to accomplish worldly deeds. Born the tenth child in her family, she was sent to live in a convent in order to reduce her parents' financial burdens.
Hildegard began having spiritual visions as a young child, and she was eventually called upon to write books about them. She overcame tremendous self-doubt about her literary skills and later wrote:
"But although I heard and saw these things, because of doubt and low opinion of myself and because of diverse sayings of men, I refused for a long time a call to write."
St. Hildegard is also known for orchestrating rich musical chants and for her two books on bringing about physical health by using items found in nature.

Today's cards for each of the star signs

:

Due to lack of time, etc. These are the 'quick reading' messages - for the full reading and meaning of the cards you will need to obtain these cards for yourself - or get someone else to buy them for you as a gift!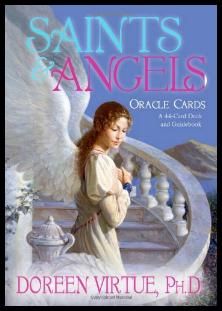 Here are your messages and insights for today. Try to sit quietly for a few moments, meditate on your card and think about how you can learn from, and act upon, its message...

Aries

: MARRIAGE - St. Catherine of Alexandria

Quick message: This is a message about your present or future marriage. You have a spiritual destiny with a spouse who's your soul mate. There's a Heavenly purpose for you and this person to be together, and you are supposed to help one another grow and prosper. You recognize your soul mate by having the feeling that you've known each other forever. Synchronistic events bring you together, and there's a sense of destiny and fate in your relationship. This card means that a soul-mate marital partner is currently in your life or soon will be.

Taurus

: LEARNING EXPERIENCE - Guardian Angel

Quick message: This situation is an opportunity for you to learn some important life lessons. Instead of looking at this experience as a problem, see it as something that will help you to learn and grow. Your guardian angel will help you see the current situation in a more positive light, as well as identify the lessons involved and heal away unwanted patterns. Simply ask your angel for help with these issues, and then pay attention to any loving thoughts or feelings that guide you to take action.

Gemini

: ACTIVIST - St. Mother Teresa

Quick message: You're guided to champion a cause, such as a social issue, a charitable group or a person in distress. Notice which issues arouse your passion or anger, and make a commitment to serve in some capacity to heal those situations. Like Mother Teresa, you can single-handedly make a positive difference in the world. She'll act as your guide in this matter if you'll ask for her help.

Cancer

: OPTIMISM - Guardian Angel

Quick message: You're right to feel optimistic in this situation, as there is much to be hopeful about! Your guardian angel has witnessed all of your hopes, dreams and aspirations and knows that this new situation is a true answer to your prayers.

Leo

: HIGHER EDUCATION - Guardian Angel

Quick message: our angel is guiding you to gain further education, either by attending school or through independent study. Higher education refers to instruction with a spiritual basis, so this is a message for you to study topics that capture your true interests. For instance, if there's a spiritually based service career that you yearn for, now is the time to begin looking at furthering your knowledge in that area. Give any worries about having enough time, money, or skill to your angel. You're being pushed to learn more as a result of your prayers for increased fulfilment. Trust that this door is opening for you at the right time, and walk through it with full faith.

Virgo

: WISE DECISION - Guardian Angel

Quick message: The decision that you're considering is a wise one. This card is a message from your angels asking you to trust your inner wisdom. Sometimes you worry about your decision-making abilities because in the past, some of your choices seemed unwise. Yet if you truly think about it, you ultimately learned and gained a lot from them. In that way, you can't make a wrong decision, can you? You'll know that you're on the best path when your actions are guided by a peaceful feeling.

Libra

: COMMITMENT - Guardian Angel

Quick message: Although you may have experienced difficulties or fear, this card is a message from your guardian angel to stay committed. Honor your promises to your loved ones, and keep your word to yourself and others. If you're feeling conflicted about having enough time for your responsibilities, then call upon the angels to help. This card reminds you to follow through on your dreams, goals and intentions. Stay committed to your priorities, and give them the daily attention they deserve.

Scorpio

: BLESSINGS OF ABUNDANCE - Guardian Angel

Quick message: Your prayers have been heard and answered. Your daily bread and other needs are being provided for, now and in the future. Give your fears and worries over to God and the angels, and have faith that they're taking care of you and your loved ones. Let go of worrying about how your needs will be met, because God's infinite creative wisdom will take care of the details. Be open to receiving gifts and help from other people, as this is one way in which the Divine answers your prayers.

Sagittarius

: SLEEP - Guardian Angel

Quick message: Take a look at the topic of sleep in answer to your question. Most likely, this is a message for you to get more rest. Cut unnecessary activities from your schedule and get a good night's sleep. If emotional upsets are keeping you awake, give them to God and your angels. You can easily do this by mentally picturing your angel holding a bucket. Put any troubles into the bucket and watch the angel take them away to heaven, where everything is resolved.

Capricorn

: SAFE TRAVEL - St. Christopher

Quick message: This card signals a safe passage and lets you know that St. Christopher is by the side of the one who's traveling. This trip is blessed by angels, who will ensure that all the details are taken care of. This can also be a message that it's time for you to take a trip. Have you been hankering for a relaxing vacation? Is there a place that you're drawn to for research or business purposes? Is there a loved one whom you'd like to visit? If so, this card is a validation that it's time to set this plan in motion.

Aquarius

: PEACEFUL - Holy Spirit

Quick message: The Holy Spirit has descended upon you and the situation that you are enquiring about. Get in touch with this Divine energy by focusing upon the peace that's deep within your heart… This might require that you spend some quiet time alone in stillness. Rest assured that the Holy Spirit's peace is pervading this situation and opening the hearts of everyone involved. It brings about compassion so that everyone can see each other's point of view. This engenders forgiveness, which then opens and smoothes the path to peacefulness.

Pisces

: VISION - Guardian Angel

Quick message: This is a message about honouring your vision. It asks you to trust the mental images that you've been receiving, as they're the answers to your prayers. Your prophetic visions with bring blessings to you and your loved ones. You know that they're Heaven-inspired because of their loving nature. Only follow the messages that ask you to act on behalf of God's love. Your angels surround your physical and spiritual vision with light. Look through their eyes and you'll see the best within yourself and life itself.

Please feel free to leave any comments here on Blogger, or on my Facebook Page
The Daily Divination
, or on
Twitter
Thank you!