Good morning!

Another very windy day out there... but sunny and bright.

I'm counting my blessings - my heart goes out to all those in the UK effected by terrible flooding - and all those in the USA and Canada effected by the unbelievably low, freezing temperatures and snow.

BRRRRR! I have to put on extra layers and a coat just watching it all on the news!

Talking about counting my blessings - I have a Blessings jar for 2014.

Each time something good happens this year, I am writing it down on piece of paper and adding it to the jar, so that at the end of the year I can empty it out, recall all the wonderful things that made me feel happy and literally count my blessings!

I started the year by being able to announce that I am expecting my second Grandchild at the end of June - as my son and his fiancée "went public" with the happy news on New Year's Day :)

The whole family is very excited as we await the arrival of a little cousin for my grandaughter Gabriella!

Yesterday I had a different kind of Blessing to add to my jar - as I found out that I had overpaid my taxes and the tax man owes ME some money for a change! Not a lot, but every little helps :)

Next Monday am hoping to be able to add a good weight loss to my blessings jar, after my first week back with Slimming World! I rejoined last night, after having gone off the rails these past few months. However, I am not beating myself up about my weight gain and what I did, or didn't, accomplish last year.

This year is not about looking back, it's all about letting go of the past, new beginnings, starting afresh and looking forward to the wonderful things to come :)

Time to make some Bagz of Blessingz for my customers now, so on with the cards!

Please find your card and message for today below and whatever your star sign - have a good Tuesday :)

Brightest Blessings,
Kaz
www.blessingz.co.uk
www.cheekywitch.co.uk



This week I am using the

Saints and Angels Oracle Cards


by Doreen Virtue, Ph.D.




Quoted from the pack: "Now you can easily receive messages and guidance from beloved saints such as Mother Teresa, Bernadette, Joan of Arc, Hildegard, Padre Pio, Anthony, Francis, and Cecilia. Doreen Virtue has created a nondenominational deck of oracle cards that people from various spiritual and religious backgrounds are sure to appreciate and enjoy.

Forty-four cards with breathtaking artwork depicting God, the Holy Spirit, Jesus, saints, archangels, and guardian angels give you answers and gentle advice. A guidebook accompanying the cards thoroughly explains how to receive guidance about the present and future, how to give an accurate reading to another person, and the general meaning of the card's message."

My personal card for today

:
ACTIVIST - St. Mother Teresa
Divinatory meaning: You're guided to champion a cause, such as a social issue, a charitable group or a person in distress. Like Mother Teresa, you can single-handedly make a positive difference in the world. She'll act as your guide in this matter if you'll ask for her help.
Notice which issues arouse your passion or anger, and make a commitment to serve in some capacity to heal those situations. You soul wants to express itself and make your opinions known. use your expertise and life experience (such as business skills, writing abilities, or speaking talent) to help along your chosen cause. Donate time, or money to related charities and agencies. You'll feel energized by your activism.
St. Mother Teresa lived as an example of how much good work one individual could do. She was born in 1910 in Albania under the birth name Agnes Gonxha Bojaxhiu. She became a nun at 18 and took the name Teresa out of respect for St. Terese of Lisieux. When she was 36 years old, Teresa received a Divine calling to "serve God amongst the poorest of the poor." Within two years she began a ministry for the im[overished people of Calcutta, India.
She and her sister nuns cared for the starving and dying citizens. Today, more than 500 missions and centers world-wide carry on the legacy of her words: "Faith in action is love, and love in action is service. By transforming that faith into living acts of love, we put ourselves in contact with God Himself, with Jesus our Lord."

Today's cards for each of the star signs

:

Due to lack of time, etc. These are the 'quick reading' messages - for the full reading and meaning of the cards you will need to obtain these cards for yourself - or get someone else to buy them for you as a gift!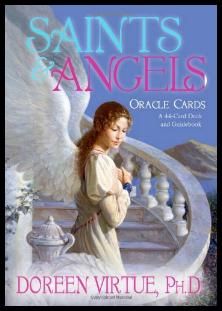 Here are your messages and insights for today. Try to sit quietly for a few moments, meditate on your card and think about how you can learn from, and act upon, its message...

Aries

: CONFIDENCE - St. Michael the Archangel

(2 days in a row!)

Quick message: Archangel Michael is with you, shoring up your confidence so that you can fearlessly face (and enjoy) the tasks before you. This archangel is protecting you against negativity, helping you to remain optimistic and filled with faith, ensuring that only people and situations of high integrity come to you. You may worry whether you're prepared and qualified for what's ahead of you. Remember, though, that God won't bring you anything that you're unable to do.

Taurus

: BE BRAVE - Guardian Angel

Quick message: Although it may feel as if you're unsafe or in the dark, your guardian angel assures you that you are completely safe, protected and guided. Don't be fooled by illusions of fear - instead, be courageous and shore up your personal strength. There's a blessing in this situation, and by focusing on finding that benefit, you're sure to discover it. Your role is to stay positive, speak your truth and be brave.

Gemini

: EMOTIONS - St. Dymphna

Quick message: The answer to your question involves emotions - either yours or those of the person you're enquiring about. This is also a message for you to pay closer attention to your emotions. It's safe for you to admit your true feelings to yourself. This card is also a message for you to trust your feelings, especially as they guide you to make positive changes. Your feelings are the voice of Heaven speaking through you, and you have a right to them, even if others disagree with them. You can also release any upsetting emotions to God, St Dymphna and the angels for healing and guidance.

Cancer

: PRAY - Guardian Angel

Quick message: The answer to your question involves prayer. You're being guided to pray about the situation in order to elicit answers and assistance. Your guardian angels pray with you, asking for Divine intervention to help you and your loved ones. Take time right now to stop and pray from your heart. The words that you use aren't important compared to your sincere desire to connect with the Divine. Be open to a response appearing different from your expectations - and know that your prayers are heard and answered.

Leo

: TRIUMPHANT! - Guardian Angel

Quick message: You'll be triumphant, and your desires will manifest. Don't worry about the appearance of challenges, because they're just an illusion that will soon disappear. Worrying about these issues will only fuel them with power and energy. See them instead as wispy clouds that can't really block you. Any obstacles that you've been experiencing are temporary. Your guardian angels are taking care of the details to remove them from your path.

Virgo

: LEARNING EXPERIENCE - Guardian Angel

Quick message: This situation is an opportunity for you to learn some important life lessons. Instead of looking at this experience as a problem, see it as something that will help you to learn and grow. Your guardian angel will help you see the current situation in a more positive light, as well as identify the lessons involved and heal away unwanted patterns. Simply ask your angel for help with these issues, and then pay attention to any loving thoughts or feelings that guide you to take action.

Libra

: HEAVEN IS WATCHING OVER YOU - Guardian Angel

Quick message: Rest assured that God and your guardian angels are watching over you and your loved ones. You're very loved, and you're not alone in this situation… or ever. You have powerful helpers surrounding you at all times. This is a message for you to release any worries to Heaven. Worry never helped improve anyone one or anything. A better approach is to pray and ask for help and the allow Heaven to help you.

Scorpio

: FORGIVENESS - St. Mary Magdalene

Quick message: The answer to your question involves letting go of resentment, judgment and anger. You already know who or what to forgive: It's the first person or situation that comes to mind... Unforgiveness only hurts you, not the person with whom you are angry. You're preparing for a wonderful new chapter of your life, and forgiveness is part of your preparation. Call upon St Mary Magdalene to help you to forgive or be forgiven so that you can move on with your life and your dreams.

Sagittarius

: PEACEFUL - Holy Spirit

Quick message: The Holy Spirit has descended upon you and the situation that you are enquiring about. Get in touch with this Divine energy by focusing upon the peace that's deep within your heart… This might require that you spend some quiet time alone in stillness. Rest assured that the Holy Spirit's peace is pervading this situation and opening the hearts of everyone involved. It brings about compassion so that everyone can see each other's point of view. This engenders forgiveness, which then opens and smoothes the path to peacefulness.

Capricorn

: HIGHER EDUCATION - Guardian Angel

Quick message: our angel is guiding you to gain further education, either by attending school or through independent study. Higher education refers to instruction with a spiritual basis, so this is a message for you to study topics that capture your true interests. For instance, if there's a spiritually based service career that you yearn for, now is the time to begin looking at furthering your knowledge in that area. Give any worries about having enough time, money, or skill to your angel. You're being pushed to learn more as a result of your prayers for increased fulfilment. Trust that this door is opening for you at the right time, and walk through it with full faith.

Aquarius

: REWARD - Guardian Angel

Quick message: Your guardian angels are rewarding you for all your concerted efforts, hard work, and dedication in helping others. You've been giving so much, and now it's time for you to receive. This is also a message for you to treat yourself with a few goodies. You've been expending so much energy that there's need for a retreat and rejuvenation. You deserve this reward and remember: The more you allow yourself to receive, the more you have available to give to others.

Pisces

: PAUSE - Guardian Angel

Quick message: Your guardian angel asks you to pause for a moment before moving forward. During this break, take time to consider your true thoughts and feelings about this situation. You've been moving so fast lately that you may have confused other people's wishes with your own. Take time out and really be honest with yourself: What do YOU want? What do YOU think is the right thing to do.

Please feel free to leave any comments here on Blogger, or on my Facebook Page
The Daily Divination
, or on
Twitter
Thank you!