Good morning!

It's another wet, windy and miserable day - the garden is a soggy mess, and negotiating the footpaths is getting trickier (need to wear wellies to get past the huge puddles outside my front gate) but I am truly counting my blessings as so many other places are really suffering badly with flooding here in the UK.

My heart goes out to the people I see on the news every day - who haven't been able to return to their houses since before Christmas! I can't begin to imagine what they are dealing with on a day-to-day basis. Here in our little bit of England we are blessed indeed...


* * * * * * *
Just recently I have joined Google+ and been trying to get to grips with it. I must admit I find it very confusing because I am so used to
Facebook
and G+ is very different. However, yesterday I had a very nice surprise when I suddenly saw a familiar name, commenting on someone else's post - a real 'blast from the past'!
Many years ago, back in the late 1990's, when I lived in France, I used to produce a newsletter called 'In*Sync' (which I have mentioned before). It covered all sorts of 'new age' topics - some of the articles were written by me, some by people I knew, and some by people I had met online. Paul Kater was one of those people! He wrote a series of interesting articles about the Runes and allowed me to publish them in 'In*Sync'.
After I moved back to the UK in 2000, I went through a lot of changes and eventually had to give up my newsletter - and lost contact with lots of people from those days, so imagine my surpise at 'bumping into' Paul online again after all these years! What a small world we live in :)
Since then Paul has written several books - some about 'Hilda the Wicked Witch' - I shall have to check them out! If you want to find out more, please visit his website
www.paulkater.com
Bumping into Paul again has reminded how much the internet has changed in the past 15 years! He helped me to set up my first ever website on Geocities - when I hadn't got a clue what I was doing! Although I do know a lot more these days and now have several websites, I still haven't a clue what I'm doing when it comes to Google+! HaHa!
You never stop learning...
Well, that's enough reminiscing for today - I have orders to make, before having to don my wellies and my rain gear, brave the elements and battle my way to the post office!
Please find your message for Wednesday below and whatever your star sign - enjoy our day :)
Brightest Blessings,
Kaz
www.blessingz.co.uk
www.cheekywitch.co.uk

This week I am using the
Goddess Guidance Oracle Cards
by Doreen Virtue, Ph.D.


Quoted from the pack: "The goddesses are angelic, powerful, loving beings who want to help you with every part of your life. In this set of oracle cards by Doreen Virtue, you'll learn who the different cross-cultural goddesses are and how they can help you. Each card gives a specific message about how you can improve your life, health, relationships, finances, career, and spiritual path. The gorgeous artwork on each card depicts Kuan Yin, Laksmi, Brigit, Isis and Athena; as well as goddesses Celtic, Mayan, Egyptian, Greek, Tibetan, Buddhist and other traditions.
The accompanying guide book helps you to give accurate readings for yourself, your loved ones, and your clients. Whether you're a beginner or seasoned pro, you'll find that working with the goddesses brings Divine magic into your life."

My personal card for today

: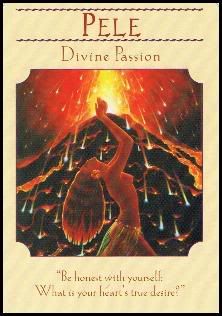 PELE - Divine Passion
"Be honest with yourself: What is your heart's true desire?"
Message from Pele: "If you listen to the sound of your heart and breath, you'll recognize the ancient rhythms of your own internal drumming. This forever connects you to the Mother of all creation, and to the sound of planet Earth. These rhythms can't be faked or forged; they're natural and eternal. What part of you are you trying to ignore? What part of you has been overly concerned with pleasing others, to the detriment of hearing the sounds of your own rhythm?
Dear child, reach out and extend your arms to embrace your dreams. They're just as much a part of nature as are the trees, animals and sunsets. Don't your own dreams deserve the same respect that you accord everyone and everything that you love? Listen to them, my child. Listen to your dreams. They'll activate the powerful eruption of passion in your life. Don't be afraid of your own passion, for it will propel you naturally and will excite and invigorate you. When you dance to the rhythms of your life, you're truly alive in all ways!"
Various meanings of this card: Make sure your career matches your true interests * Take a class or start a hobby that really excites you * Change jobs * Go on a wonderful trip * Invest time and money in manifesting your dreams * Give yourself permission to go for it * Start a new business * Make an honest assessment of how you spend you time * List your priorities.

Today's cards for each of the star signs

:

Due to lack of time, etc. These are the 'quick reading' messages - for the full reading and meaning of the cards you will need to obtain these cards for yourself - or get someone else to buy them for you as a gift!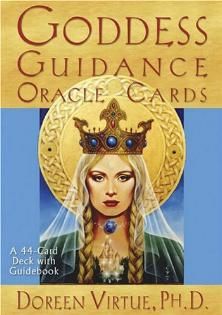 Here are your messages and insights for today. Try to sit quietly for a few moments, meditate on your card and think about how you can learn from, and act upon, its message...

Aries

: KUAN YIN - Compassion

"Release judgements about yourself and others, and focus on the love and light that is within everyone."

Various meanings of this card: Release guilt and shame to Heaven for healing and transmutation * Keep your thoughts about yourself and others positive * Avoid gossip or bad-mouthing of yourself or others * Forgive yourself or another * Don't be so hard on yourself or others * Release perfectionistic tendencies.

Taurus

: VESTA - Home

"Your household situation is improving, either through a move or healthy change in the occupants."

Various meanings of this card: You're moving to a new home * You've just moved * A new person is moving in * Someone is moving out * There is increased romance and/or harmony in the home * A problem with neighbours is resolved * Clear the space in your home * Remodel * Know that your home is safe and protected.

Gemini

: AERACURA - Blossoming

"You are just getting started, so have patience with yourself and the process, and do not give up."

Various meanings of this card: Slow down * Have patience * Get involved with gardening * Use aromatherapy and/or flower essences * Keep the faith.

Cancer

: MARY MAGDALENE - Unconditional Love

"Love yourself, others and every situation - no matter what the outward appearances may be."

Various meanings of this card: Don't worry what others think or say * Heal this situation with love * Send love to those who have hurt or misjudged you * Forgive yourself for what you think you've done or not done * Release old unforgiveness toward others to help yourself heal and move on.

Leo

: SULIS - Bodies of water

(2 days in a row!)

"Spend time near water, such as a lake, river, or the ocean, to recharge your batteries."

Various meanings of this card: Go for a meditative walk near water * Take a vacation near the ocean * Move to a home closer to a body of water * Swim * Take a sea salt bath to detox your energetic and physical body * Drink more water.

Virgo

: ATHENA - Inner Wisdom

"You know what to do. Trust your inner wisdom, an take appropriate action without delay."

Various meanings of this card: Stop procrastinating * Stop giving away your power to others * Trust your gut * Don't second-guess yourself * You are correct * Notice recurring ideas and take action on them.

Libra

: AINE - Leap of Faith

"Take a risk, and put your heart's true desire into action!"

Various meanings of this card: Your dreams will come true * Your chosen path is the right one for you * Heaven supports you fully on your mission * Your material needs will be taken care of * Take action steps toward the realization of your dream * Break your dream into achievable baby steps so that it's easier to start and keep going.

Scorpio

: BRIGIT - Don't back down

"Stand up for what you believe is right."

Various meanings of this card: Be assertive * Don't worry about what others think * Trust that your actions will work out fine * Speak your truth * Stick to your opinions * Put your foot down.

Sagittarius

: DIANA - Focused Intention

"Keep your unwavering thoughts, feelings and actions focused on your target, and you will make your mark."

Various meanings of this card: Stay positive * Know what your priorities are and take action on them * Take control of your schedule * Avoid nay-sayers and skeptics.

Capricorn

: ARTEMIS - Guardian

"You and your loved ones are safe and spiritually protected."

Various meanings of this card: The angels are watching over you and your family * Your future is safe and secure * All your needs are being met and always will be * The worst is now behind you.

Aquarius

: FREYJA - Bold

"Unleash your adventurous side! Take risks and be daring."

Various meanings of this card: Take a risk * Make a bold life change * Appreciate your body * Flirt * Go have fun and celebrate.

Pisces

: IXCHEL - Medicine Woman

"You are a channel for Divine healing power."

Various meanings of this card: You're a healer * You're being healed * This situation and/or your loved one is being healed * Honor your healing knowledge and abilities * Learn about healing * Teach the healing arts * Start or continue your healing practice.

Please feel free to leave any comments here on Blogger, or on my Facebook Page
The Daily Divination
, or on
Twitter
Thank you!