Good morning!

I did not get a good night's sleep and so far I have spent the whole morning yawning!

Not a good start to the day... I could just crawl back into bed now and sleep...unfortunately my body clock seems to be the wrong way round at the moment.

However, I have work to do, so I'd better get started!

Please find your message for Tuesday below and whatever your star sign - have a great day :)

Brightest Blessings,
Kaz
www.blessingz.co.uk
www.cheekywitch.co.uk



This week I am using the
Goddess Guidance Oracle Cards
by Doreen Virtue, Ph.D.


Quoted from the pack: "The goddesses are angelic, powerful, loving beings who want to help you with every part of your life. In this set of oracle cards by Doreen Virtue, you'll learn who the different cross-cultural goddesses are and how they can help you. Each card gives a specific message about how you can improve your life, health, relationships, finances, career, and spiritual path. The gorgeous artwork on each card depicts Kuan Yin, Laksmi, Brigit, Isis and Athena; as well as goddesses Celtic, Mayan, Egyptian, Greek, Tibetan, Buddhist and other traditions.
The accompanying guide book helps you to give accurate readings for yourself, your loved ones, and your clients. Whether you're a beginner or seasoned pro, you'll find that working with the goddesses brings Divine magic into your life."

My personal card for today: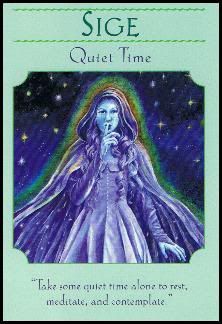 SIGE - Quiet Time
"Take some quiet time alone to rest, meditate and contemplate."
Message from Sige: "Shhh, dearest one. Quiet your mind. Breathe and let go of words, worry, and plans. Go into that space of silence deep within you, that vortex of peace where the world doesn't enter. Now is the time to retreat in silence and spend time alone, I'll lovingly help you rejuvenate and recenter yourself. Don't try to make any decisions now. Just allow your mind to be at rest. You'll know soon enough when it's time to take action. But for now, quiet your mind. Rest."
Various meanings of this card: Go on a retreat * Listen more and talk less * Avoid loud noise and sounds * Meditate * Surrender mind chatter to heaven * Know that you're more sensitive to noise now.

Today's cards for each of the star signs

:

Due to lack of time, etc. These are the 'quick reading' messages - for the full reading and meaning of the cards you will need to obtain these cards for yourself - or get someone else to buy them for you as a gift!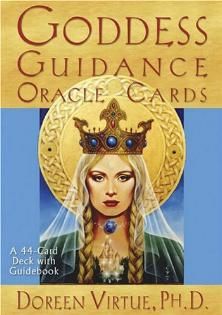 Here are your messages and insights for today. Try to sit quietly for a few moments, meditate on your card and think about how you can learn from, and act upon, its message...

Aries

: COVENTINA - Purification

"It is time for a cleansing detoxification of your body and mind."

Various meanings of this card: Follow your intuition's guidance about making lifestyle changes * Stop abusing alcohol or drugs * Avoid processed foods such as sugar, white flour, and so on * Eat more organic foods * Keep your thoughts and speech positive * Adopt a vegetarian or vegan diet * (This card can also be a validation that your current healthful path is working.)

Taurus

: FREYJA - Bold

"Unleash your adventurous side! Take risks and be daring."

Various meanings of this card: Take a risk * Make a bold life change * Appreciate your body * Flirt * Go have fun and celebrate.

Gemini

: ISHTAR - Boundaries

"Love yourself enough to say no to others' demands on your time and energy."

Various meanings of this card: You're giving too much * Become more assertive * Don't do things out of guilt or obligation.

Cancer

: AERACURA - Blossoming

"You are just getting started, so have patience with yourself and the process, and do not give up."

Various meanings of this card: Slow down * Have patience * Get involved with gardening * Use aromatherapy and/or flower essences * Keep the faith.

Leo

: SULIS - Bodies of water

"Spend time near water, such as a lake, river, or the ocean, to recharge your batteries."

Various meanings of this card: Go for a meditative walk near water * Take a vacation near the ocean * Move to a home closer to a body of water * Swim * Take a sea salt bath to detox your energetic and physical body * Drink more water.

Virgo

: PELE - Divine Passion

"Be honest with yourself: What is your heart's true desire?"

Various meanings of this card: Make sure your career matches your true interests * Take a class or start a hobby that really excites you * Change jobs * Go on a wonderful trip * Invest time and money in manifesting your dreams * Give yourself permission to go for it * Start a new business * Make an honest assessment of how you spend you time * List your priorities.

Libra

: ABUNDANTIA - Prosperity

"The universe is pouring its abundance out to you. Be open to receiving."

Various meanings of this card: be open to receiving * A new windfall of money is coming to you * You have nothing to worry about * Your new venture will be financially successful * Visualize and affirm abundance * Abundance comes to you in many ways, including extra time, support and ideas.

Scorpio

: APHRODITE - Inner Goddess

"Awaken the Goddess within you through dance, self-care, and appreciating your divinity."

Various meanings of this card: Balance your male energy with more female energy * Take steps to heal your sexuality * Enjoy being feminine * Dance more often * Be receptive * In relationships, allow your softer side to come forward * Don't hide your femininity (dress in a more feminine way.

Sagittarius

: MOTHER MARY - Expect a Miracle

"Have faith that your prayers have been heard and are being answered."

Various meanings of this card: Let go of worrisome thoughts * Keep your thoughts positive * Notice and follow any Divine guidance you may receive * Pray * Engage in spiritual healing.

Capricorn

: ISOLT - Undying Love

"The love you have shared is eternal, regardless of the situation."

Various meanings of this card: Love from your romantic partner is eternal, regardless of outward appearances * You're healing from a break-up * You're healing from some other type of loss * Let go of an old relationship to make room for a new one * The love that you send into the world is an important part of your Divine purpose * Your deceased loved one is happy and sends you love.

Aquarius

: SARASVATI - The Arts

"Express yourself through creative activities."

Various meanings of this card: Play music, sing, dance, draw, paint, write, or do something creative * Study, or change to a career that gives you creative freedom * Take a creative class * Invest in an artistic hobby * Keep a journal of your creative ideas * Join a writing club or other creative support system.

Pisces

: MAEVE - Cycles and Rhythms

"Honour the cycles of your body, energy levels and emotions."

Various meanings of this card: Female gynaecological changes (starting of menses or menopause, for example) are an issue for you * Make time to rest * Initiate steps to alleviate depression or lethargy * Take better care of your body * Seek support for dealing with emotional crises * Allow yourself to grieve or take time off * Know that this lull won't last forever * A doorway of opportunity has opened up, and you need to walk through it now.

Please feel free to leave any comments here on Blogger, or on my Facebook Page
The Daily Divination
, or on
Twitter
Thank you!