Good morning!

I have a busy day ahead, so just flying in quickly with the cards for Wednesday!

However, first I thought I would share the link to my favourite Astrologer with you.

Michele Knight posts wonderful weekly astrology videos on You Tube and she has an amazing website, which I haven't fully explored yet. (If only I had more time!)

If you go to www.astrologyknight.co.uk and scroll down a little you will find the astrology videos.

If you go to www.micheleknight.co.uk/psychic/free-readings there are lots of fun free readings you can try out!

If you got to www.psychicknight.com you can join in discussions with other like-minded people too!

Please visit her sites and have Fun!

Coincidentally - that's my card for today - FUN!

Please find your messages and affirmation below and whatever your star sign - have a good day :)

Brightest Blessings,
Kaz
www.blessingz.co.uk
www.cheekywitch.co.uk



This week I am using the

Angels of Light Cards



by Diana Cooper


Quoted from the pack: "Angels are high spiritual beings. They come from the heart of God as guides, protectors, helpers and healers. Angels are willing and able to help us in many ways throughout our lives, all we need to do is call on them and they will respond. Allow these cards to help you bring them into your life.
Diana Cooper, best selling author of 'A Little Light on Angels', 'A Little Light on Ascension' and 'A Little Light on the Spiritual Laws' has created this beautiful new set of cards. This pack contains 52 cards, a 48 page booklet and a velvet bag which will allow you to carry the cards wherever you go."
(These cards do not have different illustrations just the beautiful image below on the back and all text on the front.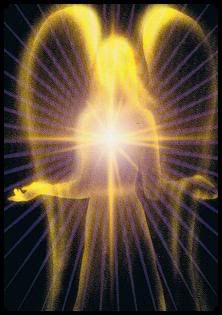 My personal card for today

: FUN

Full meaning: Your guidance is to take time to enjoy yourself. Relax and find your sense of humour. Treat things lightly.

Fun brings lightness of spirit, and the most difficult situation can be eased if you see the funny side of things, so cultivate a sense of the ridiculous.

How can you bring play, laughter and fun into your social life, your relationships, your work life?

When you have fun the angels rejoice for there is nothing they love more than joy, play, humour and laughter.

Affirmation - I lighten up and make everything fun.

Today's cards for each of the star signs

:

Due to lack of time, etc. These are the 'quick reading' messages - for the full reading and meaning of the cards you will need to obtain these cards for yourself - or get someone else to buy them for you as a gift!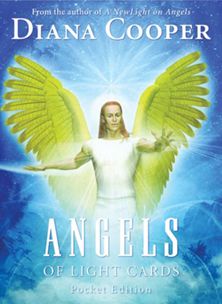 Here are your messages and insights for today. Try to sit quietly for a few moments, meditate on your card and think about how you can learn from, and act upon, its message...

Aries

: ACKNOWLEDGEMENT

Quick message: Look after yourself by acknowledging your desires and needs and taking steps to meet them. Examine and note your gifts, talents and achievements. When you accept all aspects of yourself, you feel centred and confident. Then you can genuinely acknowledge others. Angel wisdom reminds you to recognise who you truly are - an evolved spirit in a human body. When you acknowledge your spiritual dimensions, you will align with your true self and your spirit will soar.

Affirmation: I acknowledge who I truly am.

Taurus

: CELEBRATION

Quick message: It is time for you to look for the joy, the delight and the wonder of every day and rejoice in it. When we celebrate the passing events and transitions of life it is our way of giving thanks and the angels delight with us. Whenever possible celebrate with others, for then great energy is raised which attracts many angels drawn by the laughter and lightness, to add their blessings. It will bond you happily with others. Find something to celebrate now.

Affirmation: My life is a celebration.

Gemini

: GENEROSITY

Quick message: Generosity is a quality of spirit. it is rejoicing in the good fortune of others even when you have nothing to celebrate yourself. It is an attitude of mind which means you are happy to give without expecting in return. Angel wisdom suggests that you give of yourself freely, openly and lovingly. The rewards for generosity are great, for all that you give from an open heart is returned to you multiplied.

Affirmation: I am generous hearted.

Cancer

: GRATITUDE

Quick message: Your guidance is to count your blessings. When you say thank-you to the Universe for its gifts, it responds generously to you. Angel wisdom reminds you to say thank-you for all that you have, the intangible as well as the tangible. Whenever you say thank-you from your heart, more is bestowed on you, for gratitude is the key to opening the doors to universal abundance.

Affirmation: I am grateful for everything in my life.

Leo

: DISCIPLINE

Quick message: An unruly dog is a hazard to itself and others. The animal which has learned discipline and obedience can be trusted and will loyally and lovingly serve its master. It is then allowed of fits lead. Through discipline comes freedom. The master you are called upon to obey is your Higher Self. You came to earth on a mission and only self-discipline will enable you to fulfil it. Discipline is a key to fulfilling your destiny.

Affirmation: Self-discipline brings me freedom.

Virgo

: JOY

Quick message: Joy springs from a sense of connection to the Divine and is a quality which illuminates you. Your angel guidance is to cultivate this quality by seeking the Divine in every situation. Look beyond the surface and seek the light in the heart of each person. Then you will become aware of the wonder of creation and joy will ignite your life.

Affirmation: I find joy in everything.

Libra

: OPPORTUNITY

Quick message: We are all presented with opportunities and are expected to flow with the currents that come our way. Drawing this angel card suggests that something is now being made available to you and it is up to you to use it to your greatest advantage. Be alert, be aware and be prepared. Quieten your mind and ask the angels to help you.

Affirmation: I am ready for all opportunities.

Scorpio

: DISCERNMENT

Quick message: Discernment means sensing what feels right or wrong, trusting your judgement and acting on it. Your angel guidance is to look at the people and situations in your life now and respond to your gut feeling. Angel wisdom reminds you that when you can be trusted to use discernment, you can serve the Universe in a great way.

Affirmation: I trust my intuition.

Sagittarius

: SYNCHRONICITY

Quick message: There is no such thing as chance in our incredible Universe. The coincidences and synchronicities are carefully orchestrated by your guides and angels - so recognize them as the hand of spirit. Be aware that there is a divine reason behind them and consider what the message or lesson is. Synchronicity is also a reminder to you that all things happen in divine timing.

Affirmation: All things happen in perfect timing.

Capricorn

: COMMUNICATION

Quick message: The angels remind you that being spiritual is about being genuine and honest. When you speak from the heart, others feel the resonance of truth and trust you. Talk positively. Focus on the good in life and you will feel happier and healthier. Always keep channels of communication open. Be a bridge to others' hearts and minds. Ask your angel to step into your aura and communicate in a higher way through you.

Affirmation: I communicate clearly and honestly.

Aquarius

: ARCHANGEL URIEL

Quick message: Archangel Uriel works on the ruby ray which is made up of purple and gold. It is the ray of wisdom and spirituality. You are blessed to attract this angel card, for he will bring you serenity, love, tranquillity and peace. You, in your turn, are invited to spread these beautiful qualities to others. Connecting with Archangel Uriel will enable you to aspire to oneness with all humanity. This is high state of grace which will bring you freedom and joy.

Affirmation: I am one with everyone in peace and serenity.

Pisces

: FORGIVENESS

Quick message: Angel wisdom reminds you that challenging people and situations are sent to you as your most important teachers. Without them your soul would not grow. Your guidance is to let go of the hurt, resentment and anger of the past. When you forgive others and yourself, your karma is rubbed out of your soul records. You will enjoy love in your heart and lightness of spirit. Ask the angels to help you to dissolve your hurt, anger and guilt. They will take your burdens from you.

Affirmation: I forgive myself and others - I am free.

Please feel free to leave any comments here on Blogger, or on my Facebook Page
The Daily Divination
, or on
Twitter
Thank you!