Greetings and Happy October!

I love this time of year - don't you? It will soon be Halloween... and then Christmas!

It's a very busy time of year for me - lots to do, ALL the time!

Here's hoping all the hard work pays off this year... Time will tell :)

I'm a very happy bunny today, as I have just received another order for tea and coffee mugs for the Museum of Witchcraft at Boscastle!

You can visit their website here or by clicking on the photo below.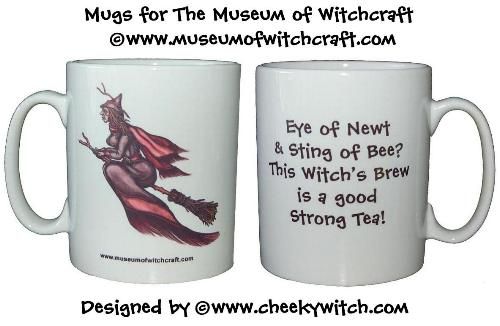 I have never been to
Boscastle
, but really hoping to make the trip next year to visit the Museum and the surrounding area - including
Tintagel
- another place I have always wanted to visit!
Well, the morning has flown by, and I have lots of
Bagz of Blessingz
to make this afternoon - so I had better get on...
Please find your card and message for Tuesday below, and whatever your star sign - have a great day :)
Brightest Blessings,
Kaz
www.blessingz.co.uk
www.cheekywitch.co.uk

This week I am using the

Wisdom of Avalon Oracle Cards

by Collette Baron-Reid


Quoted from the pack: "The Wisdom of Avalon Oracle Cards by Colette Baron-Reid is a 52 card divination system - an inspirational tool to bridge the unseen world of Spirit and the physical world of our day-to-day lives. Based on the rich mythology of ancient Britain's Isle of Avalon and the wisdom teachings of its priestesses, these cards (and the accompanying guidebook) will help you find valuable and powerful insights in all aspects of life as you chart your path and manifest your destiny with clarity and purpose."

My personal card for today

:
THE NOVICE - innocence, beginner, ignorance, new skill without practice, unstable curiosity
Divinatory meaning: Innocence, naiveté, foolishness, early knowledge. Not yet integrated, the ability to see the world untainted, and learning ability - these are the aspects of the Novice as she appears in your life.
The Novice is reminding you to be teachable and humble. If you don't know something, don't pretend that you do. Chances are that you'll make an error that may cost you more than you wish to pay.
New information is coming, and this is the time to be open to learning and expanding. The Novice also reminds you to be like a child and remember the wonder and awe you once had for the world around you… when discovering magic was an essential part of everyday experience.
The Novice reminds you that you need to stop and ask yourself, "What lesson must I learn here?" The lesson is always mirrored in the experience in front of you. Dig deep into the workings of whatever situation you're inquiring about. You don't have to look far, for the answer is right in front of you.
Sometimes it may feel as if you have two left feet and don't know how to dance, or that perhaps you are fumbling in the dark and fear that you may be left behind. It's alright to be in the "not-knowing." This is the place where new understanding takes time to integrate.

Today's cards for each of the star signs

:

Due to lack of time, etc. These are the 'quick reading' messages - for the full reading and meaning of the cards you will need to obtain these cards for yourself - or get someone else to buy them for you as a gift!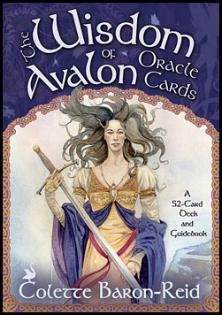 Here are your messages and insights for today. Try to sit quietly for a few moments, meditate on your card and think about how you can learn from, and act upon, its message...

Aries

: THE GOBLIN - the wounded human ego

Quick reading: When the Goblin appears on your path, your plans are, or are about to go, awry. It's time to stop what you're doing and check your motives. Are you coming from an ego-centered place? Are the circumstances in your life triggering unresolved past issues that still need healing? Now is the time for self-evaluation and taking inventory, before you take another step.

Taurus

: JOY

Quick reading: This marks a time for celebration, for this portends the joyous completion of a project, the attainment of a goal, or the end of a long and arduous journey. Like the spring sun breaking through after a long and gloomy winter, joy reminds us to be grateful for all the gifts of life. Joy bestows the blessings of happiness. You truly have reason to smile when this marker appears on your path.

Gemini

: THE QUEEN - woman, fertility, feminine power, sexuality, friendships

Quick reading: Fertility, beauty, female sexual energy, earthly pleasures, and friendships among women - the Queen summons you to bestow her gifts upon you so that you can revel in the beauty of life. The Queen appears to remind you of the importance of self-esteem, self-worth, and holding your head high. Now is the time to set boundaries with others with gentle authority, yet try not to be isolated from them in the process. The Queen knows how to delegate authority when she needs to. Summon your inner Queen and ask for what you need.

Cancer

: TRUST

Quick reading: Do you have issues with faith? Do you have expectations of betrayal? Do you trust the Mystery? Do you insist on mapping each time detail of your life, believing yourself to be the centre of the universe? This marker reminds you that trust is required to move forward on your path.

Leo

: THE KING - man, authority, male sexual energy, things pertaining to the law, justice

(2 days in a row!)

Quick reading: The King appears to represent powers of justice, authority, the law, and male sexual energy. When the King appears on your path, it's time to put your house in order, complete any unresolved legal issues and deal with issues related to fairness. The King always lets you know that something significant is yours to experience and learn from.

Virgo

:

THE DEER - gentleness, diplomacy

Quick reading: When the Deer appears, it's a reminder for you to step gently on the path, for you're walking into a time when gentle movements and diplomacy are required. It's important that you be gentle with yourself as well. Blend your personal energy with Deer's energy of gentleness and diplomacy. Walk softly and the way forward will be smooth. And remember... never mistake gentleness for weakness in yourself or in others.

Libra

: THE BARD - music, poetry, myth, history, the enchantment of storytelling

Quick reading: When the Bard appears, you're asked to seek answers in your personal history. Go back into your own story and find the threads of the patterns in your reality, and trace their length to the present. Perhaps you'll be surprised by how much of your past, or that of your ancestors, still weaves its influence on you today.

Scorpio

: THE DRAGON - Power, strength

Quick reading: The Dragon comes to offer you its power and strength, to protect and fortify you on this leg of your journey. The Dragon symbolizes true power and reminds you that this infinite source is not found within your personality or ego. Watch for a signal - the Dragon always makes the next step clear, and gives you the power to take it.

Sagittarius

: THE BEE - luck, industriousness, sweet victory

Quick reading: With hard work and a firm commitment to building your dream, a sweet outcome is assured. The Bee is a symbol of luck, so expect miracles and your life will be victorious and sweet. The Bee is an industrious, busy creature that's always making honey. The Bee "gets busy," and that honey will soon be yours. The Bee is always a fortunate omen.

Capricorn

: THE GRAIL KNIGHT - romance, illusion, seeking the sacred

Quick reading: Romance, and the seeking of that which is sacred - such are the missions of the Grail Knight. He represents the coming together of all elements to form perfect life through a union of heaven and earth; or he signifies a romantic union of lover with lover. Love is in the air. Perhaps it is time to fall in love with yourself. Love attracts love. Be love and you shall find love.

Aquarius

: THE CAT - independence, healthy boundaries

Quick reading: The Cat reminds you of independence and to set healthy boundaries. Love with freedom - do not look to own what you desire, for too much attachment can lead to loss. On this leg of your journey, you will emerge safe and sound. Live freely, love without unhealthy attachment, and remember that with the Cat as your companion, you may fully immerse yourself in life, for there will be many more lives to come.

Pisces

: THE FIRE FAERY - creative action, optimism

Quick reading: The Fire Faery sparks ideas into action. She rules the flame of creativity and encourages you to move quickly. She is also the voice of happy optimism, showing you signs, signals and happy omens to support your dreams. The Fire Faery gives you hope and courage and ensures your dreams will come true if you simply act on them.

Please feel free to leave any comments here on Blogger, or on my Facebook Page
The Daily Divination
, or on
Twitter
Thank you!